January is upon us and the days are still short and dull. The magic of Christmas is now well and truly behind us, so what better way to brighten up the gradually lengthening afternoons with a little bit of New Year indulgence? Here are our top four places to enjoy an afternoon tea in England's capital.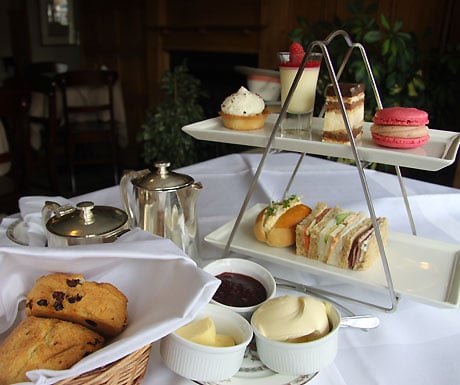 Claridge's Classic Afternoon Tea, Mayfair
Price: £50 per person
What you get: A choice of teas, finger sandwiches, scones served with Marco Polo jelly and Cornish Clotted cream, and a selection of sweet pastries.
If you've got children with you, they can have their own version of the afternoon tea, which is a nice touch.  You can't fault the staff here; there must be at least two for every diner and they are all admirably keen to tell you about their favourite blend of tea – there's a whole booklet of choices. There is usually some beautiful musical backing, often from both a pianist and a cellist. Diners are also gifted with a little tin of Claridge's blend tea to take home.
Flemings Chocoholic Afternoon Tea, Mayfair
Price: £39 per person
What you get: A choice of chocolate & cream tea, chocolate tea or caramel tea, finger sandwiches, chocolate chip scones, petit fours
Set in a boudoir-like basement, afternoon tea here feels thoroughly naughty. It's trendy and edgy – quite different to some of the most famous and traditional afternoon tea spots. The range of petit fours and pastries change on a regular basis and are always deliciously sticky. Past concoctions have included chocolate scones, churros with dipping sauce, and classic chocolate eclairs. Go hungry and with a very sweet tooth!
Price: £39.50 per person
What you get: A healthy selection of fruit and herbal teas, savoury snacks, cakes, fruit sorbet and fruit skewers with yoghurt and honey.
A very different take on the classic afternoon tea, Tea-Tox is an ideal choice for a post-Christmas treat. Special without being indulgent, the chefs have created a menu that's low in fat and sugar, including items such as poached salmon and dill crème fraiche on dark rye bread, and flourless and sugar-free chocolate cake. If you choose to add a glass of champagne, even that is low in calories!
Price: £39 per person
What you get: Selection of loose leaf teas, savoury snacks, finger sandwiches, cakes and fancies.
Calling all fashionistas! Whatever's in season in the fashion world, you'll find it here. The menu is inspired by haute couture and changes every six months to reflect the latest collections, with a little added tongue-in-cheek. The A/W 2013/14 menu includes such delights as Emporio Armani violet cassis mousse, Oscar de la Renta orange bavarois, and a Burberry Prosum heart patterned ginger biscuit trench with caramel icing. Expect your snacks to appear in the shape of shoes and items of clothing.
Stuart Leckie is Director of Sales & Marketing at St. Ermin's Hotel.