By
Daniel Abrahams
on Dec 31, 2013 in
Brazil
,
Events
,
Food and Drink
,
Going Out
,
Leisure Travel
,
Regions
,
Restaurants
,
South America
,
Speciality Travel
,
Travel Miscellany
32 teams, 12 venues, 28 days. If you're a football fan you'll know what these numbers mean instantly. At the time of writing, there are currently 184 days to go until the first Rio 2014 kick-off. Where will you be when the first whistle blows? Will you be at home watching the games on your big screen, at your local pub watching with friends, or are you thinking big and hoping to be in Brazil to experience World Cup fever first hand?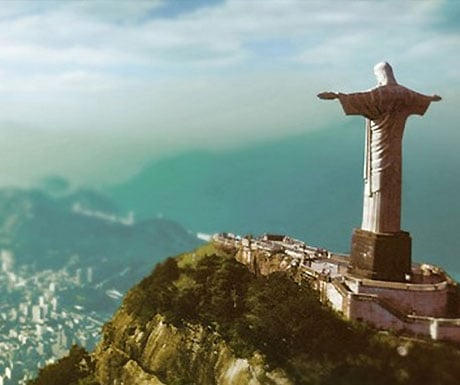 If you're hoping to soak up the action in Rio or any of the other 11 World Cup venues, you might be interested to know just how much money you'll need to save between now and the big day. The costs might surprise (and petrify) you.
Grab those golden tickets
With just over six months to go until the action starts, it's time to start looking into flight costs, accommodation costs and of course those all important tickets. If you're planning on attending all 7 matches including the final, you're looking at around £675.  Of course if you want the whole package, you can follow the England team for £6,995. Inclusive of UK to Brazil return flights, domestic flights and 4 star hotels and match transfers, this is a great way to make sure all aspects of your trip are sorted. Match tickets need to be bought separately and come in at £1,468 for the best seats to watch all England matches.
Tickets have been allocated using a random selection process. This process started in August and the majority of tickets have now been allocated. On the 5th November the remaining tickets were put up for sale on a first come first served basis. The Random Selection Draw Period of the Second Sales Phase started on 8th December 2013 and will end on January 30th 2014 at 12.00pm CET (9.00am BRT). If you were not lucky enough to obtain tickets, check online what's on offer via authorized package tour agents. It's not advised purchasing tickets outside the ground, as Brazilian authorities are clamping down on ticket touts.
If you end up in Brazil without a ticket, don't fret. You can still expect a fantastic atmosphere in the bars and clubs around the stadium if you don't manage to get in. Each of the 12 cities will have its own Fanzone, here are the locations:
    Belo Horizonte – Praca da Estacaoo;
    Brasília – Esplanada dos Ministerios;
    Cuiaba – Parque de Exposicoes;
    Curitiba – Parque Barigui;
    Fortaleza – Praia de Iracema (Aterrao);
    Manaus – Memorial Encontro das Aguas;
     Natal – Praia do Forte;
    Porto Alegre – Praça Glenio Perez;
    Recife – Marco Zero;
    Rio de Janeiro – Praia de Copacabana;
    Salvador – Jardim de Alah;
    Sao Paulo – Vale do Anhagabau
First-class tickets and luxury accommodation
If you've managed to secure your tickets, you need to start looking in to flight and accommodation.  If you're planning on staying for the duration of the tournament, you're going to need to stay in various hotels for at least 28 nights.  Remember, the games are being held across the whole of Brazil and so you are also going to need to arrange internal flights and accommodation in each city.
First class flights from UK to Brazil returns are currently averaging at £2000, a good price to chill out in luxury on that long-haul flight. To continue living the high life, staying in a beach-front penthouse with your own private bar, prices tend to come in at about £22,316, the perfect way to spend those weeks in Brazil.
Luxury villas are a great idea for groups that are travelling to see the games together. There's nothing better than being able to come back from a game and relax in the hot-tub or have a game of pool with your mates and at £1,200 a night for a 10 bedroom pad, it's a pretty good investment too!
Dining in style
Of course, dining in style goes without saying and luckily, Rio is world renowned for this, offering an abundance of quirky top class bars and stylish restaurants for those that enjoy the finer things in life. The city seen a massive boost in its recent revival and high-end is back in vogue. Le Pre Catelan at the Rio Sofitel is one of the best hotel restaurants in the city and serves sensational local seafood beyond compare. Celebrities and socialites are known to seek the delights of Restaurante La Fiorentina, the perfect location to enjoy an ice cold beer and soak up the charm of old Rio.
Partying in Rio
Sure, it's not Carnival season but Rio still knows how to party big time! If you want to venture out to Ipanema, Studio RJ is the hottest high-end venue, hosting carnival performances and live music each night throughout the week. If you prefer the lively Lapa district, an old favourite is the Rio Scenarium where you will be certain to enjoy a few sambas and forros! Each dance floor in this three-story building is buzzing and you will be guaranteed a great time no matter what day of the week. Aside from live music venues and top clubs, the beaches are lined with some of the most exquisite cocktail bars for a chilled drink after a game if you're feeling a more laid back evening.
Daniel Abrahams is Co-founder and CEO of MyTravelMoney.co.uk.
If you would like to be a guest blogger on A Luxury Travel Blog in order to raise your profile, please contact us.