By
Paul Johnson
on Jan 03, 2014 in
Accommodation
,
Attractions
,
Australia
,
Events
,
Food and Drink
,
Going Out
,
Hotels
,
Oceania
,
Regions
,
Travel Miscellany
Adelaide, South Australia's capital city, has been named a 'top 10 city' to visit in 2014 by Lonely Planet – the only Australian city to be included. The city is described as "effortlessly chic – and like a perfectly cellared red, it's ready to be uncorked and sampled". This is a city with a great al fresco vibe, year round festivals and sporting events. It's fringed by white sandy beaches within 20 minutes of the city centre, has 200 cellar doors within an hour's drive and boasts over 700 restaurants, bars and nightclubs. Swimming with dolphins, playing golf, beer tasting, surfing and koala cuddling are just some of the many activities that can be done whilst based in Adelaide.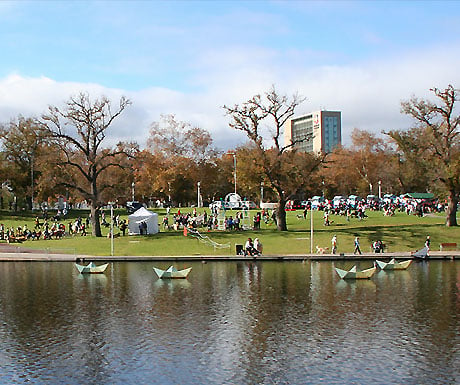 Here are a few reasons to visit Adelaide in 2014:
What's new in Adelaide
The first phase of the Adelaide Oval's innovative AUD$535 million redevelopment programme is nearing completion. The famed cricket grounds will be reborn as a multi-function sports and entertainment facility. There will also be a footbridge over the River Torrens linking the Adelaide Oval with the Riverbank Precinct which is undergoing its own major redevelopment including an enhanced world class Convention Centre.
Stones to rock the Oval
And, appropriately, the group that will officially open the revamped Adelaide Oval are none other than the Rolling Stones. These icons of pop will herald in a new era for the icon of cricket at a live concert on 22nd March 2014.
Hot hotels
Adelaide's 1930s heritage-listed Colonial Mutual Life building, located in the heart of the city centre, is being transformed into a luxurious boutique hotel, due to open in January. The five-star Mayfair will offer 170 luxury suites following a AUD$35 million redevelopment. Other cool accommodation options include the Majestic Minima Hotel Adelaide which has been transformed into a work of art with all 46 rooms given over to South Australian artists as their personal canvases.
Wining and dining
The increasing number of diverse and inspired eateries is also adding to Adelaide's vibrancy. There's also a buzz created by the night markets, pop up parties, roving music and an array of food trucks and micro-bars, quirky boutiques and 'Parklets' – small areas of the city which have been transformed into miniature parks to allow visitors to take time out in a little inner city haven.
More direct flights
Emirates flies daily direct into Adelaide alongside Singapore Airlines, Malaysia Airlines and Cathay Pacific.
Top Adelaide events in 2014
Adelaide is known as the City of Festivals. A packed calendar of events includes The Adelaide Festival, WOMADelaide and The Adelaide Fringe:
Adelaide Fringe, 14th February – 16th March 2014
Adelaide Fringe is the largest fringe festival in the southern hemisphere. It quite literally takes over the entire city with 900 events staged in pop up venues like parks, warehouses, lane-ways and empty buildings, as well as in theatres, hotels, art galleries, cafes and town halls.
CLIPSAL 500, 27th February – 2nd March 2014
CLIPSAL 500 is a round of the V8 Supercar Championship Series and Australia's largest domestic motor sport event. Last year's event was attended by 286,500 people over four days. Legendary commentator Murray Walker has described this as the "best touring car event in the world".
The Adelaide Festival , 28th February – 16th March 2014
The Adelaide Festival is one of the world's great arts events and is of truly epic proportions. For over 50 years the Festival's audiences have delighted in an outstanding mix of internationally acclaimed theatre productions, an eclectic array of world-class musicians, breath-taking dance pieces, renowned writers and striking visual arts displays.
WOMADelaide, 7th – 10th March 2014
Australia's WOMAD festival, runs over four days in the city's Botanic Park. It's a family friendly festival with seven stages featuring traditional and contemporary musicians, dancers and DJs, from all over the world. There is also street theatre, a Taste the World cooking program and 100 food, retail and charity stalls.
Tasting Australia, 27th April – 4th May 2014
Tasting Australia is one of the country's most influential and best attended culinary festivals. It provides visitors with the opportunity to sample the best produce, wines and beers, as well as to meet the people and personalities behind the products with the added bonus of being able to travel to the regions to see and taste everything in situ.
Adelaide Cabaret Festvial, 6th – 21st June 2014
Adelaide Cabaret Festival is the largest festival of its kind in the world, attracting the finest cabaret musical talent from across the globe. This fun, high-energy, vibrant annual festival is held each June at the Adelaide Festival Centre, usually coincides with the Queen's Birthday.
Santos Tour Down Under, 19th – 26th January 2014
Adelaide is also home to a fantastic range of sporting events including Santos Tour Down Under, 19th – 26th January 2014 (the southern hemisphere's Tour de France).
Beyond Adelaide
As well as being a thriving destination in its own right, Adelaide is a great base from which to explore the rest of South Australia. From Adelaide, visitors can easily reach Kangaroo Island, The Flinders Ranges and Eyre Peninsula. The Rover, starring Robert Pattison and Guy Pearce and due for release in 2014, was filmed in the Flinders Ranges –  what better reason for seeing the landscape in situ.
Visitors can also embark on any number of classic self-drive journeys, travelling to Melbourne, Darwin and Perth from Adelaide; or hop on board the Ghan (to Darwin) or the Indian Pacific (to Perth or Sydney).