By
Paul Johnson
on Jan 02, 2014 in
Accommodation
,
Attractions
,
Europe
,
Germany
,
Going Out
,
Hotels
,
Regions
,
Restaurants
,
Road Travel
,
Speciality Travel
,
Western Europe
Now that a New Year has begun, it's a good time to look ahead and see what events are taking place around the world. Whether you love wine and food or prefer fast cars and the open road, then south-west Germany may just be the place for you. Fancy staying in a real castle, complete with dungeons and a drawbridge? This and more are just some of the special experiences on offer. Highlights in south-west Germany in 2014 include a village with yet another Michelin star, an unusual island perspective, an exciting new attraction at one of the world's leading theme parks and significant anniversaries for three of the region's scenic roads.
But south-west Germany has so much more! Half-timbered houses and cobbled streets are part of the charm of historic towns and villages. Museums, music and great shopping are a given in cities. Out in the unspoiled countryside, hiking paths and cycle trails wind through rolling mountains and past clean lakes. And this is the sunniest region of Germany! Here are just some of the highlights to look out for in 2014:
The German F1 Grand Prix (18th-20th July 2014)
South-west Germany hosts one of the world's great motor races: the German Formula One Grand Prix event at Hockenheim. The current circuit has hosted the Grand Prix since 1970. The track is 2.84 mile/4.574 km long, with 6 straights and 17 corners. This combination of long straights, slow corners and tricky hairpins test drivers, cars and brakes to the limit.
Germany's Cultural Treasure Chest: UNESCO World Heritage Sites
In 2014, the German National Tourist Board is celebrating the nation's 38 UNESCO World Heritage Sites. South-west Germany boasts four contrasting UNESCO World Heritage Sites:
• Maulbronn Monastery: The former Cistercian abbey of Maulbronn is the best-preserved medieval monastery north of the Alps.
• Aalen: 2,000 years ago, the Limes Roman Defences were the defensive walls marking the northern border of the Roman Empire.
• Reichenau Island: This charming island on Lake Constance is home to three Romanesque churches dating from the 9th  to 12th centuries.
• Lake Constance: The 6,000 year-old Lake Dwellings and the Lake Dwelling Museum (Pfahlbaumuseum) in Unteruhldingen.
Europa-Park: go eye to eye with a ladybird!
There's always something new at the Europa-Park. This theme park in Rust was voted Europe's top attraction on TripAdvisor 2013! Making its world premiere in 2014 is Arthur in the Minimoys kingdom, an indoor attraction based on the hugely successful film trilogy, Arthur and the Invisibles. In this action-packed fairy tale adventure, a blade of grass is as tall as a skyscraper and bees give jet planes a run for their money. See giant ladybirds, scary frogs and lolloping caterpillars fly, hop, and crawl over massive branches and rocks.
Island of Mainau: flower power
On beautiful Lake Constance, the flower-filled gardens on the island of Mainau have been a major attraction for more than 80 years. For 2014, the theme is: "Beyond the horizon … discovering new views". Mainau's gardeners are installing "Focal Points", where visitors can gaze out over the lake and pick out undiscovered landmarks. A high-tech innovation is the 360° camera installed in a towering cedar tree and linked both to a large screen and the island's website. At ground level, there is a new exhibition of large sculptures. Again, the idea is to see the gardens and nature in a new light. Around the harbour, eat at the new roof top "Comturey" Restaurant, buy bread at the Täglich Brot bakery, relax in the beer garden.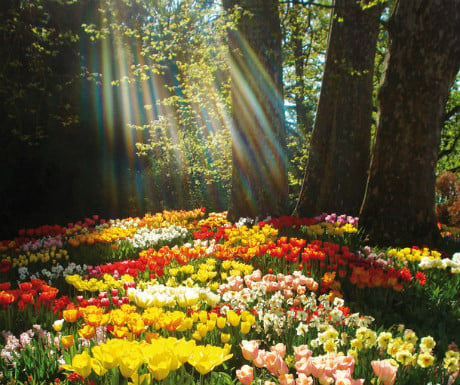 Baiersbronn celebrates its 8th star!
What other village in the world can boast restaurants that between them have 8 Michelin stars? But that is exactly what Baiersbronn, an idyllic destination in the Black Forest, has just achieved. One of Germany's best-loved chefs is Harald Wohlfahrt, who has long held three stars from the French foodie bible at the Hotel Traube Tonbach. Claus-Peter Lumpp also has three stars at Restaurant Bareiss. Now Jörg Sackmann has upped the stakes with a second star at the Restaurant Schlossberg. Using first-class produce, his modern, creative cuisine has a classic base, producing rich flavours.
For those who like to spend time on the road, there are 3 great drives that lead to castles, vineyards and a seasonal treat: 
The Castle Road
Cutting across Germany and continuing into the Czech Republic, the Castle Road (Burgenstrasse) links some of south-west Germany's most romantic castles. See the grandeur of Mannheim Palace, Schwetzingen Palace and Heidelberg Castle, as well as Bergfeste Dilsberg in Neckargemünd. You can also dine and stay in castles and palaces that have been converted into hotels. Examples include the Schloss-Hotel Hirschhorn, high above the Neckar Valley; the 11th Century Hornberg Castle Hotel & Restaurant; the Castle Tavern at Guttenberg Castle.
The asparagus seasons signals that summer is on its way. From the middle of April to June 24, gourmets flock to the 85-mile/136-km Baden Asparagus Route that runs from Schwetzingen, the "Asparagus Capital of the World", to Karlsruhe, Rastatt and Scherzheim. Along the way are pretty towns, grand palaces and roadside stands. Restaurants and pubs feature Spargelkarte, special asparagus menus. Locals reckon that the best way to eat it is the simplest: steamed and served with melting butter. In May, Bruchsal hosts Europe's largest Asparagus Market.
Baden Wine Road  
Between Baden-Baden and Weil am Rhein, this 100 mile/160 km drive down the Rhine Valley includes famous vineyards, local wine taverns and Weingartens, open-air "wine gardens", as well as lovely countryside and the Kaiserstuhl hills. Baden is Germany's southernmost and sunniest wine region. Think hot summer days, picture-pretty river valleys and endless vines, first planted here by the Romans nearly 2,000 years ago. Try a Baden-Baden Riesling or Spätburgunder (Pinot Noir). Join in the fun of village wine festivals.