By
Jamie Rennie
on Jan 10, 2014 in
Accommodation
,
Bars
,
Europe
,
Food and Drink
,
France
,
Going Out
,
Regions
,
Restaurants
,
Travel Miscellany
,
Western Europe
Since the first ever Winter Olympics were hosted in Chamonix in 1924, glamourising ski-ing to the higher echelons of British society, the villages of Chamonix and Val d'Isere have become firm favourites. So what makes Val d'Isere such a luxury ski destination? Some will say the price of a Sauvignon Blanc on the mountain! To be fair – helicopter led supply lines aren't cheap!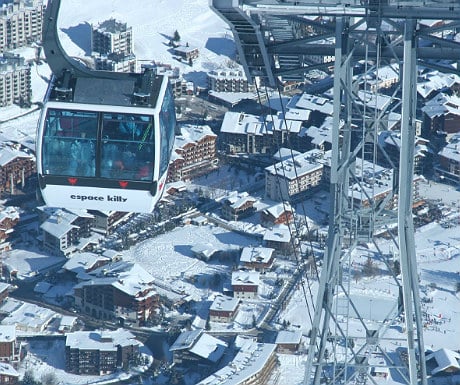 Here are seven good reasons why I believe Val d'Isere is up there with the crème de la crème of luxury ski resorts:
1. Snow sure conditions
With 60% of its pistes above 2500m, Val d'Isere is one of THE most 'snow sure' resorts in the Alps. In fact you'll find it in the number one slot on Weather to Ski's Top 10 snow sure resorts in Europe. A large proportion of the runs are north facing which helps the snow reserves and there's access to no less than two glaciers.
2. The resort of Champions
Val d'Isere is to ski-ing as tennis is to Wimbledon, hosting more top competitions than any other European venue. There's a reason it has produced four Olympic champions so far including the great Henry Oreiller and Jean-Claude Killy and it plays host to one of the most famous pistes – La Face. If you dare…
3. Surprisingly good cuisine
While at least three restaurants in Val have Michelin stars including L'Atelier d'Edmond, the mountain also hosts some surprisingly good eateries. The Tete de Solaise offers a truly first class taster menu – the Carpaccio of Scallop gets my vote. Meanwhile Bar de l'Ouillette combines a funky atmosphere with delicious, locally sourced and produced savoyarde dishes and salads – not bad for a village. Away from the pistes – you can expect some of the finest dining in several of the resort's luxury ski chalets.
4. Quality of the ski area
The '300km of pistes' stat doesn't really convey why it is such a great ski area. Perhaps it's the impressive descents – several of the pistes offer up to 900m in one go. Or the sheer range of terrain – it's the perfect combination for adventurous intermediates and advanced skiers. The pistes are tirelessly groomed and maintained by the extensive team of pisteurs. There's even a new snow factory feeding the Solaise mountain this year and 'sun canons' designed to improve flat light conditions!
5. Accessible off piste
Finding fresh powder normally includes a lengthy trek but what I love first and foremost about Val is the accessibility of off piste. Le Fornet is a favourite – bowls of fluffy paradise when the conditions allow. Then there's the 'Vallon de Sache' and the worst kept secret Vallee Perdu! In short – lots of fantastic off piste there for the taking. However, we always advise going with a guide. We've worked with ours for years and we know that other than the safety factor, they know the mountain inside and out and will find you the very best off piste the resort has to offer.
6. Luxury accommodation
You can always tell the quality of a ski resort by the standard of its accommodation. You won't be surprised then that Val d'Isere covers luxury from all angles whether it's a luxury chalet, 5* spa hotel or apartment.
7. Apres ski – Hot Ice the one to watch
Lastly but not leastly – how could I write this article without at least mentioning the famous 'La Folie Douce' – the beats and revelry can be heard from far away, while bottles of Veuve Clicquot line the tables. Meanwhile, there are plenty of other great bars with VIP areas and Hot Ice in the month of April promises live bands on the slopes to add that extra 'je ne sais quoi'.
Need I go on?
Jamie Rennie is Director at Le Chardon Mountain Lodges, Val d'Isere.