Touring New York City by land and by air
Sightseeing in
New York City
is a tough enterprise, especially if you're on foot and on a tight schedule. This metropolis of over 8 million people can be so overwhelming at first that you're not even sure where to begin. Here are some pointers about must-see attractions and the best way to explore them.
Empire State Building
The most famous skyscraper in the world dominates Midtown Manhattan with 102 floors. Built during the Great Depression in 1931 in Art Deco style the building has been featured in more than 250 feature films including King Kong, The Amazing Spider-Man and Sleepless in Seattle.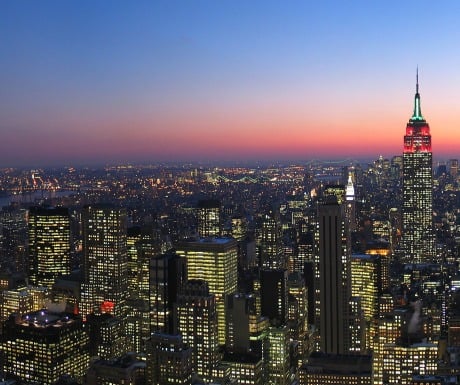 The skyscraper has two observation decks: an open-air 360-degree terrace on the 86th floor and the 102nd floor Observatory. While both offer unforgettable views of Manhattan, visiting on chillier days can be somewhat uncomfortable. You also need to account for ticket office lines and the time it takes to travel up 86-102 floors. To avoid the crowds and take in the beauty of this iconic New York landmark at once, consider taking a helicopter tour over Manhattan. Tour helicopters are equipped with large windows, noise-cancelling headsets, heat and comfortable leather seats.
Statue of Liberty
Reigning over New York Harbor stands the majestic
Lady Liberty
, erected in 1886. The Statue of Liberty Enlightening the World was a gift of friendship from the people of France to the United States and is a universal symbol of freedom and democracy. Liberty Island is only accessible by ferry from Manhattan between the hours of 9.30am and 5pm. If you're planning to visit the Crown, keep in mind the 377 steps you'll need to climb and the restricted access – it may take as long as 6 months before you can get in. If you're looking to make your visit super special or just missed the last ferry, look into sunset and night helicopter tours departing from nearby airports. "The Lady", as she's referred to by helicopter pilots, is even more beautiful when dressed in the colors of dusk.
Central Park
One of most famous urban parks in the world and a national landmark,
Central Park
opened to the public in 1857. The park stretches from 59th to 110th Streets, three avenues wide in the middle of Manhattan with its own zoo, 21 official playgrounds, 50 fountains, 36 bridges and other monuments and sculptures. No matter how determined you are it's unlikely that you'll be able to cover all 843 acres of the park during your New York visit. The park can be explored in many ways on the ground: horse carriage tours, bike tours, walking tours and pedicab tours are available to visitors. However, if you want to take in this emerald gem at once, the best way to do it is by flying over it. Treat yourself to stunning aerial views of Cleopatra's Needle, Central Park Zoo, Museum Mile and the Jacqueline Kennedy Onassis Reservoir from the comfort of a helicopter. Friendly and experienced tour pilots with a thorough knowledge of the area will make sure you don't miss anything.
Anna Macsai is Director of Finance and Marketing at Wings Air Helicopters.
Did you enjoy this article?
Receive similar content direct to your inbox.