I've had the pleasure of flying Upper Class with Virgin Atlantic Airways on a few occasions recently – coming back from New Delhi to Heathrow as well as a return trip to Cape Town – so I thought I would take this opportunity to describe what you can expect when booking the airline's equivalent of a business class seat.
The first thing to note is that the Virgin Atlantic service begins from the moment you leave home. They'll send a limo to your house to pick you up and take you to the airport (and take you home on your return) – a real treat, meaning you are dropped at the airport entrance, not having to worry about parking and all that that entails. In my case, I was driven to Manchester Airport where I also used 'Little Red', Virgin Atlantic's new domestic service for a quick and efficient way of getting to Heathrow. Despite it being just a short flight, I was served a drink and a packet of 'plane' crisps, and didn't need to worry about my main case which was automatically checked through to Cape Town. The Little Red service operates multiple daily flights between London and the cities of Manchester, Aberdeen and Edinburgh.
Once at Heathrow, the process of changing terminals couldn't have been easier and I soon found myself at the Virgin Atlantic Clubhouse, a place where you could very quickly forget that you're even in an airport at all. Here you can just relax with a drink and read a magazine, have a meal, do some work, or even get yourself a haircut or a spa treatment.
This is the perfect start to air travel and a sign of things to come. With such a relaxed atmosphere, the last thing you're thinking is "I've got a plane to catch" so it's a good job that someone will come and find you should you forget.  Once on-board the aircraft – with priority boarding of course – you'll find the Virgin Atlantic Upper Class seats are arranged in a herring-bone pattern in order to make optimum use of the space available and to give passengers the option of a very comfortable 33-inch wide flat bed.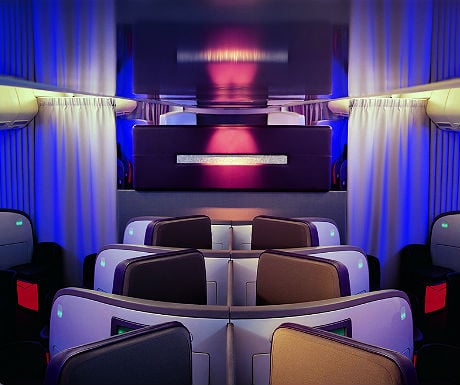 Your footrest can serve as a seat should you wish to sit face-to-face with a travel companion for some of the journey or, if you just want some alone time, the pull-out screen offers everything from the latest films to TV to Skymap – in fact, it includes more than 300 hours' worth of entertainment so should help even the longest of flights should pass relatively quickly!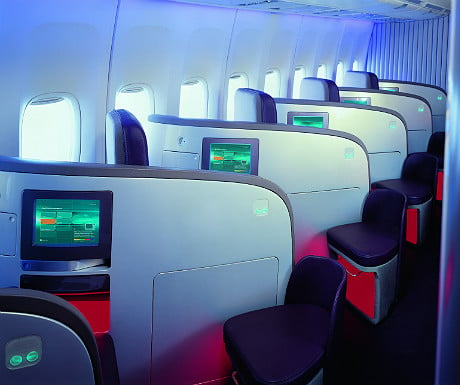 There's a pull-out table and in-seat laptop power should you wish to get some work done, as well as Aeromobile, allowing you to stay connected with texts, email and the internet.
With a pre-flight glass of Lanson Black Label Champagne in hand and a pair of pyjamas provided for the journey should you wish (I don't envy the flight attendants having to diplomatically ask passengers what size they would like, but they do it admirably!), your attention soon wanders to the dinner menu.
Forget your usual airline meals; here your table is neatly laid with designer linen and you get 'proper' cutlery, crockery and glassware. The choice is good and the quality of food excellent given the restraints associated with serving food at 40,000 feet. Choose from main dishes such as herb-crumbed fillet of British beef with potato rosti and carrot purée, free range grilled chicken breast with a mushroom gravy and celeriac colcannon mashed potatoes and herb tournée carrots, or Goan-style prawn curry with basmati rice and sautéed cabbage and red pepper.
To accompany your meal, there's a selection of fine wine from Berry Bros. and Rudd, one of the UK's most innovative wine merchants, boasting five Masters of Wine – or a choice of beers, spirits, etc. – as well as water from One whose profits fund amazing roundabout powered water pumps in Africa.
Need to stretch your legs after dinner? No problem. Upper Class passengers even have access to a futuristic on-board bar where they can sit and socialise with others over their tipple of choice.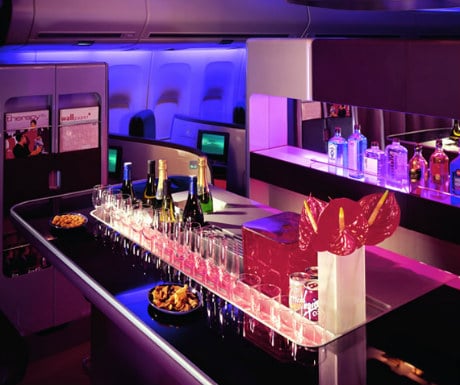 To book a flight with Virgin Atlantic, log on to www.virginatlantic.com or call 0844 20 92 770.