By
Stuart Leckie
on Jan 24, 2014 in
Attractions
,
Europe
,
Going Out
,
Honeymoons
,
Leisure Travel
,
Regions
,
Restaurants
,
Speciality Travel
,
United Kingdom
,
Western Europe
There are few cities in the world that combine some of the finest things in life; world-class restaurants, beautiful hotels, award-winning architecture and spectacular views. London, a short train ride from the capital of romance of Paris, combines all of this within its city walls. Here are three ideas that you should experience when you're next in London with your significant other.
The Thames
A stroll along the embankment of the River Thames never goes a miss, as it allows you to see major attractions such as Big Ben and the Houses of Parliament. Most tourists will see the Houses of Parliament from outside, either on one of the frequent river boats, on the London or Westminster Bridges or on TV. However, you can take professionally led trips, which last for around an hour and a half, around the interior ideal for those who have a keen interest in the British Government or the history of the buildings. These tours run six days per week during the Summer Opening period while the Government is in recess.
It is also recommended to take a 40-minute trip on London's largest but slowest "big wheel" whilst drinking a glass of Champagne, overlooking the city as it turns from day to night.
The best of British restaurants
Seven years ago, the trend for British cooking wasn't as popular as it is now. One chef that helped British cuisine into the limelight was Tom Pemberton, of then St John and St John Bread and Wine.
The menu at Hereford Road changes daily and is constantly updated online. The menu includes dishes of which are made from common ingredient such as offal, a mixture of calves' brains, kidneys and lambs sweetbreads. Diners are highly recommended to not skip dessert, especially the British classics which include simple dishes like the vanilla rice pudding or the delightful apple crumble.
A fine alternative to Hereford Road is Hoi Polloi, operated by the American boutique hotel chain, Ace. With the décor rocking a fifties look, which is often compared to somewhere between a typical school canteen and a Scandinavian cruise liner, its certainly a place to see and to be seen in.
The menu is the best of British food from the team behind the Bistrotheque and Shimpy's near Kings Cross, using hearty British ingredients such as turnip and horseradish soup with tinder meats like crispy beef at the top of the list.
Time for retail therapy
London is home to one of the most varied shopping districts in the UK. Two out of town shopping centres both owned and operated by Westfield; Westfield London and Westfield Stratford, are floor upon floor combining well known high street names, boutiques and luxury names. However, if you head into Central London and explore one of the many individual streets, you're more than likely to find one or two treasures to take home with you.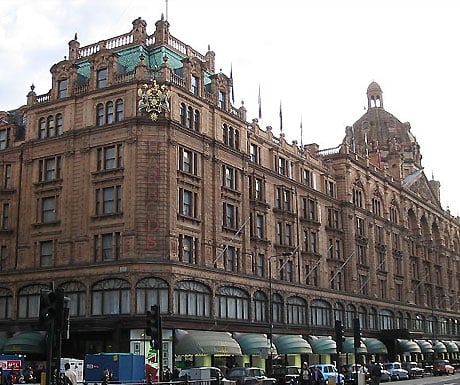 Take to Oxford Street to find the best of the British high street lined with well-known high street names in department store sized buildings. Stop off at Regent Street to admire some of the retail architectural wonders, including an Apple Store that can be compared to the outlet in Grand Central station in New York. The nearby toy giant, Hamleys, is a great place to bring out the childhood of you with floors of toys, model making kits, Lego sets and dolls houses.
If you're looking for some high-end retail therapy, take to the boutiques located along Bond Street. Ending your trip through all of the retail therapy London has to offer in Knightsbridge, for the variety of iconic department stores, especially the iconic Harrods. Selfridges is nearby and is worth setting aside some time to visit while you're in the area.
Stuart Leckie is Director of Sales & Marketing at St. Ermin's Hotel.