5 tried and tested travel accessories from my latest trip
On my last trip, I went to
Cape Town
. The trip was a memorable one despite it being something of a whirlwind visit, and included a cable car trip up Table Mountain, a mooch around the V&A Waterfront, a cultural tour of the city, a little too much wine tasting and some excellent dining experiences. I was away for just 4 nights (2 of which were on the plane), but the nice thing about visiting
South Africa
is that there's little time difference and so no jet lag. Despite the brevity of the trip, I was able to try out the following items:
Framed Liquis Medium Suitcase from Antler
The Framed Liquis Medium Suitcase from
Antler
was acually much bigger than I'd expected. Measuring 74 x 53 x 30 cm, and with an 88-litre packing capacity, it is their ultimate luxury suitcase – a premium product which is both strong and elegant. Made from a lightweight polycarbonate shell surrounded by an aluminium frame, it is super strong and light and was easy to wheel around thanks to its Hinomoto silent easy glide wheels.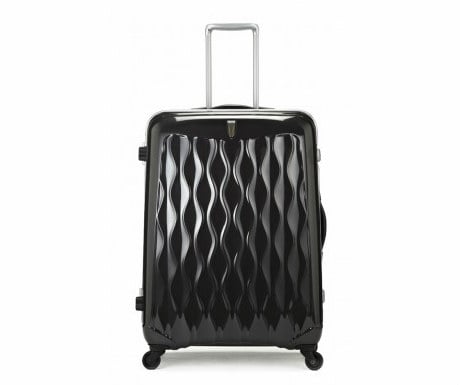 With safety and security in mind, it also comes with unique twinned TSA key locks will give you protection and peace of mind. If you're in the market for a new case, then definitely look this one up.
Griffin Survivor iPad cover
If you tend to be a bit heavy-handed with your iPad sometimes, casually throwing it into your bag from time to time and perhaps forgetting its value and fragility, then this is the iPad cover for you.  It's the most protective case that
Griffin
have ever built and will protect your iPad not only from little knocks here and there, but also from blown dirt, sand and rain.
It's built on a shatter-resistant polycarbonate frame clad in rugged, shock absorbing silicone, and I would thoroughly recommend it as the cover of choice if you like to get out and about on your travels or if you have care-free children with iPads.
Patriot FUEL+ mobile rechargeable battery
The Patriot FUEL+ is a little bit bulkier (thicker) than my other mobile battery charger but comes with two added benefits: firstly, it will charge devices whilst you charge it from the mains (my other device can only do one or other of these tasks at a time); and secondly, it can charge two devices at once. These are two pluses that really make a difference.
It also comes with built-in protection to ensure efficient and safe charging cycles, as well as a 2 year limited warranty.
Shüsling shoe travel bag
Ever struggled to get your shoes into your main luggage?  Or perhaps you've wanted to keep that muddy pair of trainers separate?  The 
Shüsling
shoe travel bag solves these and other shoe-related issues! It's one of those products that you could be forgiven for thinking "Well, what do I need that for?!" but – when you do in fact come to use – you start to realise the many benefits it offers. These lighweight re-usable bags allow you to carry your footwear in a fashionable way, and can be placed either inside your luggage or attached to the outside if it doesn't quite fit, or if you need it more readily at your disposal.
Whether you travel a lot, you're a commuter who likes to use the gym, play a lot of sport or you're simply a busy parent, it's likely you'll find a use for this. Unlike a plastic bag, the mesh pockets will allow your footwear to breathe and, w
hen not in use, the bag collapses down for easy storage.
Star Chart app
Venturing into the southern hemisphere gave me the opportunity to see constellations I might not normally see. There are many apps to help the novice stargazer, bu for this I recommend the
Star Chart
app. What's really nice about it is the way it not only pinpoints the constellations but it also super-imposes an illustration on top to help you get a better sense of what you're supposed to be looking at.
Click on individual stars and planets for further information and, in some cases, video footage telling you more still. All in all, an easy to use app – the app itself is free, with various in-app purchases available if you'd like to delve deeper still and get information on items such as meteorite showers, satellites, comets, etc.
Did you enjoy this article?
Receive similar content direct to your inbox.