5 of the Caribbean's best luxury spas
Your luxury vacation should be all about relaxation and taking in other cultures. You should be able to simply kick back and have everything brought to you, enjoying the total indulgence of complete luxury. This is certainly possible if you choose to include a relaxing and invigorating spa experience in your break. The Caribbean has some of the world's most stunning spa locations and here we've selected five of the very best.
La Luna
La Luna
is on the island of Grenada and is the ultimate island hideaway. It focuses on the well-being of the body and mind and gives visitors the chance to enjoy a wide range of activities and therapies. Yoga, meditation and Pilates are all practiced in a luxurious Asian inspired spa environment with an organic garden and stunning pavilion. Activity classes are mainly organised in the morning so you can spend your evenings and afternoons exploring the island.
Parrot Cay
Head to Turks and Caicos to enjoy the stunning luxury of
Parrot Cay
. It's an award-winning holistic spa centre which offers a range of therapies backed up by a healthy menu. It sits on its own private island so once you've booked into your luxury private villa on the main island you can take a short sea journey to enjoy the retreat. Professional healers carry out all the treatments and you can enjoy meditative yoga on the white sandy beaches.
Sandy Lane
The Spa at
Sandy Lane
is on the completely westernised isle of Barbados. Sitting on the Platinum Coast, it has a strong British feel and offers a wide range of high-end luxury therapies and treatments including relaxing aromatherapy. Sandy Lane also has a golf course for a little exercise and a relaxing lounge and club area.
Jumby Bay
Antigua is home to many stunning spas and this is the first of two we're featuring. Sense calls a private 300-acre island its home and is just 2 miles off the coast of the main isle. It's an intimate retreat that has just 5 treatment rooms and there's a historical theme to many of the treatments offered. Jumby Bay is situated on land which used to be owned by sugar growers and therefore many of the treatments at Sense use sugar-based products including molasses and run. Their Signature treatment involves coconut shea butter being massaged across the body.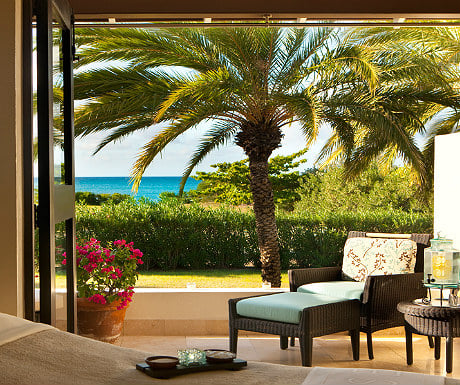 Sugar Beach
Sugar Beach
is a premium spa on St. Lucia and utilises the natural sulphur of the island in its many relaxing treatments. You can soak in the volcanically heated, mineral-enhanced waters of the Sulphur Springs, have a full body sulphur mud bath to detoxify the skin and finalise it all with the stunning experience of a cleansing shower under the waterfalls of the Pitons.
Any of these top spas will provide you with a memorable experience. The chance to truly relax and forget all your worries doesn't come around too often so embrace it when the opportunity does arise.
James Mannings is Co-Founder of Top Villas.
Did you enjoy this article?
Receive similar content direct to your inbox.