By
Pierre Fortier
on Jan 30, 2014 in
Adventure Travel
,
Africa
,
Asia
,
Attractions
,
Australia
,
Belize
,
Caribbean
,
Cayman Islands
,
Central America
,
Egypt
,
Europe
,
Going Out
,
Iceland
,
Leisure Travel
,
Malaysia
,
Mexico
,
North America
,
Oceania
,
Pacific Islands
,
Regions
,
South Africa
,
Speciality Travel
,
Thailand
,
Western Europe
,
Worldwide
There's nothing quite like the scuba dive – you glide downward into what just might as well be another world, and in many ways is. You see things that are impossible anywhere else. It's a passion that has to be lived to be fully understood. Here's a look at 10 of the top places in the world to dive, with a look at some specific dives and general locations.
Sipadan
Home to several outstanding dive sites, Sipadan Island is on every diver's bucket list. Barracuda Point is one of the best, where you can see thousands of the streaking predators streaking by. Pelagic fish and reef sharks are plentiful as well. The Hanging Gardens is another world-famous Sipadan dive, as is the cave area known as Turtle Cavern. Sipadan is the only oceanic island in Malaysia, and it stands out as one of the most complete dive destinations on the planet and a must see.
Belize
With a coral reef second in size only to Australia's Great Barrier Reef, the diving off this small Central American country is bountiful. Ambergris Caye is near a cut in the reef that is full of outstanding specimens of marine life and coral colors. The Blue Hole is just that – hole in the reef areas that has spectacular formations and is a good site for spotting good-sized bull sharks in their natural habitat.
Silfra Canyon

This is the only freshwater dive on the list. Descend down between the continents, where the North American and Eurasian tectonic plates are separating – at a rate of about 2cm a year. The water is just above freezing and comes from glaciers, seeping into Thingvellir Lake after hundreds of years spent passing through lava rock. You can't find better clarity and the underground formations will dazzle.
Red Sea
The Egyptian Red Sea offers an amazing diversity of colorful marine life all along the coast with several spectacular dive sites. Butterfly fish, rays, angelfish, excellent coral, and intricate rock formations are easily explored. From the northeastern coast of the Red Sea down through Sharm el Sheik and down toward Sudan, the region is relatively uncrowded, with lots of great diving.
The SS Yongala Wreck

Sunk in 1911 off the coast of Australia, the site in the Great Barrier Reef Marine Park is haven for all manner of marine life. It's the largest – and most intact – shipwreck in Australian waters. It just might be the best wreck dive in the world, with such an incredible array of things to see that you will want to dive it again and again.
Grand Cayman

This is a great dive area for persons looking for a wide variety of experience. Dives for all levels of expertise are available and there is something to challenge everyone. Exceptional wall dives, the world-famous Stingray City, some interesting shipwreck sites, and abundant sea turtles can be seen and enjoyed.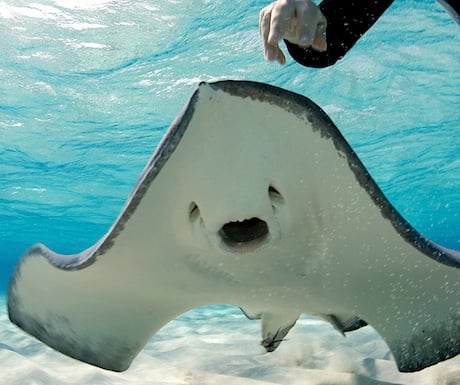 Richelieu Rock

Considered Thailand's best dive site, it's a top site for seeing big pelagic fish. It's one of the most likely spots in the world to see whale sharks in their natural habitat. Constantly changing strong currents can make it somewhat challenging, so it's advisable to use a guide. It's an exposed location with no moorings, so weather can sometimes be an issue.
Cozumel

Go south to the reef areas outside of the busy spots frequented by cruise ship passengers and slip down into a wonderful marine world with colorful tropical fish, shy but menacing looking eels, wall dives, and coral tunnels. There are shallow reef dives with calm water and nearby deeper excursions with currents for fun drift dives and much to see.
Rocktail Bay

Found off Kwazulu Natal in the Maputaland Marine Reserve on the Indian Ocean coast of South Africa, it is a bit off the beaten path – but well worth getting there. The diversity of fish life you will see once you get in the water will tell you as much. It's an important breeding site for loggerhead and leatherback turtles and the waters are frequented by whale sharks and humpback whales cruising the waters.
Rangiroa

The name means "long sky," and as Rangiroa is the second longest atoll in the world, you can understand why. What is called "shooting the pass" between the ocean and lagoon when the tides turn has been called a great adrenaline rush, but it's the marine life that is the ultimate draw. Surrounded by all manner of fish, you rush through the inlets, water swirling around you. Venture out to the drop-off walls and see sharks, rays, and more.
Hopefully, the incredible dive sites listed above will inspire you to explore the underwater world. If you are an expert or a beginner, the sheer number of great experiences out there enticing you to dive get the excitement building. Diving brings an extra dimension to the lives of those who enjoy it that once you do it, you realize it is a dream fulfilled.
Pierre Fortier is General Manager for Palmex International.