Ever dreamed of starring in a 007 film? Well now you can take your place in a starring role as the Head of S.P.E.C.T.R.E. aboard this ultimate 007 mega yacht "Diamonds Are Forever"… available for private hire! First impressions of this stunning mega yacht are of an imposing HQ for counter-intelligence operations… straight from any James Bond film, and fit for Blofeld himself. Yet once aboard, guests will soon discover that elegance abounds from bow to stern, and heads will certainly turn at every port from St. Tropez to St. Barths!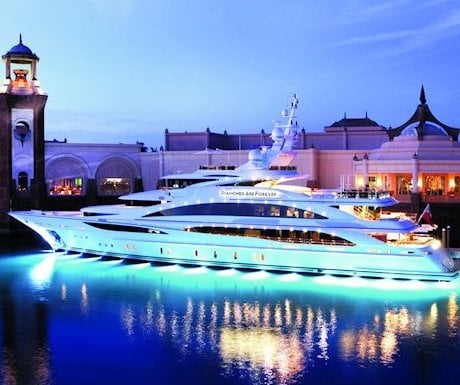 The commissioning owner of yacht "Diamonds Are Forever" is one John Staluppi, an American self-made businessman and owner of a chain of US car dealerships. Staluppi is a dedicated James Bond aficionado, who has even named his entire fleet of yachts after Bond films; with "Octopussy", "Moonraker", "Thunderball", and "The World is Not Enough" among the yacht collection. But Staluppi  himself is more likely to have been detailed on 007's hit-list than to have been on Her Majesty's Secret Service… Staluppi was identified in the 1990's by the FBI as a senior member of the Colombo mafia family, and since this time he has become hugely successful and tremendously wealthy, leading to widespread speculation as to his interests. But like any good James Bond villain, Staluppi remains one step ahead! Today however, Staluppi is better known as a philanthropist and personally supports the less fortunate.
As a yachtsman and experienced yacht owner, Staluppi worked closely with Benetti Yachts to create the ultimate James Bond style yacht in "Diamonds Are Forever". This combined talent has resulted in a luxury mega yacht which meets the most demanding charter requirements; palatial open spaces, only the finest materials, and of course the very latest state-of-the-art technology to make "Q" jealous! Security is paramount, and whilst "Odd Job" is not in service, the first class professional crew ensure the highest levels of service and privacy.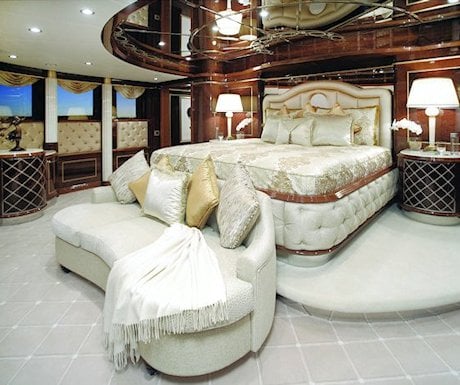 "Diamonds Are Forever" features six VIP staterooms for up to twelve guests in absolute luxury. She is available for private charter from €330,000 Euros per week…so a few decent diamonds at least!
Daniel Barber is Director of AquaCruise Yacht Charter.