With Valentine's Day not far away now, what are you going to be buying for the travel-obsessed loved one in your life? Whether it's a new bag, new shoes or a new scent, there are some great ideas here for the special someone in your life who already seemingly has everything. Read on if you're in need of inspiration…!
On Valentine's Day every woman deserves a present as unique as she is. A Cashhimi bag is the best present you can give that will truly melt her heart. Known for its pure, unadulterated elegance design, the Cashhimi bag is a must-have especially on lovers' day. So if she's fashionable, enjoys style and beautiful bags, then don't look any further and surprise her with one of the bags from Cashhimi by Cenan Abas Sel.
All bags are made in Turkey with high quality Python exotics carefully selected by Cashhimi, and are entirely hand-crafted. The simple shapes and vivid colors are ideal for matching different outfits and styles; whether her style is minimal or more sophisticated, these bags would fit her outfit like a glove! The bags can be yours from $600 up to $1,550
Colonia Leather Travel Spray from Acqua di Parma
This original eau de cologne from Acqua di Parma is a unisex fragrance that creates the perfect balance between tradition and modernity. The perfect travel companion for your loved one that fits in a beautiful Acqua Di Parma leather travel case.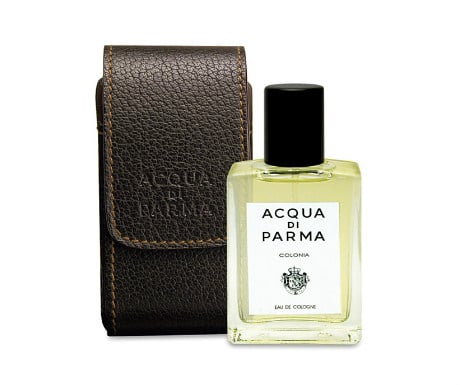 In a tribute to traditional values, this product harmoniously blends elegance with practicality. It is a truly unique accessory that will last a lifetime. 30ml refills are available separately.
'Amour' collection from Fleur of England
She deserves the best for Valentine's Day. Fleur of England is the number one designer lingerie label to find the perfect luxury Valentine's gift. The new 'Amour' collection from Spring Summer 2014 uses stunning silk and French lace in a rich red.
The lace cup balcony bra, suspender and thong are a timeless, romantic set in seductive rich red. With sizes A-G cup and easy sizing of small, medium and large in the suspender and thong it is easy to find her perfect fit or try the gentleman's guide. Sophisticated lingerie is the ultimate gesture of love.
Founded by Almira Armstrong in 2013, Lumira is the manifestation of her life-long love affair with scent, design and travel. The candles are handcrafted using the purest, all-natural soy wax available and cotton wicks, together with fine fragrance oils composed by a team of internationally-renowned perfumers.
The collection celebrates the spirit of travel and is a means to enhance our day-to-day lives with a sense of comfort, luxury and olfactory escapism, no matter the location or occasion. Available in two styles, an elegant, voluminous ebony glass or a beautiful gold travel tin, these are a must have in your home or any space you may encounter on your travels.
Round Trip Travel Wallet from Disaster Designs
Let your loved one go wherever her heart may lead her with this scrapbook-inspired travel wallet by Disaster Designs. Clad with pastel maps, precious mementos, stitched and stuck-on ephemera, and a sweet address label for "Miss. U. Lotts," this globetrotting essential invites you to easily unsnap its plane-embossed strap and 'stowaway' your cards, currency, passport, and paperwork for safekeeping.
Finish by tossing this faux-leather accessory in your carry-on luggage or canvas tote for a last-minute getaway! It is made with man-made materials and measures 6 x 9.5 x 1 inches.
Colada Flame Suede Sandals with Stones from Jimmy Choo
Sweetie like gemstones in hot colours nestle alongside sparkly Swarovski crystals to create a brooch-like effect on these striking sandals. Heel measures 120mm/4.7 inches. Available from Jimmy Choo for £950.
For those who wanted to give the entire city of New York as a gift: Bond No. 9's first-ever scent miscellany — 18 of their fragrances in pocket spray form, packed in two enticing layers in a sturdy white box. The elegantly elongated bottles, wrapped like candies in signature foils, are perfectly sized for travel. Plus, they're refillable!
Saffiano textured-leather iPad Mini clutch from Net-a-Porter
Never choose between your clutch or iPad pouch again with our red 'Saffiano' textured-leather case exclusive to Net-a-Porter. Their in-house team has designed every detail with quality, durability and practicality in mind – the tablet section of this piece is lined in Alcantara® to prevent scratches, and there's plenty of space for business or credit cards and a separate compartment for other essentials, too.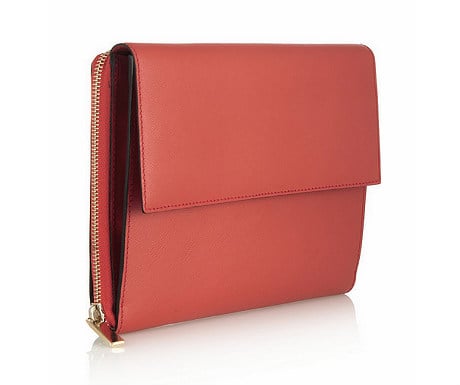 Denis Colomb travel blanket from L'Eclaireur
This brown cashmere travel blanket from Denis Colomb has a gorgeous feel and features a frayed raw cut edge. It is 100% cashmere, measures 200 cm x 100 cm, and is available from L'Eclairerur for €765,00.
Red Lizard and Creme Suede Jewellery Roll from Aspinal of London
The Aspinal of London Travel Jewellery Roll is handmade from the finest Red Lizard print Italian calf leather and lined in contrasting super-soft Cream Suede. Perfect for safely organizing your favourite pieces of jewellery when travelling, even the hidden pockets are luxuriously lined in moireé silk. Don't leave home without one!