On a recent visit to Helsinki, I stayed at the GLO Hotel Ithaca – a moderately-sized hotel with an excellent city centre location, putting you in easy walking distance of many key sites. I arrived late at night (in fact, in the early hours of the morning), so please forgive the night-time shot of the exterior which perhaps doesn't do it justice.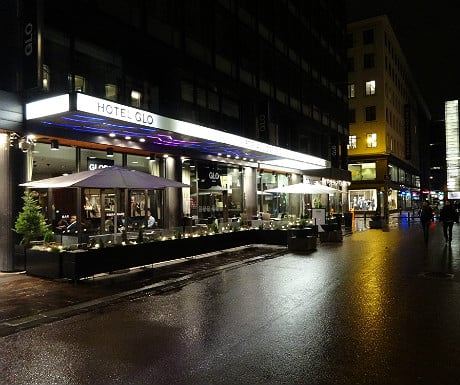 The welcome
Check-in was a quick and efficient process. Reception also kindly sorted me out with an adaptor as I realised I'd inadvertently brought the wrong one with me.
The room
My room was towards the top of the building, on the last but one floor (accessible by lift) – a clean, contemporary room with various shades of brown and beige, and magnolia walls. In addition to the bed that you see in the pictures, there was a small sofa (in front of another TV) and a writing desk.
Sadly there was little in the way of a view to speak of because I wasn't in a room that faced outwards but that didn't really bother me as I wasn't going to be staying in for the hotel for long and, when I was there, I'd be either working or sleeping.
The bathroom
Robes, slippers and toiletries were all provided. There was both a bath (and bath salts supplied daily) and – separately – a lovely, powerful shower, perfect for freshening up.
The facilities
I didn't eat at the hotel restaurant but did have breakfast there each morning. This was a rather simple affair with hot and cold buffer options, including one or two typically Scandinavian choices. The main downside of breakfast was how busy it was – it didn't seem to have quite enough seating for everyone, possibly because I was there at peak time and perhaps also, I suspect, because non-residents were also having breakfast there.
I did make use of the gym and spa facilities on the top floor of the building. I had the gym to myself – there are a couple of good running machines in there, complete with a screen hooked up to the internet and with one or two games you can play if you're able to press buttons and remain steady on your feet at the same time.
The spa includes a couple of small saunas (one Finnish) and various treatment rooms. I had a neck and shoulders massage to relieve a bit of tension in my neck which certainly seemed to help.
Use of the hotel WiFi was free. Whilst not the fastest connection in the world, it was satisfactory for my needs. There was an option for a faster connection if preferred, but this was extra.
The room had a minibar but be warned… the bar of Fazer chocolate is excellent but difficult to resist!
Other nice touches
As already mentioned in another post, Emilia on reception was particularly helpful, sorting me out with directions, restaurant reservations, alarm call, taxi, etc. Nothing was ever too much trouble.
Cost
Double rooms start from 157 euros.
The best bit
Whilst the hotel is fresh and modern, the greatest thing it has going for it is its location, in the heart of Helsinki's business and restaurant area, and within walking distance of the harbour and many tourist attractions.
The final verdict
A sound and affordable hotel in a central location. A convenient base for my visit and I would certainly stay again.