Fully equipped on board spas are integral parts of any cruise. Whether it's a chilly sea day in Alaska or after a busy day exploring the cities of the Mediterranean, an hour or two being pampered head to toe can be just what you need. Wondering which cruise ships boast the best spas at sea? Here are five spas that we really think are worthy of a mention:
1. Canyon Ranch Spa
Canyon Ranch Spa is based in Tucson, Arizona, and operates a number of luxurious spas and health clubs located throughout the United States and, more recently at sea on some of the world's most magnificent cruise ships.
Treatments & facilities
One of the most popular facilities at a Canyon Ranch Spa is the thalassotherapy pool which offers bathing experiences in mineral-rich waters designed to cleanse the body and create a mild detoxifying effect. Whirlpools, thermal pools, and steam rooms are also available. Some Canyon Ranch spas offer fully equipped gymnasiums and beauty salons listing treatments from hairdressing and makeup application to teeth whitening.
Additional extras
On board cruise ships, Canyon Ranch Spa crew have designed a number of healthy yet delicious menu options available in the main dining rooms, offering health conscious passengers the opportunity to dine on cuisine they can be sure is good for their body, both inside and out.
Ships
Currently, Canyon Ranch Spa can be found on Regent Seven Seas' Seven Seas Voyager, Seven Seas Mariner, and Seven Seas Navigator, and Oceania Cruises' Regatta, Nautica, Marina, and Riviera. The largest of the spas, covering 20,000 square feet, is on board Cunard's Queen Mary 2. Recently Celebrity Cruises announced that their AquaSpas will be replaced by Canyon Ranch Spas, with Celebrity Century being the first to boast these prestigious facilities in March 2014, with the other vessels following in April 2014.
2. AquaClass Staterooms
This listing is a little bit different, in that AquaClass staterooms aren't exactly a spa, but more of a personal extension of the spa facilities on board Celebrity Cruises. While the AquaClass Spa is due to be replaced with Canyon Ranch branding, the AquaClass staterooms will remain on select Celebrity Cruises ships.
Treatments & facilities
The in-room facilities in AquaClass staterooms include all the amazing amenities you'd find in standard cabins on board Celebrity Cruises ships, along with some added benefits including an aromatherapy diffuser, pillow menu, upgraded toiletries, and access to an on-demand fitness programme.
Additional Extras
In addition to the spa-like features included in the AquaClass staterooms, guests in these cabins will be offered a personal spa concierge, access to a private relaxation room, and the opportunity to dine in the Blu Restaurant, offering a wide range of healthy choice options to complement the wellbeing conscious, including 'clean eating' dishes.
Ships
AquaClass staterooms are available on all Celebrity Cruises ships belonging to the Solstice Class. This includes Celebrity Solstice, Celebrity Equinox, Celebrity Eclipse, Celebrity Silhouette, and Celebrity Reflection.
3. Lotus Spa
The Lotus Spa is designed to offer a wide choice of relaxation, beauty, and fitness facilities to make cruising a much more healthy and enjoyable way to travel.
Treatments & facilities
The Lotus Spa is incredibly popular as it offers both standard spa treatments and those that are more advanced. For example, facials, stone massages, and body wraps are on the menu, along with acupuncture, Botox, and perlane treatments for tackling imbedded laughter lines.
Additional extras
The Lotus Spa is closely associated with on board fitness facilities, providing personalised fitness programmes consisting of core, balance, and strength workouts. Personal trainers are available to help you reach your potential, while the spa also offer a metabolism test which helps put you on the right path towards obtaining a healthy body fat and water ratio.
Ships
The Lotus Spa features on all vessels operated by Princess Cruises, including the two smaller ships, Ocean Princess and Pacific Princess.
4. Vitality Spa
The Vitality Spa is provided by Steiner Leisure – an experienced company that offer health and relaxation services all around the world in cruise ships, aeroplanes, and in luxurious 5* resorts. With the introduction of new ships in the near future, Vitality Spa is expected to become bigger and better than ever before.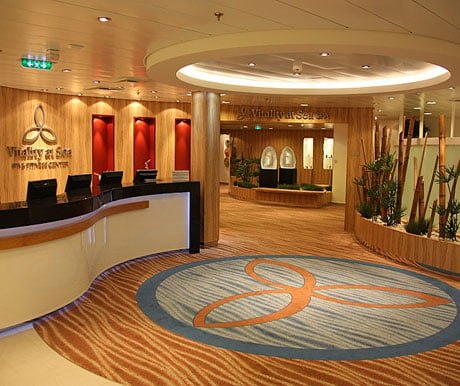 Treatments & facilities
Currently, Vitality Spa offers thermal pools, relaxation rooms, and treatment rooms offering a range of massages, facials, and hot stone treatments for ultimate pampering. The spa is heavily associated with the fitness centres, which offer high tech cardio equipment for maintaining a healthy lifestyle with cruising.
Additional extras
With Quantum of the Seas and Anthem of the Seas expected to set sail in 2014 and 2015 respectively, Vitality Spa is dedicated to providing new and improved facilities that will make these ships even more impressive. These facilities will include the world's first 'technogym', a FlyWheel cycling studio, and more treatment rooms than ever before.
Ships
Vitality Spa, known as '[email protected]' on board cruise ships, is available on all current Royal Caribbean cruise ships, including the latest additions to the fleet due to arrive shortly. Royal Caribbean have entered into an agreement with Steiner Leisure to provide their on board spa facilities until 2017.
5. Mandara Spa
Mandara Spa is a massive, global company providing spas not only at sea, but also around the world, at opulent holiday resorts everywhere from Africa and the Caribbean to the United States and United Arab Emirates.
Treatments & facilities
The services on board differ somewhat from the land offerings, with Mandara Spa adapting their treatments to specifically suit cruise passengers. At sea, Mandara Spa boasts between three and eleven treatment rooms per ship, as well as a number of steam rooms and saunas.
Additional extras
Mandara Spa use Elemis products in their on board spas, meaning passengers can recreate the luxurious experience at home. Spa staff will provide a list of all products used during each session, giving passengers the opportunity to enjoy the aspects of the spa even once the voyage is over.
Ships
Mandara Spa facilities are available on all ships within the Norwegian Cruise Line fleet, including the newest ships – Norwegian Breakaway and Norwegian Getaway.
Michael Wilson is the Managing Director at Bolsover Cruise Club.