By
Craig Burkinshaw
on Feb 28, 2014 in
Accommodation
,
Adventure Travel
,
Botswana
,
Kenya
,
Leisure Travel
,
Malawi
,
Namibia
,
Regions
,
South Africa
,
Speciality Travel
,
Tanzania
,
Zambia
True romantics don't need Valentine's Day to show their loved ones how much they care. With these dreamy properties in Africa you'll be looking for any excuse to spend a few nights away! Read on for our guide to the 10 most romantic places to stay on the continent.
The name of this lovely property translates as 'maybe tomorrow' and this sums up this relaxed accommodation perfectly.
Each of Kaya Mawa's 12 rooms are individually designed and some even have private plunge pools. Those looking for total seclusion will love one room in particular: Makengulu is tucked away on its own little island linked by a walkway to the rest of the resort.
Spend time snorkelling in the world-famous Lake Malawi and enjoy sunset sailing in dhows before relaxing in your contemporary but comfortable surroundings.
Beho Beho is situated on a hillside and the property's stunning, open-fronted rooms enjoy a cooling breeze, perfect for relaxing during the heat of the day between safari activities.
But it's not just your spectacular surroundings that are sure to impress at Beho Beho: the property also boasts some of the best guides in Africa so you can be sure to experience the best of both worlds.
For those looking for even more romance, follow the lanterns to a new spot each evening, where Beho Beho staff serve up exquisite meals, or spend a night under the stars in the property's delightful treehouse.
Ol Donyo Lodge has a lot going for it. In my opinion it is one of the best lodges in Kenya thanks to its stunning location in the Chyulu Hills and wonderful links with the local Maasai community.
There are just seven secluded cottages, each with a rooftop star-bed where you and your loved one can enjoy a night or two exposed to the African elements, as well as indoor and outdoor showers and private plunge pools. The wildlife isn't bad either: expect to see some of Africa's last big tusker elephants roaming around.
Wild and remote, Bushman's Kloof is a peaceful and romantic place to stay for those visiting South Africa. Eating here is always a fun experience and there are a number of spots to dine in, from a walled garden or down by the river, to a spot nestled in the mountain at an open-fronted cave called 'Makana'.
The level of service is second to none at Bushman's, and the property's fantastic spa is not to be missed. There are plenty of activities to take part in too, ranging from the most energetic such as hiking, cycling and canoeing, to the more sedate, including swimming in the river.
Zarafa is one of most lavish camps in Botswana with just four luxuriously appointed, marquis style tents, accommodating a maximum of eight guests at any one time.
The name means 'beloved one' in Arabic so what better place to relax with your significant other? You can watch majestic elephants from the comfort of your plunge pool or simply relax in your opulent surroundings which have a mix of Arabic and African influences.
If you're looking for a remote, wild and secluded location to spend some time with your loved one, you can't go far wrong with Chamilandu Bushcamp in the South Luangwa. The property is made up of just three open fronted treehouse rooms on stilts, from which you will enjoy all the sights and sounds of African wildlife uninterrupted.
Come night time you can watch elephants in the river from your balcony, or shower under the stars in preparation for another day on safari with some of the best guides in Africa.
Located on top of a rusty red sand dune, there are 11 chalets that make up Wolwedans Dune Lodge in Namibia. Each room has polished wooden floors, beautiful cream fabrics, sweeping muslin nets and original artwork, creating a peaceful haven for you to relax in.
By day, spend your time exploring the incredible NamibRand dunes in search of oryx, ostrich and springbok, and by night roll up the canvas walls of your chalet to marvel at the stars and feel the desert breeze.
Dulini Lodge, Sabi Sands, South Africa
For the wildlife enthusiast look no further than Dulini in Sabi Sands. The property has just six luxurious thatched, ensuite and air conditioned suites that are situated under a leafy canopy overlooking the Mabrak River. Stylish, exclusive and private, you can expect your own balcony overlooking the riverbed, a plunge pool, roll top bathtub, and top guides who will take you on game drives, bush walks and night drives.
Sindabezi is a tiny lodge that sits on a tranquil island in the Zambezi River, not far from Livingstone. With just five, eco-friendly rooms, the property offers a truly unique experience and one that should be shared with the person you love.
Each chalet is open-sided and sits right on the river, where hippos float lazily by. Keep your eyes peeled for elephant who roam around this area too.
Cuddle up by the roaring camp fire at night, or ask the staff to arrange a Sanpan floating candlelit dinner for you.
Lake Manyara Tree Lodge, Tanzania
Lake Manyara Tree Lodge is a magical property with a hint of exclusivity given that it is the only accommodation in the Manyara National Park.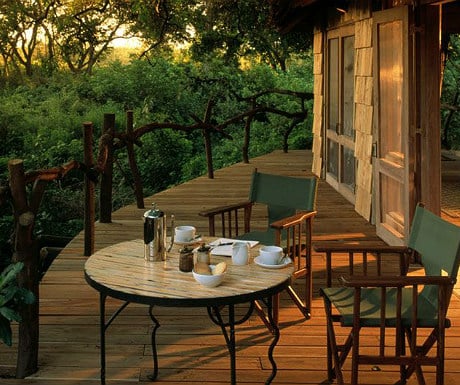 All rooms are enormous treehouses on stilts nestled deep in the forest, where monkeys and bushbabies keep you company.
There are a number of luxurious touches, including a roll top bath and outdoor shower – you even have your own personal butler who will tend to your every need throughout your stay.
Craig Burkinshaw is a Founder Director of Audley Travel.