The hot dog has become an icon of New York, perhaps even more so than the pizza or hamburger. Not only does it symbolise the city's multi-national culture, but its diverse toppings and composition makes it the meal to please any palette. We've mapped out a list of the top 10 hot dogs in New York to help fulfil your quest of finding the perfect accompaniment to a day out in the Big Apple.
Definitely one of the more popular hot dog places in New York, Bark hot dogs are renowned for their uncompromising quality and eclectic menu. Chow down on a classic NYC Dog, equipped with street cart-style onions and yellow mustard, or opt for something a bit more 'out there', like a Cheddar Bratwurst.
Typical hotdogs but with an Asian twist, Asia Dog is a unique establishment that guarantees an unforgettable meal. Order a Ginny Dog, topped with kimchi and seaweed flakes, or get more adventurous with a Sidney, garnished with mango and cucumber relish, red onion, cilantro, crushed peanuts and fish sauce.
Dogmatic's emphasis is on using fresh ingredients, and only organic meats. Therefore, whether you opt for a grass-fed beef hotdog or a mac & cheese dog, topped with gourmet truffle gruyere, you won't have to worry about anything nasty going into your system: only wholesome deliciousness.
Papaya King started out as a juice shack, until the owner married a German woman who introduced him to the miracle of hot dogs. Ever since then, Papaya King has been serving some of the best dogs alongside a free cup of juice. The menu is simple, and the food is gut-bustingly good.
One of New York's most popular hot dog joints, Crif Dogs serves authentic hot dogs and an array of delicious toppings. Go for a classic New Yorker dog and garnish it with anything from mustard to chilli cheese or pineapple. A diverse menu of already topped hot dogs makes Crif Dogs an enticing grill to visit.
From their shack-made lemonade to custard ice cream milkshakes, Shake Shack is a popular spot for locals and tourists alike. However, their hot dogs are also worth mention. Using only all-natural meat, you can choose from a classic Shack-cago dog, topped with homemade relish and mustard, or even enjoy a chicken dog, stuffed with apple and sage.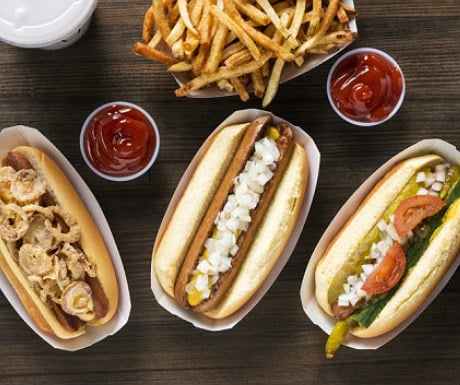 Authentic down to its grilled onions, Walter's Hot Dogs has been in operation since 1919. Today, not only can you enjoy perfectly grilled dogs topped with Walter's own mustard, but you can also buy memorabilia in the shop, from t-shirts to relish.
Katz's Delicatessen is always featured in cooking articles and TV shows, due to its famously delicious fare – and its hot dogs are no exception. Using only the best meat, each hot dog is grilled to perfection and topped with pickles and relish.
These upmarket hot dogs are delicious, and come with some interesting toppings, such as a serving of mac & cheese or chilli.
As you might guess from the name, The Smoke Joint's hot dogs enjoy a delicious smoky flavour, which is sure to enhance your dining experience. Topped with pulled pork, their famous Joint Dog is a meaty masterpiece.
Matthew Coe is Online Marketing Manager for Wanderforth.
If you would like to be a guest blogger on A Luxury Travel Blog in order to raise your profile, please contact us.