By
Chinmoy Lad
on Apr 01, 2014 in
Accommodation
,
Asia
,
China
,
Featured
,
Food and Drink
,
Going Out
,
Leisure Travel
,
Regions
,
Resorts
,
Restaurants
,
Spas & Pampering
,
Speciality Travel
,
Travel Miscellany
When Marco Polo visited the ancient Chinese city and former capital of the Song dynasty of Hangzhou in the late 13th century, he christened the city: "beyond dispute the finest and noblest in the world." Part of an old Chinese saying transliterated reads: "there is paradise in heaven, on earth there is Hangzhou," marking Hangzhou as 'heaven on earth' – the nickname now bestowed upon the city. With such accolades, it is no surprise that Aman Resorts, the quintessential luxury hotel group and leading pioneer of boutique hotels, decided to open Amanfayun­­ in 2010 in Hangzhou at the site of Fayun Village.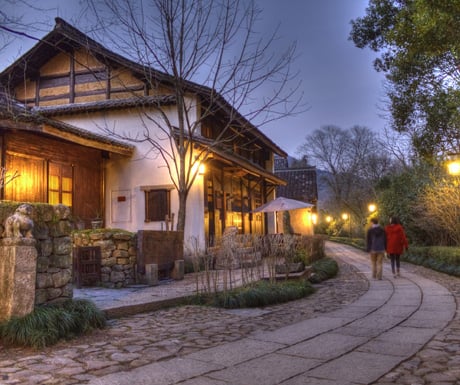 Fayun Village, set among hilly Hangzhou, is a quaint hamlet at the outskirts of some of the city's most important sites, the Lingyin Temple (Temple of Soul's Retreat) and Yongfu Temple that form a ring of seven temples in the mountains.
The restored village, dating back hundreds of years, is now a haven for guests to indulge in the history of the place. The main 600-metre cobblestone pathway (Fayun pathway) that cuts through the village has been left open to public, as it leads directly to the foot of Lingyin Temple – a trail still used by Buddhist monks and the general public on their way to the monasteries. With its unique architecture and atmosphere, Amanfayun offers a 'sense of place', surrounded by tea fields, forests with indigenous camphor, osmanthus and bamboo trees, and dotted by village-style dwellings.
The resort experience begins at the airport, where our chauffer picks us up and leads us to the village, a 40-minute drive through the city, new and old. Staff, including General Manager Lukasz Prendke and Monika Prendke, as well our butler Danielle, greet us personally as we alight. We are welcomed to the reception area with a refreshing tea while Lukasz and Monika generously sit us down and inquire regarding our expectations for Hangzhou.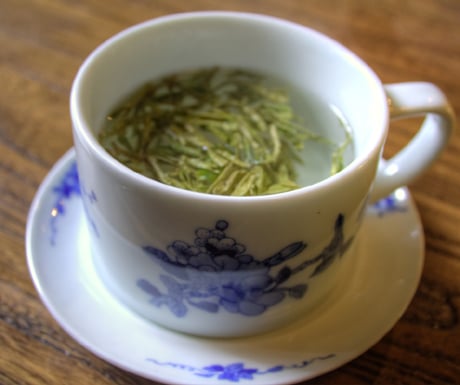 Our Village Room is 700 square feet of understated elegance: stone floors, a four-poster bed, an integrated living space and a bathroom that is split from the main space by wooden lattice screens. Despite the stone floorings and the temperate weather outside, the room and the floor is appropriately heated as we check-in, and throughout our stay.
The Jaya Ibrahim-designed rooms are furnished in traditional village style: stone and wood feature prominently in natural stone vanities, a wooden sofa, chairs, cabinets and the uniquely Chinese mini-bar. The room is thankfully void of unnecessary technology, save for the out-of-place television, featuring instead calligraphy and lights encased in paper lanterns.
Due to the structure of the village, no two rooms, even in the same category, are identical. There are a total of five categories, rising up to the presidential duplex 3,000-square-foot Amanfayun Villa, which contains a private massage area. Every room also has a sizeable courtyard, ideal for outdoor sit outs or tea or supper. The stone courtyards are often given life and colour with a tree or two planted within the encasement providing shade, comfort and a verdant atmosphere.
Around the resort, the buildings are split into different facilities. Two separate structures host The Restaurant (the only building not an original village structure, though you wouldn't notice it!) and Steam House, a Western and Chinese restaurant respectively, managed by the resort itself. The Steam House provides sincere and authentic Chinese cuisine, with the dim sum and fresh flat fish fillet steamed in soy sauce a particular delight.
Also on the grounds are three other independently managed restaurants: Hangzhou House, serving a selection of local favourites; Tea House, an experience in itself with its plethora of native teas and mini tea musuem, including the famous Longjing (Dragon Well tea or Imperial tea), served with home-cooked hearty meals; and Vegetarian House, providing alternative, simple, vegetarian cuisine.
Nearby, the Aman spa is set on multiple levels across five buildings on a hilly slope, with private and couples massage rooms, bath houses featuring circular wooden soaking tubs, and an outdoor pool that is closed during winter. Fayun Place, the central point of the resort and its largest and most distinguished building, accessible only to guests, hosts a library, sunken sitting rooms and a very peaceful casual space across two-levels, where multiple activities, including calligraphy, paper cutting and more presented by local masters, are hosted to engage guests in the local cultural experience.
For our independent trip to the West Lake, our butler Danielle takes the initiative in providing us with several hand-drawn maps of the area as well as a mobile phone to stay connected. Danielle's thoughtfulness in creating a unique itinerary and ability to predict any issues and propose a solution through being proactive by taking appropriate action are a hallmark of Aman's much vaunted service standard.
Whether it is the resort's superbly scouted location and its positive feng shui, or its proximity to the temples and its faint religious connections, there is a calm peace that pervades throughout that is best exemplified by the open stone pathway through which orange tunic-clad monks regularly traverse on their way to the temples, and the flowing water stream that continually trickles as it passes over stone obstacles.
While there are no soft sandy beaches or gentle waves in sight like at many R&R resorts, Amanfayun is arguably the most peaceful, relaxing and rejuvenating resort at which I have stayed.