By
Chinmoy Lad
on Apr 23, 2014 in
Accommodation
,
Asia
,
Caribbean
,
Europe
,
Featured
,
Greece
,
Hotels
,
India
,
Indonesia
,
Leisure Travel
,
North America
,
Oceania
,
Pacific Islands
,
Regions
,
Resorts
,
Saint Lucia
,
Speciality Travel
,
USA
,
Utah
,
Western Europe
,
Worldwide
Following on from our previous series where we looked at the world's best city hotel views, we now turn our attention to the world's most jaw dropping resort views. While city views are entirely dependent on mankind's ability to build structures and turn buildings into art and entire cityscapes into neon-lit bright reflections of a starry night, resorts tend to let their surroundings and good ol' Mother Nature do the talking.
The best resorts that come with the best views try to incorporate their surroundings into the complex and add to the view, rather than highlight the resort and take away from it. Often, the resorts angle their structures so as to make the best of a guest's field of view.
With the Earth being over 70% water, naturally, endless sea views dominate this list, with mountains, another prominent topographical feature, also accounting for much of the rest, often within the same landscape.
The three-walled rooms open up to vistas of mountain peaks and sea, complemented perfectly by the infinity pool in your suite. With TVs barred from the room, put your smartphone down and make the most of this once in a lifetime view.
Karma Kandara, Bali, Indonesia
Perched on a secluded cliff on one of Asia's most visited islands, Karma Kandara hangs just over the coral-fringed, warm, crystal clear waters of Kandara Beach, with views towards of the ocean from a height, and with the soft, sandy beach just at the footsteps.
Grace Hotel Santorini is built specifically to enjoy iconic white-washed Santorini and its nearby islands, as well as some of the most picturesque sunrises and sunsets. At the peak of Caldera, the large, uniquely shaped infinity pool is the perfect place from which to soak in uninterrupted views.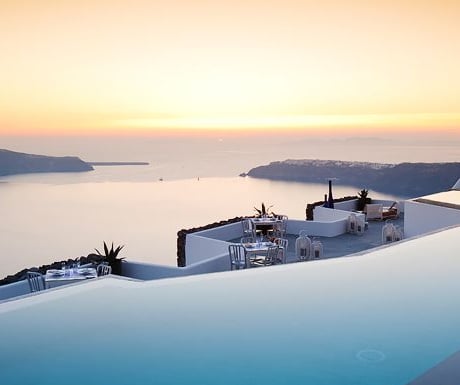 The Grand Canyon is one of the world's most astounding landscapes, formed by the Colorado River slowly scything its way over time through billions of years of rock formations. This dramatic backdrop is the setting for Amangiri, tucked into a protected valley at the border of Arizona and Utah, replete with a pool set around a protruding rock, with expansive views over this intensely vivid landscape.
Four Seasons Resort Bora Bora, French Polynesia
This island in the middle of the South Pacific retains its charm and is often visited by honeymooners, precisely for the view. Set amid a lagoon and a barrier reef, Four Seasons Resort Bora Bora, in some ways, provides much the same view as Jade Mountain at St Lucia, with crystal clear waters and a jagged 700 metre mountain peak that was formerly a volcano that pierces the sky, but from sea-level, so you can marvel at the peaks of Mount Pahia and Mount Otemanu, while swimming with various sea creatures in the coral-friendly blue waters.
Wildflower Hall, Shimla, India
Formerly the summer capital of British India, Shimla is set high in southwestern Himalayas, among the world's youngest, highest and most scenic mountain ranges. Wildflower Hall, formerly a residence of Lord Kitchener, sits at 8,250 feet above sea level offering a tranquil sanctuary and jaw dropping views below, particularly from the outdoor heated Jacuzzi.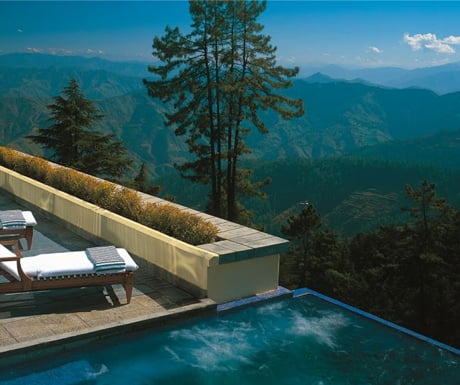 Have we missed any places out? Let us know in the comments below!
Chinmoy Lad is the CEO and Founder of The Suite Life.
If you would like to be a guest blogger on A Luxury Travel Blog in order to raise your profile, please contact us.