8 of Dublin's best pubs to drink Guinness
You can't possibly visit Dublin without sampling at least one pint of Guinness. Apart from the embarrassment of having to admit this to family and friends back home, you know it's good for you – at least that's what I was told when I was growing up in Dublin! It was normal to understand from a young age, that there were good, bad and great pints of Guinness available, and the trick was to know what was what, from an early age. Your trip to Dublin will be greatly "enriched" not only by the best pints of Guinness, but hopefully by bartenders who deliver the proper Irish character to match – be it a bit of friendly Irish banter, or some dry Dublin wit!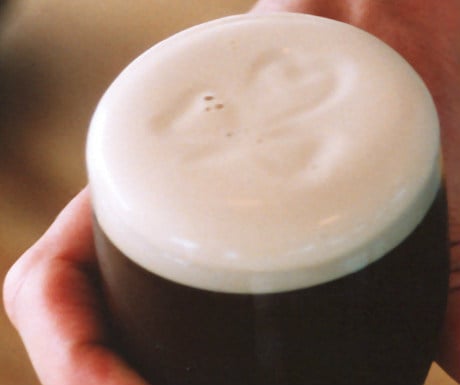 So in no particular order, here are 8 of Dublin's best city centre pubs to drink a pint of Guinness….and to have a bit of craic, as well. In addition to being some of the best spots for Guinness, these bars all retain interesting character, which makes them worth a visit. The list is far from definitive, but should certainly help you add "Guinness value" to your visit. It doesn't include some of our famous suburban pubs, that's for another feature.
1. Mulligan's, Poolbeg Street, Dublin 2
This drinking institution has been a favourite with Dubliners, tourists, and the good, bad and the ugly for centuries. Like the other bars listed, you can encounter a wonderful cross section of characters in
Mulligan's
. Well known as a favourite pub with journalists, for more years than they can possibly remember, Mulligan's serves one of the best pints of Guinness in Dublin. The journalists could pop over, perhaps too conveniently, from the Irish Times Newspaper, and from the Irish Press Newspaper, years ago as well. Not only is Mulligan's one of the top Dublin city centre pubs for Guinness, it's also one of the oldest drinking spots in the city. Mulligans was originally a "shebeen", which is a private house or place, that is unlicensed to sell alcohol, and may indeed be a bit "seedy" …filled with undesirable, or possibly just very interesting characters. Almost 300 years later, Mulligans of Poolbeg Street still has a great authentic, atmosphere. It did become legal in 1782. Part of Mulligan's charm, is it hasn't tried to become one of the trendy, modern venues that made a rather indecent effort to take over Dublin, back in the days of the Celtic Tiger. Instead it has changed as little as possible over the years! It has been a hotbed for students from Trinity College, lots of normal Dubliners, journalists and many famous and infamous characters – one or two names that may ring a bell with you are James Joyce and John F. Kennedy – both of whom you can raise a pint of Guinness to, and imagine them drinking in Mulligan's many years before you.
2. Neary's Pub, 1 Chatham Street, Dublin 2
Back in the day Neary's was one of the favourite spiritual homes for the town's literary set, in particular, Brendan Beehan. Located just off Dublin's pedestrianised Grafton Street, you could easily be lured in here for a pint or two at night, drawn in by the inviting Victorian lamps that are held by cast iron hands and arms, which frame the pub's front door. Or you may find it the perfect place to take a rest from a shopping or sightseeing trip, and you can also get good sandwiches there. Neary's is a late Victorian pub, that is quite plush, yet relaxing to be in.
3. Kehoes Pub, 9 South Anne Street, Dublin 2
Also just off Grafton Street, you'll find another Dublin institution serving a fine pint of Guinness –
Kehoe's Pub
, which was licensed back in 1803. You can drink your pint of Guinness in a snug, which is a small, cosy part of Kehoe's and some other older Irish pubs. The décor that you'll see when you go to this pub dates back to the latter part of the 19th century. The pub is homely, yet definitely unpretentious. There's a serving hatch and also a buzzer, that operates today, just as it did over 100 years ago. The literary set, Joyce, Beehan, Kavanagh, and Myles na gCopaleen could also be found drinking in Kehoe's, as in some of these other top Guinness pubs.
4. Stags Head, 1 Dame Court – off Dame Street., Dublin 2
Another historical, authentic Dublin pub, the
Stags Head
is renowned for its hospitality and its great pint of Guinness. It's also not too far from Grafton Street, down the Trinity College end. Since the 1780s a tavern has existed at this location, however it became well known in the 1830s as the Albion Hotel & Tavern. It was George Tyson, who in the 1890s, commissioned the architect, J.M. Mc Gloughlin, to build Dublin's most distinctive and advanced, Victorian pub of that time. Today, depending when you pop in there, you can also be entertained by traditional Irish music, or sometimes comedy.
5. The Palace Bar, 21 Fleet Street, Dublin 2
A jewel of a Dublin pub,
the Palace Bar
dates back to 1823 and has remained pretty much undisturbed by the passage of time. There's not that many pubs that I would recommend going to in the morning, but the Palace Bar is one of them. Ideally on a sunny morning, go in and see the light coming in the lovely stained glass windows, highlighting the high vaulted ceiling and the old mahogany bar. The Palace Bar was another favourite of the literary set, and Patrick Kavanagh said about it: "When I first came to Dublin in 1939, I thought the Palace was the most wonderful temple of art."
6. Toners, 131 Lower Baggot Street, Dublin 2
Rory Guinness claims that it's in
Toners
that you'll find the best pint of Guinness! Established around 1818, Toners is another famous Dublin Guinness institution, that you'll find a small walk away from Grafton Street, at the Stephen's Green end. In 2010 Toners won the award for Best Snug of the Year; the same snug that is said to be the only place that W.B. Yeats would take a drink, when he had the occasional one. For the other writers who managed to drink more frequently, Toners was another one of the regular haunts. Originally when it opened it was both a grocery shop as well as a bar, which wasn't that unusual in
Ireland
at that time. The interior details of this pub make it a little like taking a drink in a curious museum. 7. Mc Daids, 3 Harry Street, Dublin 2 Mc Daids Pub is the setting of the opening of the James Joyce story, Grace. It was also the haunt of other writers such as Liam O'Flaherty, Flann O'Brien and J.P. Donleavy. Brendan Beehan is thought to have based some of his Borstal Boy and The Hostage characters on Mc Daids publicans. These days if you drop in for a pint of the black stuff, you may hear some good blues or jazz music. The décor has an interesting history, as originally the pub was the City Morgue and later it was converted to a Moravian chapel.
8. The Long Hall, 51 South Great George's Street, Dublin 2
The Long Hall is another one of the city centre's pubs that you really shouldn't miss on your Guinness trail. It seems that most buildings near it have succumbed to modernisation, but the Long Hall is pretty much what it says on the tin – a long bar, which is decked out with antique chandeliers, a mirrored bar and plenty of mahogany. Until 1951 it was a men only bar, and ladies could sit in the hallway and be served via hatches. Even when women were allowed to drink in all the bars in Ireland, if they drank Guinness they were expected to drink a glass (or half as it is known elsewhere) of Guinness. As little as 20 years ago, a woman who drank a pint of Guinness could have been considered to be butch. Don't worry, that's no longer the case!
Jackie de Burca is Co-owner of Catalonia Valencia.
If you would like to be a guest blogger on A Luxury Travel Blog in order to raise your profile, please contact us.
Did you enjoy this article?
Receive similar content direct to your inbox.