By
Chloe Johnston
on Apr 29, 2014 in
Europe
,
Food and Drink
,
France
,
Going Out
,
Leisure Travel
,
Regions
,
Restaurants
,
Speciality Travel
,
Travel Miscellany
,
Western Europe
Last Mother's Day, my mom and I decided to take a much-deserved weeklong trip to our favorite city of light, Paris. After settling into our apartment, we packed the day with some of our favorite activities, and kicked it off with none other than… shopping! We started with a visit to one of our favorite boutiques, Ba&Sh, our go-to spot for on-trend and utterly Parisian pieces.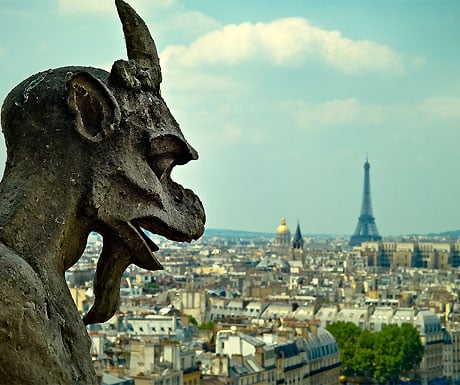 After picking up a few items at Ba&Sh, it was off to the Clingnacourt Flea Markets, where my mom, an expert haggler, nabbed a gorgeous vintage Yves Saint Laurent necklace. There really is no better place in Paris to find hidden gems then in the flea markets. My mom loves interior design, she almost ALWAYS finds some of her best tapestries there, that she will use for table cloths, rugs, wall hangings… you name it! Note: You can spend HOURS here, so if it's your first time, let yourself get lost – it's the best way to find the perfect pieces.
Next it was off to our favorite tea shop, Mariage Frères, to decompress after a morning of shopping. Walk in and you are enveloped in the most amazing aroma of tea leaves… divine. With more than 600 teas to choose from it's no wonder we are always going back! Anything with a hint of caramel gets me every time.
There really is no better way to bond with your mom than by working out together. I know that I have said this before, but water biking really is one of the best forms of exercise and one of our personal favorite ways to stay in shape while in Paris. With a spot right near our apartment, we can never go just once while we're there and going together is so much fun. Plus, a workout routine that keeps you cool AND gets rid of cellulite? Yes, please!
After a long day of shopping, sipping tea, working out, and getting lost in the hidden streets of the city that we love, we ended the day on a culinary note at Café de l'Alma. Nestled on a side street just a few minutes walk from the Eiffel Tower, Café de l'Alma is another one of our go-to spots. We always start with a kir-royale, both of our favorites for an aperitif — cute, isn't it?! We will always follow up with one of their many delicious wine choices. Parisian charm coupled with impeccable food makes this a must stop on every trip, and if you are a fish lover like me, then I absolutely recommend the salmon – I get it every time!
Needless to say that last Mother's Day was unforgettable… know how to top it?
Chloe Johnston is the CEO at CJ Shopping Tours.
If you would like to be a guest blogger on A Luxury Travel Blog in order to raise your profile, please contact us.