By
Rishabh Shah
on Jul 05, 2014 in
Africa
,
Asia
,
Europe
,
Food and Drink
,
Going Out
,
Louisiana
,
Nevada
,
New York
,
North America
,
Regions
,
Restaurants
,
Sri Lanka
,
Tanzania
,
Travel Miscellany
,
United Kingdom
,
USA
,
Western Europe
Some food is more expensive than others, it depends on where you are having it, who's making it and what rare ingredient has been added to it. One can understand the main course being expensive with that logic, but explaining how you splurged a few thousand dollars on desserts alone can take some explaining. Let's take a look at some drool worthy desserts which can get your pockets empty faster than you can take to eat one.
Sweet Surrender, Las Vegas — $750 cupcake
The cupcake in question requires 48 hours advance notice, so it cannot be just an impulse purchase or a craving. The acclaimed Chef Olivier Dubreuil of the Venetian and Palazzo had created the Decadence D'Or cupcake for Sweet Surrender at the Palazzo in Vegas three years ago, and apparently, there are quite a few takers for it. This $750 cupcake is created from Venezuela's rare Porcelana Criollo Chocolate, topped with Tahitian Gold Vanilla Caviar and edible gold flakes (Yes, real gold). It also includes Louis XIII de Remy Martin Cognac and comes in a hand blown sugar Fleur-de-Lis.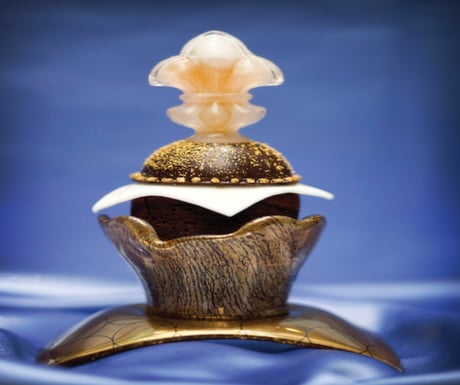 Westin Hotel, New York City – $1,000 bagel
A Bagel is a bagel is probably a bagel similar to one you had for your breakfast. And there is a bagel created by Frank Tujague, the Executive Chef of Westin Hotel in New York. It includes a small amount of white truffle cream cheese and goji berry-infused Riesling jelly that has golden leaves. You still would've gotten away with a moderate price tag were it not for the truffle, which is one of the most expensive food items in the world.
Serendipity 3, New York City — $1,000 Golden Opulence Sundae
Perhaps the celebrity on this list is the $1,000 Golden Opulence Sundae at New York's Serendipity 3. First created in 2004 for the restaurant's 50th anniversary, the Golden Opulence involves three scoops of Tahitian vanilla ice cream infused with Madagascar vanilla beans, topped in 23K edible gold leaf, sprinkled with a couple of expensive and rare chocolates. If you thought that's hard to beat, there's also the candied fruits, gold dragets, chocolate truffles and a bowl of caviar. It's sold in a Baccarat Harcourt goblet with an 18K gold spoon, naturally. There have been about 200 orders for this opulent delight in the nine years since it was created, pretty good numbers considering these sundaes require 48 hour advance reservation because the ice cream and caviar are flown in.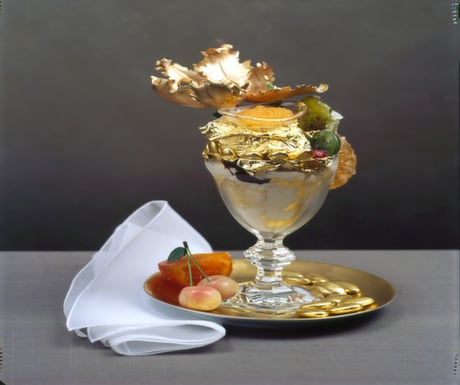 The Fortress Resort & Spa, Sri Lanka — $14,500 Fortress Stilt Fisherman Indulgence Dessert
A dark horse entry to this list, this dessert is described as "a challenge for those adventurous as heart". It is made with gold leaf Italian cassata, flavoured with fruit-infused Irish cream. To add, there's a fruit compote, a Dom Perignon champagne sabayon at the base and a handmade chocolate carving in the shape of a local stilt fisherman, which kind of explains the name. The crowning jewel, literally, is the 80 carat Aquamarine gemstone, it's adorned with, whose diameter spans the head of a soup spoon, or so they say. Obviously it takes time to get all of these at one place and orders must be placed a day in advance.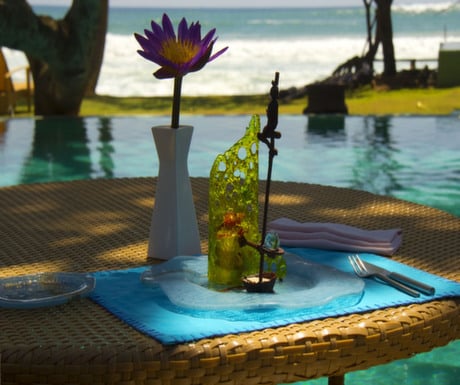 Serendipity 3, New York City — $25,000 Frozen Haute Chocolate
Garnering the Guinness World record for the most expensive dessert in 2007, this piece of marvel is actually just an upgraded version of the restaurant's popular Frozen Hot Chocolate. The original dessert is a mix of cocoas and milk frozen to a slush. But for the high end version they add a little to the mix; Five grams of 24-carat gold, then, the chocolate is topped with whipped cream and – you guessed right – more gold. No ordinary cherry tops this sundae; instead, it is garnished with La Madeline au Truffe. It even has a gold spoon to keep the dessert company. This sundae fit for kings can be made available with a 2 weeks' notice.
Lindeth Howe Country House Hotel, England — $35,000 pudding
Almost every chef of some renown can be seen racking up the prices of their dishes to win the record for the world's most expensive dish. Chef Marc Guibert of the Lindeth Howe Country House Hotel in England went after the world's most expensive dessert title in late 2011 with a chocolate pudding that costs $34,531. Shaped to look like a Fabergé egg, the pudding is made with high-end chocolate, gold leaf, Champagne, caviar and a diamond. It's layered with Champagne jelly and laced with edible gold. Not a bad try you would assume until you hear that Guibert has sold just one egg yet. It obviously does not help that the dessert must be ordered two weeks in advance.
Three Twins Ice Cream, Kilimanjaro – $60,000 ice cream
This is one really expensive ice cream even for the most eccentric of people. Assumed to be one of the most expensive desserts available by its founder, Neal Gottlieb, it offers a wholesome package to be sure. Included in the costs is an all-expense paid trip to Mount Kilimanjaro for glacial ice (can't get purer than this) that Gottlieb will hand churn on the premises. The package includes airfare, five-star accommodations, a guided climb, a t-shirt, and all the ice cream the customer can eat and a five-figure donation to an African environmental non-profit. But the question really is, how much ice cream one can eat at the peak of Kilimanjaro.
Arnaud's, New Orleans — $3.95 million Strawberries Arnaud
The crown for the most expensive dessert however is won hand's down by a previous recipient, Arnaud's from New Orleans. Its previous call to fame, the $1.4 million dessert that gained in notoriety years ago, is sadly no longer available. Sad because that dessert is now worth a staggering $3.95 million. The New Orleans restaurant partnered years ago with MS Rau antiques on a proposal package that includes their signature Strawberries Arnaud dessert and a diamond ring. The original 4.71 carat ring has been replaced with a 7.09 carat pink diamond to accompany the dish of strawberries served in a marinade of port, red wine, spices and citrus with vanilla ice cream. Though we assume it could be a pretty expensive way to propose, it is also quite obviously their worst selling dessert.