Looking for a pair of sunglasses that will keep you looking stylish this Summer? Then look no further… whether you're simply looking to deflect the sun, hide a hangover, spice up your outfit, or make a fashion staement… here are 10 of the best to keep you looking stylish throughout the Summer months.
Nectar is all about having fun and staying ahead of the trends. With this DARTY frame they have embossed logos with blue/green tinted lenses. Available in Polarized and UV400 protection, they come in a wide variety of variations. Wear them at the pool, beach or around town.
Luxuriator Style 23 sunglasses from Dolce & Gabbana
18 carat yellow gold frames and 132 hand-set pave diamonds gives the Luxuriator Style 23 sunglasses from Dolce & Gabbana a total carat weight of 3.45. This ultra-luxurious eyewear has buffalo ivory temples and an eye-watering price tag of $65,000, putting it among the most expensive sunglasses in the world.
Aviator sunglasses from Ray Ban
These flash lens Aviator sunglasses from Ray Ban are both chic and discreet. Their mirrored coating not only reduces glare, but will aslo deflect envious glances. Made in Italy, they come with golden metal frames, 100% UV protection, padded ear pieces and Ray Ban's iconic Aviator design – the style worn by pilots during World War II as well as by many celebrities since.
Barton Perriera sunglasses from Lugano Diamonds
World-renowned jeweller Lugano Diamonds has come out with a new set of sunglasses designed by Barton Perriera that feature frames inlaid with clear and coloured diamonds. You can choose from various options including gold sunglasses with pink lenses and 2.85 carats of pink diamonds as well as this leopard print option with 3.59 carats of black diamonds to go with a light brown tone on the lenses.
Pop Power 2 from Christian Roth
Be the star of your own adventure. Don't be afraid to be the hero – after all fashion eyewear glory never goes to the timid. The new Christian Roth 'ready-to-wear' shades have arrived. Exclusively available in the Christian Roth official online shop is this hyper-glamorous shape with clean lines and contrast details that add a graphic sophistication, with a sexy out-sized full brown marble cat-eye with burned orange and red polka dot details. Connect the dots! Superb craftsmanship features the unexpected and mismatched colouration details. Luxurious acetate. Handmade in Italy.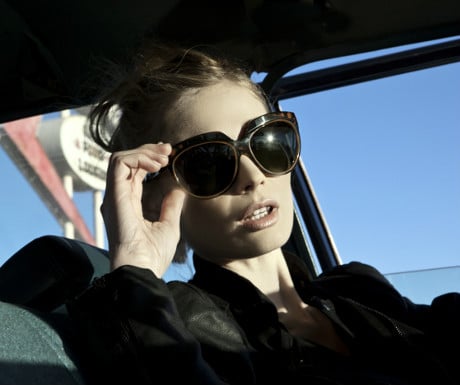 Founded in 1926 and a family-run business for over 80 years, Oliver Goldsmith has become the primary source for contemporary sunglasses. Dress designers, royalty and celebrities such as Audrey Hepburn and Michael Caine approached the brand to make eyewear for them and history was set in stone. Today, the company is still synonymous with stars and style – with beautiful handmade replicas of the original designs available to buy.
The PIERO was originally designed in 1970. Made from lightweight gunmetal, with beautiful Zeiss lenses, it's a perfect choice for summer.'
Serengeti Aerial from Shade Station
Serengeti sunglasses are pioneers in their own right, with the three pillars of Serengeti design including photochromic lenses, polarisation and Spectral Control which enhances the vivid nature of light and blocks distracting blue light rays. Because of this, the Serengeti Aerial is a stylish, modern sunglass that is part of the Classic and flagship Pilot styles. The frames on the Aerial are stunningly lightweight and sturdy, with a Drivers gradient.
Lenses used in the Serengeti Aerial sunglass are photochromic, and the frames fuse the artisanal element of the brand with a brilliantly strong, remarkably robust exterior that holds the lenses together beautifully. Striving to redefine the modern sunglass at its very roots, the Aerial together fantastically.
Andy Warhol self-portrait sunglasses from RETROSUPERFUTURE
Using photographic collages from Andy Warhol's Photo Booth Self-Portrait series, the Andy Warhol Foundation collaborated with Milan-based RETROSUPERFUTURE on a line of artsy eyewear. The Andy Warhol self-portrait sunglasses come in four styles: América, Ciccio, Classic, and Drew, each with translucent grey frames, Warhol's signature on the inside, and a matching limited edition box.
Serpenti sunglasses from Bulgari
Synonymous with the Bulgari fashion house since the late 1940s, the Serpenti serves as ostentatious inspiration for many a precious Bulgari piece. Now, precious snake scales enrich the new Serpenti sunglasses shape. Temple tips feature snake tails to complete the look.
Bentley Platinum sunglasses from Estede
When two luxury blands come together, the results can be exquisite and this is exactly what happened when vehicle maker Bentley joined forces with bespoke eyewear specialist Estede to produce their limited edition pure gold sunglasses. With a frame that's been perfectly handcraft and balanced, platinum, yellow gold and white gold have been used to come up these much-coveted sunglasses.