On a trip a short while ago (not written about on this blog), we went on a short, not-so-luxurious camping trip on the excellent National Trust campsite in the Langdales in the heart of the English Lake District. Unfortunately it was cut short with a visit to hospital (I'll spare you the details!), but I did at least get the chance to try out quite a few new travel items (including one not-so-new, but highly useful, item – our first aid kit!) and these are detailed below.
Dual USB in-car charger and 2x cables from STK
The battery on my iPhone seems to drain far too quickly sometimes so to be able to keep it topped up whilst driving is a bonus. This in-car charger from STK allows you to do just that, via the cigarette lighter and is compatible with either 12 or 24 volt sockets. With a 2.4A output, it offers reasonably fast charging for mobile devices and tablets and, thanks to its two USB ports, allows you to charge two devices simultaneously. And used in conjuction with the 3-in-1 data charging cables, which have a choice of connectors, you'll not need to worry about having the correct cables to hand. Instead, you can arrive at your destination fully charged and ready to go!
Berghaus Men's BIOFLEX® 60 + 15 rucksack
My previous rucksack (also a Berghaus) must have been over 20 years and had obviously seen better days so getting a replacement has been long overdue. And my have they changed during that time! This is really comfortable to wear, even when fully loaded, and has been designed to minimise stress on the carrier, particularly on the back with its award-winning BIOFLEX® Back System. The design, the quality of the materials and the attention to detail with the seams leave me in no doubt that this could serve me well for the 20 years that lie ahead.
FUEL Active from Patriot Memory
Of course, the in-car charger is only good if the car is running, and it seems a little excessive to turn on the ignition just to give a handheld device a little boost! This is where this rather nifty gizmo from Patriot Memory comes in, particularly when you're in a tent, without the luxury of four walls and a selection of power sockets. I have a couple of portable batteries for my phone and other devices already, but this one is a bit different to the rest and ideal for the outdoors. It comes with a durable casing, an ingenious in-built wire should you wish to charge it up (but can't find the wire) and – something really novel – a powerful torch light which has three modes (bright, very bright or strobing) – perfect for when you're camping, or for any time when a mains power supply is not at your disposal.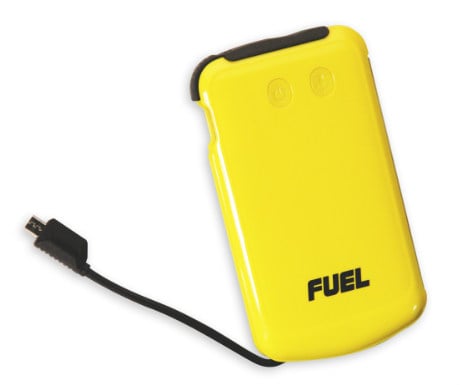 I'm surprised this hasn't been done before, but why is it you can buy tea in the form of teabags, or sugar in the form of sugar cubes… but ground coffee or coffee granules just come loose? Not any more they don't! Did you know you can buy coffee in cube form also? Thanks to a successfully funded Kickstarter project, these JIVA Cubes are just the ticket. The cubes come in a variety of flavours of great-tasting coffee: hazelnut, French vanilla, mocha, caramel or classic… and there's even a hot chocolate form of the cubes, too. We suggest the variety pack to start with so you can identify your own personal favourite!
Performance base layer from Kora
Going somewhere chilly? Kora make the most amazing base layers from ethically-sourced yak wool. Afterall, what better way is there of gauging what materials work best in challenging conditions than observing nature? Crafted from Hima-Layer™, an incredibly soft 100% yak wool fabric with remarkable properties, these garments are incredibly warm and will serve as an excellent base layer in even the most extreme environments. I just wish I had this when I worked out in Greenland in the mid-90s! If you're going somewhere adventurous or off-the-beaten track – perhaps cycling, trekking, climbing, camping or skiing – it's highly recommended that you look this one up.
Available in 10ml pots, Niki's Organic Balms are multipurpose, completely natural and serve as useful travel companions. The Lavender & Chamomile balm is my recommended pick of the bunch since it helps with sunburn, insect bites and stings, but they also come in Original, Rose, Warming and Baby Bottom. They can be used for everything from moisturising to relieving stiff muscles.
These luxury hammam towels from MyLuxe are 100% cotton, yet so lightweight and absorbent. They have a lovely, quality feel to them and not only pack up to next to nothing, but are also really versatile. Traditionally used in Turkish baths, you can in fact use them as a towel, a sarong, a picnic blanket or even a tablecloth!