By
Dana Rebmann
on Aug 09, 2014 in
Accommodation
,
Attractions
,
California
,
Food and Drink
,
Going Out
,
Hotels
,
Leisure Travel
,
Nevada
,
North America
,
Regions
,
Speciality Travel
,
Travel Miscellany
,
USA
It was the 1960 Winter Olympics at Squaw Valley that introduced the world to Lake Tahoe. Snow is big here. The more of it the better. From skiing to snowboarding to tubing; if it requires snow, there's a stretch of mountainside here where you can do it on. But as winter comes and goes, so does the snow. Slopes turn from white to green. Temperatures rise and sunny skies mean swimsuits trump snowsuits.
Walk on water
The melting snow and rain feed Lake Tahoe. The 70-plus mile shoreline is home to a number of rustic mountain-side towns with cabins and lodges that boast million dollar views. You can sneak a peek from beaches and assorted points on land, but the best view is from the water. In the early morning Lake Tahoe typically looks more like a professionally cleaned pane of glass, than the second deepest lake in the United States. Early risers are rewarded with great conditions and the type of crowd control only an early morning alarm clock can provide.
There's an assortment of non-motorized forms of transportation to choose from; kayaks, canoes or rowboats, but if you've never tried your luck or shall I say balance with stand-up paddle boarding, Lake Tahoe's North Shore is the place to do it. Reserve a board and paddle from Watermans Landing and you can go from your car to the water in a matter of minutes. Owner Anik Wild and her crew are always happy to share tips to help you make the most of your time on the water.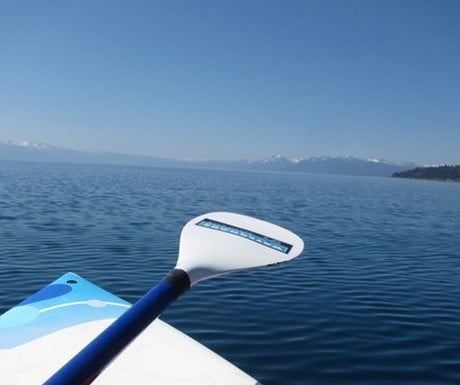 But be warned, the minute you float away, you just might stop thinking about everything they told you. It's easy to forget which side of the paddle is which when you've got picture perfect snowcapped mountains staring you down from a distance. Truth be told, as long you're not in any hurry to get anywhere, it doesn't really matter. It's the type of sport anyone can do. The worst that can happen is you fall in.
High flying fun
It's about as close to being like Tarzan as you can get. Tahoe Treetop Adventure Park has 65 tree platforms that connect using an assortment of mid-air obstacles courses and zip lines. Unlike most zip line courses, you don't have to stay with your group. Once you finish your safety training, you're free to head any direction you like. There are beginning, intermediate and advanced courses. Snowboard mid-air or tip-toe your way across the tops of the largest set of wind chimes I've ever seen. Closed-toe shoes are a must and pants are more comfortable than shorts.
Starry skies
The night sky has a certain sparkle at elevation. Most folks can find the Big Dipper when they look up, but that's often where the knowledge and understanding ends. Tony Berendsen, owner of Tahoe Star Tours wants to change that. Over hot chocolate and s'mores, he uses knowledge and poetry to provide an orientation of sorts to the sky. But the real ah-ha moment comes when you get that first peek through one of his three telescopes. You could see the rugged surface of the moon, the spot we all colored on Jupiter as kids in science class or Saturn and its colorful rings. The view changes from night to night, but I think it would be hard to ever disappoint.
Most tours are held at the new Cosmoarium, located near the entrance to Northstar on the lower level of the Castle Peak parking area. Dress warmly. It may be summer, but temperatures drop at night in the Sierra's so better to shed layers than shiver as you wish you had them.
Bike and hike
Primo ski-in, ski-out locations have perks even when there's no snow on the ground. As luck would have it, all those ski trails thaw and do double duty as hiking and mountain biking trails. The Ritz-Carlton, Lake Tahoe is situated mid-mountain at Northstar California ski resort, offering easy access to miles of trails at Northstar Resort. Chair lifts carry hikers, riders and bikes to higher elevation trailheads.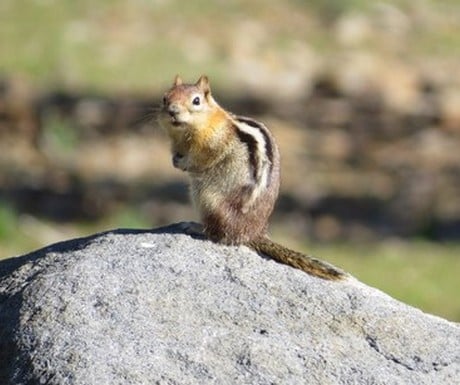 If you're not the type to go exploring on your own, the Ritz-Carlton offers complimentary guided hikes for its guests weekend mornings, all summer long. The hike leaves from the hotel's backyard and varies from day to day. The hardest part is getting up and ready to leave at 7.15am.
Set your alarm and just do it. There will be a chaise by the pool waiting if you want to take an afternoon nap. Just be up at 5pm, when the house-made marshmallows arrive at the fire pit to craft the perfect s'more.