By
Paul Johnson
on Aug 23, 2014 in
Accommodation
,
Attractions
,
Camping
,
Cruises & Boat Travel
,
Europe
,
Family Travel
,
Featured
,
Going Out
,
Leisure Travel
,
Regions
,
Special Features
,
Speciality Travel
,
Travel Miscellany
,
United Kingdom
,
Western Europe
Camping or caravanning might not be everyone's idea of luxury but, if you're going to do it, one way to do so with a little comfort, significantly more style than those white caravans that you see, and without any of the hassle of pitching a tent, is with an Airstream; and so we stayed in this iconic vehicle on a trip to Ullswater in the English Lake District.
Our pitch was on The Quiet Site (but the Airstream can be delivered to a site of your choosing), a small but family friendly site with a good-sized park occupying an elevated position above Ullswater, and just a short drive – or slightly longer walk – from the lake. The site boasts numerous awards including Holiday Park of the Year 2013 and various environmental accolades and, with the occasional bleating sheep aside, lives up to its name.
From its early beginnings in 1931, Airstream has grown to become a world famous brand, known for its lightweight travel trailers, unique design, technological advances and durability. Incredibly, around 70% of Airstreams ever built since 1931 remain on the road or in use today which is testament to their design and construction.
Previously owned by a couple in Scotland, the particular Airstream that we stayed in was an Airstream 684 2.5m (2.5m refers to the width) Series 1, complete with air conditioning, leather upholstery, Sony LCD TV/DVD and sleeping 4.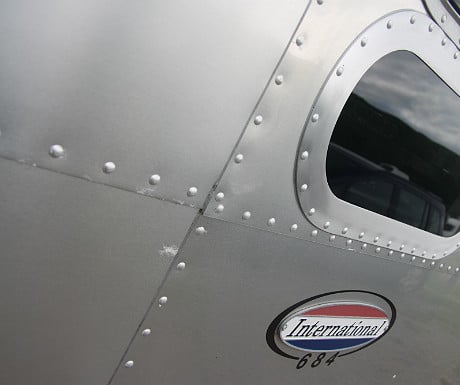 The interior makes good use of the space, with a seating area and table that converts into a double bed, another double in the rear, a bathroom with WC, basin and shower, a small but functional kitchen with gas hob and oven, microwave, sink and ample storage. There were even a couple of The Quiet Site's very own 'Quiet Pint' kindly included, and the shop wasn't far away for additional supplies.
Everything has been well thought out, with storage and cupboards positioned in such a way so as to minimise any inconvenience and maximise on views out. There's even a partition that can be pulled across midway through the trailer for increased privacy, and a Zipdee awning canopy to make full use of the outdoor space, whatever the weather.
This particular Airstream was one of the first of the European Airstream 684 2.5m produced, comes with a good specification, is in good internal condition and could be yours for a cool £43,000. This is the very model that won Best Caravan in the Caravan Club Caravan Design Awards for three years running. A studio version of this travel trailer is also available for those who like to use their Airstream as a work base.
With storage space located and belongings unpacked, we had an explore of the site. There's a outdoor play area with enough space to have a kick-about or a game of rounders, as well as a few swings and a climbing frame.  If the weather is not in your favour, children are still catered for by the games room where there's table football, table tennis and air hockey. There's even a small soft play area hidden away upstairs from the bar area for very little ones.
The bar turned out to be a great little spot in the evenings – quite small but with a friendly atmosphere and even some entertainment in the form of a young magician going from table to table on our first night.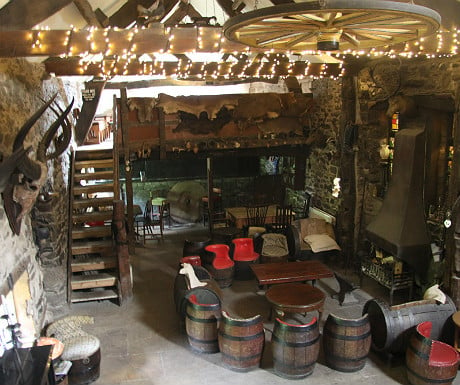 During the days, there is plenty of local interest in the vicinity, with both Glenridding and Pooley Bridge each just a few miles away. If you enjoy the outdoors as we do, you'll find everything everything from walks to watersports. Starting from Patterdale, we took a reasonably steep ascent up Place Fell (one of the Wainwrights), following a path through the ferns, stopping occasionally to admire the view out to the Kirkstone Pass on our right, or turning back to look at Ullswater behind us.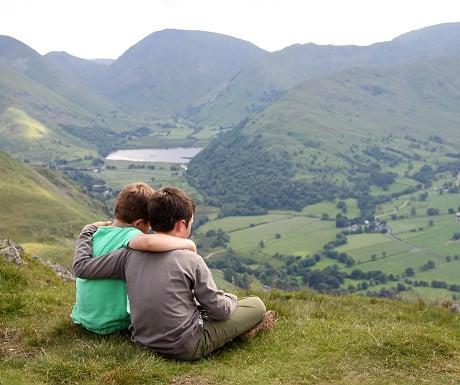 We felt quite proud of ourselves, having completed this on a relatively warm day, but our achievement was put into perspective when we met someone towards the end of the walk – he was doing the Coast to Coast, traversing England from west to east (190 miles) and had just completed 25 miles that day, with tent, etc. on his back.
For those who don't want to venture such distances, there are short walks you can do from The Quiet Site… so long as you have your wits about you and are wary of all the usual hazards…
Aira Force can be walked to from the site also. Alternatively, you could drive there and park in the National Trust car park and do it that way. A prolonged dry spell at the time of our visit meant that there wasn't as much water cascading as there might be, but I'm sure you'll agree from the picture that it was still well worth a visit.
For a leisurely day out, I'd also recommend a cruise with Ullswater Steamers who have been operating on the lake for over 150 years now. This is a wonderful way to explore the valley, giving you access to numerous walks, cycling routes, pony trekking and other attractions such as Dalemain and the Bronze Age stone circle, Moor Divock.
Ullswater Steamers have a fleet of five boats calling at Glenridding, Pooley Bridge and Howtown (pictured). From the latter you can walk to Glencoyne where William Wordsworth was inspired to write his famous poem, 'Daffodils'.
This is a beautiful part of the country and the Airstream proved to be a perfect base from which to explore. A great time was had by all, so much so that it even inspired our 8 year old to scribble down a few words of his own… maybe in a few years I can ask him to do one of these write-ups for me!
A poem about my holiday
I went on holiday in an Airstream
It was like being in a terrific dream
I stayed at The Quiet Site
It is brilliant at night
You can play in the park
Until it is dark
I really like the bar
And I like walking far
We have had lots of sun
And the holiday has been really fun.
Disclosure: Our stay in the Lake District was courtesy of Airstream.