With its prolific birdlife as well as wealth in elephants and leopards, it is no wonder tourists consider Sri Lanka as the ultimate wildlife destination in South Asia. Known as a land of exotic tropical beauty, this island-country is famous all over Asia for its diverse wildlife and rare creatures, such as the Asian elephant, the biggest terrestrial mammal in the continent. As far as size goes, Sri Lanka is rather small, compared to the other countries in the continent. But, it has a wide variety of wildlife that would surely overshadow some of the biggest countries in the world.
In spite of a burgeoning population, Sri Lanka remains a rural land speckled with fascinating and unique animals that can keep you hooked and entertained for days or weeks. As a matter of fact, even a tourist who isn't overly fond of wildlife will be overawed with sight of hundreds of psychedelic birds, reefs brimming with rainbow-colored sea creatures, elusive leopards, gigantic whales and herds of elephants. A true paradise for wildlife lovers, the island has a dazzling array of wildlife destinations, safari options and national parks that would please all kinds of visitors, from interested lay people to dedicated naturalists.
Yala National Park – a blissful park with the world's highest concentration of leopards
Drawing hordes of tourists every day, the Yala National Park is one of the premier eco-tourism destinations on the island of Sri Lanka, thanks to its incredible population of leopards. As the second largest park in the country, this celebrated national park has a vast land area of 120,000 hectares made up of lagoons, tanks, grasslands, scrubs and light forests that serve as a home to over 200 bird species and 44 mammal varieties. Besides the mighty leopards, this wildlife sanctuary also boasts a plethora of other intriguing creatures, such as crocodiles, peacocks, spotted dear, jackals, sambars, sloth bears and majestic elephants.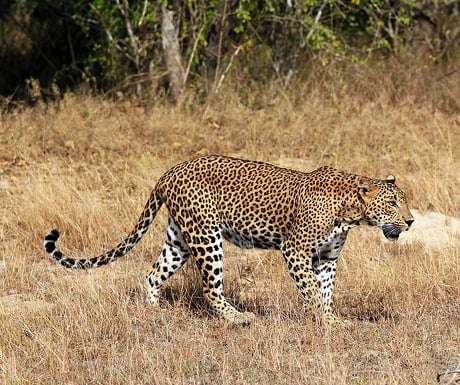 Minneriya National Park – the best place to observe elephants
With its wide collection of axis deer, sambar deer, wild buffaloes and elephants, the Minneriya National Park is a lush Sri Lankan park that would surely give Africa's savanna reserves a run for their money. One of the best places in the world to catch a glimpse of Asian elephants, the Minneriya National Park is a tranquil haven to more than a hundred fifty elephants, guaranteeing a sighting of these creatures as you visit this Sri Lankan park. Apart from elephants, a visit here allows you to take snapshots of other lovely creatures, such as the occasional leopards, sloth bears, crocodiles, lizards, foxes, hornbill, Indian python, and a whole lot more.
Rekawa Beach – a haven for stunning turtles
No list of the best wildlife destinations in Sri Lanka is complete without the inclusion of the Rekawa Beach. As a guest in this turtle sanctuary, you get to lay eyes on turtle hatcheries with striking green turtles laying their eggs. Moreover, you will be accompanied by a savvy and knowledgeable guide who will make your experience more intriguing by providing explanations about their lovely turtles.
Bundala National Park – a bird lover's delight
Designated as a UNESCO biosphere reserve, the Bundala National Park is by far one the most important bird sanctuaries in Asia. As a bird sanctuary, it serves as a host to over 190 bird species, including the Greater Flamingo, Painted Stork, Eurasian Spoonbill and more. Wherever you visit in Sri Lanka you'll be exposed to incredible wildlife, but these 4 places are a fantastic way to see a wide range of animals in stunning surroundings and are definitely some of our favourites!
James Jayasundera is Founder and Managing Director of Ampersand Travel.
If you would like to be a guest blogger on A Luxury Travel Blog in order to raise your profile, please contact us.