By
Paul Johnson
on Sep 02, 2014 in
Accommodation
,
Bars
,
Europe
,
Family Travel
,
Going Out
,
Hotels
,
Leisure Travel
,
Regions
,
Restaurants
,
Speciality Travel
,
United Kingdom
,
Western Europe
In 1973 Robin Buchanan-Smith, a Church of Scotland minister, bought the Isle of Eriska with his wife Sheena and, more than 40 years on, it remains in the family to this day, with elder son Beppo now at the helm and very much involved in the day-to-day running of the hotel. Over those four decades, the property – which lies just north of Oban – has been transformed from a seasonal operation that relied on its peak season trade to break even, to a thriving five star hotel that now attracts year-round visitors from all over the world and is perpetually re-investing in order to continue to improve its product.
The welcome
The approach to the Isle of Eriska is filled with anticipation but is one that doesn't disappoint. The roads get increasingly quieter before you finally reach a bridge that rattles (seemingly uncontrollably!) as you drive over it, before being presented with a beautiful hotel, proudly flying the Scottish flag. We were warmly greeted on arrival and shown to our 'room'.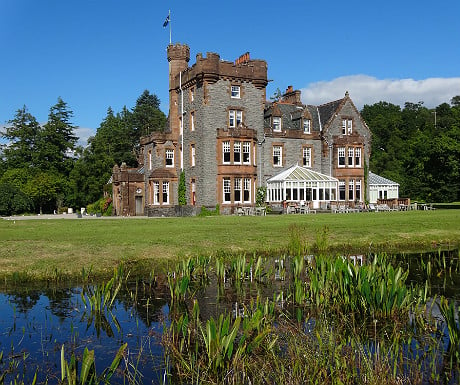 The room
Our accommodation proved to be much more than just a 'room'. We stayed in the beautiful Rowan Cottage, away from the main building but just a short walk from the hotel entrance. You enter the property via a conservatory / dining area with a concealed kitchenette.
Also on the ground floor are two bedrooms (a double and a twin), each with their own bathrooms.
Upstairs there is an additional dining area and lounge with a gas burner, and enough seating for not only the occupants of the property but also a couple of guests, too.
The property has WiFi access although I found it a little intermittent at times and enjoyed slightly better reliability in public areas at the main hotel building.
The bathroom
Both bathrooms have twin basins, a multi-jet shower and separate bath, and are equipped with Molton Brown toiletries. Bath robes and hair dryers are also provided.
The facilities
One of the highlights of a stay on the Isle of Eriska is the food. Led by Head Chef Ross Stovold, the restaurant holds a mark in the Good Food Guide and Visit Scotland 'Taste our Best' accreditation. I'll let a couple of pictures do the talking – just take it from me that it tasted every bit as good as it looked!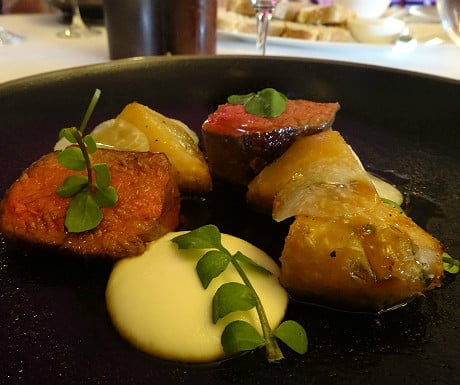 We managed to resist the cheese trolley despite it looking very tempting indeed.  I fear you could put an inch or two on your waistline just by looking at it, though!
What I particularly liked about the restaurant was that it wasn't in the least bit pretentious and didn't purport to be something it wasn't. Our children were positively encouraged by the head waiter to intersperse their preference for the children's menu with tasting one or two of the smaller dishes from the a la carte menu, without being made to feel bad if it turned out not to be to their liking. This not only put them (and us!) at ease in the restaurant, but also encouraged our children to extend their palettes beyond their usual favourites and meant we were all 'in kilter', eating our main courses at the same time.
Also on the island is a spa, pool and gymnasium, not to mention 100 hectares of grounds to explore.  You can wander freely along a number of marked paths, taking in various points of interest, including the pier, a small holding of pigs and other animals (the island used to have lots of animals on it), and even a heronry.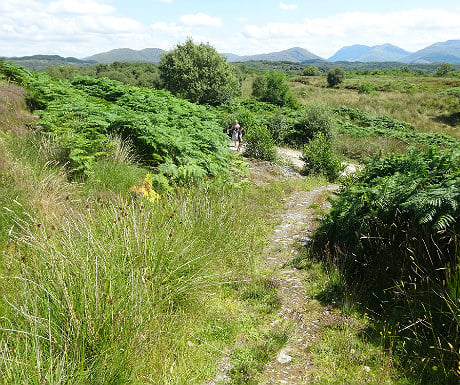 We had a light lunch at the spa just prior to our departure (make sure you try the smoked salmon, smoked on the island – it's available at breakfast also), on a decked area overlooking the island's very own golf course (open to residents and non-residents alike).
Other nice touches
I've described our 'room' already, but neglected to mention that it came complete with an outdoor hot-tub.  The whole property is shielded by a 6-foot hedge, meaning that you have ample privacy.
Look out also for the two new Hilltop Reserves which will also each have their own private hot tub and boast stunning views across the sea, to the island of Lismore and beyond.
One other highlight not to miss at Eriska is afternoon tea. We were fortunate enough to be able to have this outside because the weather was so lovely.
Finally, make sure you retire to the bar after dinner for a final drink. Stay long enough and you could be lucky (as we were) and see one or two of the island's badgers feeding at the door.
Cost
Rates start from around £350 per night for a standard twin on king room, including breakfast and afternoon tea.
The final verdict
The Isle of Eriska has a certain charm that can only be appreciated by visiting and experiencing it for yourself.
Disclosure: The above formed part of a luxury Scotland mountain bike trip sponsored by Caledonian MacBrayne, Ridgeback and Madison.