By
Paul Johnson
on Sep 08, 2014 in
Accommodation
,
Europe
,
Family Travel
,
Food and Drink
,
Going Out
,
Hotels
,
Leisure Travel
,
Regions
,
Restaurants
,
Spas & Pampering
,
Speciality Travel
,
Travel Miscellany
,
United Kingdom
,
Western Europe
Owned by cookery writer Lady Claire MacDonald and home to the first Michelin star on Skye, Kinloch Lodge is easily accessible via both the Mallaig-Armadale ferry and the bridge across to Skye. Impressively voted one of the world's best small hotels in CondéNast Traveller magazine, the entranceway to Kinloch Lodge is littered with some of the many other awards and accolades the hotel has received.
The welcome
Our arrival didn't quite go to plan. Unfortunately there had been a road accident just beyond Sconser, resulting in the closure of the main road and so our 40 minute journey from Portree to Kinloch Lodge ended up taking 3.5 hours. Nevertheless, we were warmly welcomed with a glass of Champagne and honoured that resident Head Chef Marcello Tully himself came out from a no doubt busy kitchen to greet us. We were too late for dinner sadly but were well looked after with some delicious smoked salmon sandwiches.
The room
We had two rooms next door to each other – room 7 with twin beds and its own bathroom, and room 8 with a large double bed and a beautiful bay window and sofa that looked out to the sea-Loch na Dal, also with its own bathroom. Both rooms had TVs with built-in DVD and were decorated in colours and textures chosen to reflect Skye's distinctive landscape.
The bathroom
Our bathroom came complete with a lovely rain shower – ideal after a day outdoors – and separate bath, along with L'Occitane toiletries.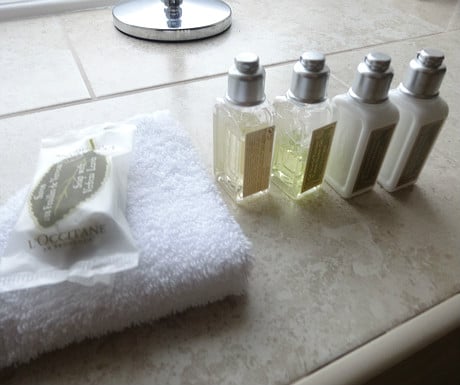 The facilities
Kinloch Lodge has its own spa (which we didn't use on our visit) and some beautiful public rooms such as the drawing room.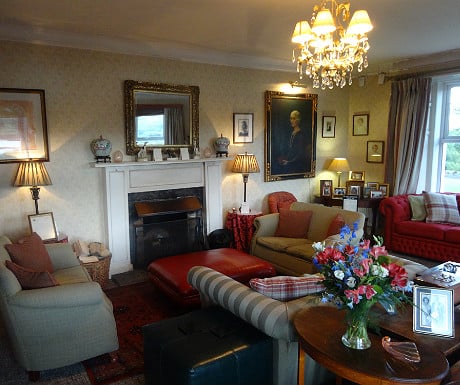 The hotel's main attraction, though, is its restaurant. Dinner here is not to be missed!
Before dinner, we had a drink in the bar and sampled an olive tapenade, red pepper pannacotta and herb foam, haddock and spinach balls, and Stornoway black pudding and rice crispies with a cherry in the middle.
We began dinner with a wonderfully light soupcon of slightly curried butternut squash.
I then had the wild pigeon breast, beetroot and crème fraiche, with Stornoway black pudding and citrus jus.
This was followed by Marcello's special of Mallaig cod with 'Indian' influence – an interesting dish full of lovely flavours.
My main was the Black Isle lamb with a nutty-herb crust, spinach and leeks, dauphinoise potatoes and cauliflower puree which I chose ahead of the equally tempting Mallaig seabass with a crispy nest of julienne vegetables, coriander and vanilla sauce.
Arguably the best was saved to the end – a deliciously lemony tart with popcorn ice cream.
Other nice touches
Other nice touches at Kinloch Lodge include Champagne on arrival for all guests, a really cosy atmosphere with a very Scottish feel, and an excellent team of staff – always smiling and friendly and with nothing being too much trouble.
Another bonus was a WiFi connection that worked. It might not sound much in this day and age to be thankful for reliable WiFi at a luxury hotel but, in some of the more remote parts of Scotland, this still not a 'given'.
Cost
Rates start from £99 per person per night out of season, including bed and breakfast and 5-course dinner, based on two people sharing.
The final verdict
A wonderful hotel, deserving of its many awards, and worth visiting for the food alone.
Disclosure: The above formed part of a luxury Scotland mountain bike trip sponsored by Caledonian MacBrayne, Ridgeback and Madison.