For anyone who thought that the London burger craze was just a flash in the pan, think again – where the cupcake and cronought fads have come and gone, burgers remain just as popular as ever in the capital and there are still plenty of restaurants and pop-ups jumping onto the runaway burger bandwagon. From the gourmet to the down-right delicious, here are our favourite London burger joints to sink your teeth into…
It was the burger creations Yianni Papoutis crafted from his MeatWagon van that helped spark the London burger trend so we all knew that when he finally opened a restaurant it would become one of the capital's burger Meccas. Three years on since the opening of Meat Liquor, it's still flipping some of the best burgers in town with ground chuck steak dressed in a number of classic toppings teamed with their highly addictive Dead Hippie sauce.
When a restaurant chooses to serve just two dishes (well, three if you include the lobster roll), then they have to be two fantastic dishes to sway the London dining crowd and Burger & Lobster does just that. Exactly what it says on the tin, should you choose the burger expect a decadent melt-in-the-mouth patty of coarsely ground aged-beef patty cooked and seasoned to perfection.
This renowned Chelsea gastro gem is no stranger to the London burger circuit and has always ranked highly among the city's best. Now, burger disciples can head down on Wednesday evenings for their official Burger Nights, where a dedicated menu takes things up a notch with gourmet burger offerings of rare breed beef topped with slabs of pan fried foie gras and duck egg, or haddock layered with crisp pancetta and piccalilli.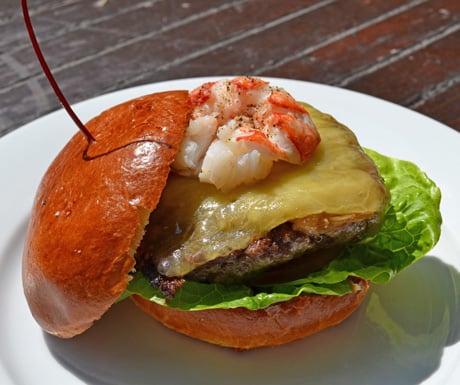 Where most dedicated burger restaurants have clearly taken inspiration from the all American burgers, Honest have created a decidedly British take on the trend. The straightforward, ingredient-led menu takes dry-aged British chuck stake from Ginger Pig butchers and tops with onion relish, bacon and plenty of great British cheese such as Red Leicester or Stilton. All burgers also come with their delicious rosemary salted chips which taste just as good as they sound.
No London burger list would be complete without a mention for Patty & Bun who have taken the burger scene by storm with their creative concoctions. From the classic 'Ari Gold' cheeseburger to their 'Smokey Robinson' with bacon, 'mounds' of caramelised onions and smokey mayo – their rich flavourings and incredible homemade sauces offer an intense burger hit that is not for the faint-hearted. Their Portobello mushroom burger also earns high praise from the veggie burger contingent.
Nicole Harley is Editor at The Epicurean.
If you would like to be a guest blogger on A Luxury Travel Blog in order to raise your profile, please contact us.