By
Paul Johnson
on Sep 30, 2014 in
Africa
,
Attractions
,
Bars
,
Family Travel
,
Featured
,
Going Out
,
Regions
,
Restaurants
,
Road Travel
,
South Africa
,
Speciality Travel
On a recent trip to South Africa, we had three nights in Cape Town before heading out to the Eastern Cape for a safari experience at the Shamwari Game Reserve.  Cape Town has to rank as one of my favourite cities in the world – it offers so much variety and here is a whirlwind tour of some of what we got up on this latest visit. Even with limited time, you can still do achieve an awful lot, even at a relatively relaxed pace.
1. Victoria & Alfred Waterfront
On our first day, after a long flight, we didn't so much as venture out of the V&A Waterfront where our hotel was located. This is an exceptionally safe and famiy friendly part of the city with a very relaxed atmosphere, with shops, restaurants, bars and more. We had lunch at Harbour House which I knew from my last visit to the city – a lovely spot that receives a fresh catch of seafood on a daily basis and adapts its specials boards accordingly.
There are more than 80 eateries at the waterfront alone, as well as numerous bars. Pictured here is the rather atmospheric bar at the Belthazar Restaurant.
On our last night we went on the Cape Wheel – the only observation wheel in South Africa – offering spectacular 360-degree panoramic views of the city, day or night.
Those who are after a little retail therapy could easily spend the day, browsing through more than 450 shopping outlets, as well as the Red Shed, home to a range of local arts and crafts retailers.
On our second day, we did a Cape Point and Peninsula tour which took in a number of the attractions that follow:
Winding its way between Noordhoek and Hout Bay is a 9km stretch of road known as the Chapman's Peak Drive. You'll take in majestic feats of engineering, overcoming the steep and often unstable, rocky slopes of Chapman's Peak.
You'll also be spoilt with some great sea views.
We saw this lone horse and rider on an otherwise desserted beach. Talk about having the beach to yourself!
Keep your eyes peeled carefully and you might be lucky enough to see dolphins or whales out at sea, too.
3. Hout Bay
Hout Bay has an active fishing harbour, surrounded by Chapman's Peak. From here we went on a seal island cruise with Drumbeat Charters in search of the Cape fur seal. Even before we'd reached Duikier Island, we'd already seen several but, once at the island, we saw hundreds! The island is also a bird sanctuary ad home to the Cape cormorant, the bank cormorant, black back gulls, kelp gulls and Hartlaub gulls.
Back from the cruise, we browsed the hawkers' stalls and bought a few handmade souvenirs to take home.
4. Cape of Good Hope
We drove on to the Cape of Good Hope Nature Reserve, a Natural World Heritage Site, and on to the Cape of Good Hope itself. As the sign says, this is most south-western point of the African continent, with unique vegetation and bird life.
Take your camera and keep a look out for baboons (beware – they can be aggressive), ostrich, Nyala, Cape mountain zebra, tortoises and more, all whilst soaking up the beautiful scenery.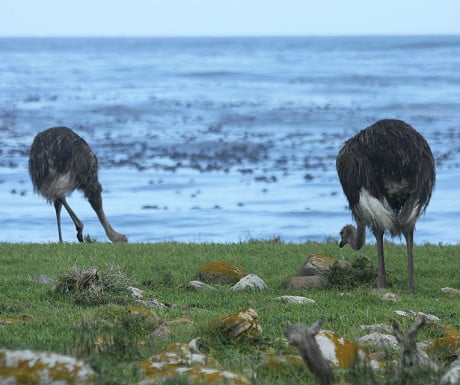 5. Cape Point
Make sure you take in Cape Point. It's a short walk – or an even easier funicular ride – to the top of a hill here where you can then get a commanding view all around.
6. Boulders Beach
Many people are surprised to hear that you can see penguins in Africa, but it's true! The penguin colony at Boulders Beach is probably the best known and a highlight of any tour of the Cape Peninsula.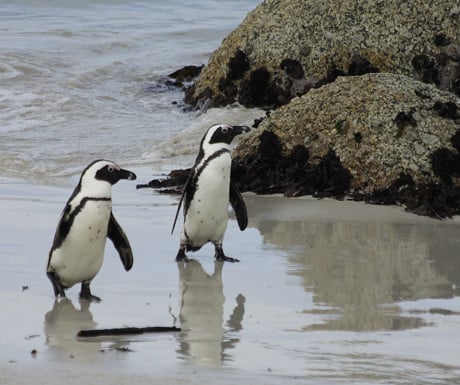 Numbers here have increased from two breeding pairs back in 1982 to around 3,000 birds today. You can get really close to this thriving colony of African penguins and see their nesting sites, without disturbing them, thanks to a series of wooden walkways.
We even spotted a dassie here.  Although quite rodent-like in appearance, one of their closest relatives of these herbivorous creatures is apparently the elephant.
We stopped for lunch at the naval town of Simon's Town close by before moving on to…
7. Kirstenbosch Botanical Gardens
On my last visit to Cape Town, I had stayed in Constantia very close to Kirstenbosch Botanical Gardens but hadn't made it there on that occasion, so it was good to make amends. The gardens were founded in 1913 and are one of eight national botanical gardens, covering five of South Africa's six different biomes.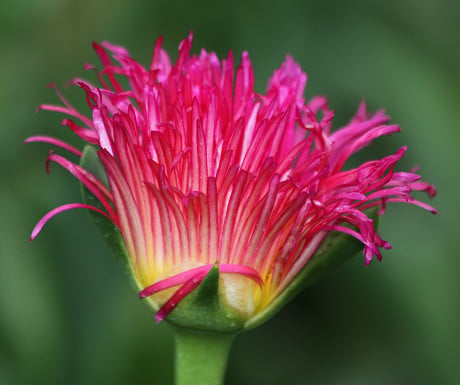 A relatively new addition is a tree canopy walkway that was established a year ago to mark the gardens' centenary.The curved steel and timber bridge takes visitors from the forest floor and up through the canopy. Once at the top you can enjoy uninterrupted views across the Cape Flats.
You could easiliy spend a whole day just at Kirstenbosch, learning about all the plants from a number of different regions, including savanna, fynbos, karoo and others.
Don't miss the Bird of Paradise, a yellow variety of Strelitzia that's otherwise known as 'Mandela's gold'.
8. The hop-on hop-off bus
On our final day in the city, we took one of the City Sightseeing tourists buses. These are a great way to see some key sites as you can get on and off at whichever stops you like, and you are provided earphones for a running commentary, to help point out the key points of interest along the way. It's multi-lingual and there's even a special channel so that children can listen to something that's more engaging for them.
Tours are colour-coded according to their route. We took the Red City Tour, a short circular route that took in Table Mountain and the Twelve Apostles (pictured) as we passed through Camps Bay.
9. Table Mountain
No trip to Cape Town is complete without venturing up Table Mountain. You can hike up (it'll most likely take a couple of hours) or you can take the easy option of the cable car.  Buying tickets in advance will allow you to avoid the queue and be likely to save you a lot of time at peak periods.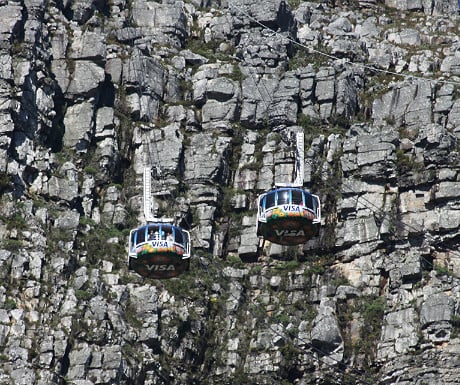 The views from the top are stunning so this is well worth a visit on a clear day if you can. If it's cloudy on the top, you will see little and if it's windy, there's a chance that cable car won't be running, so pick your day carefully!
10. Camps Bay
After Table Mountain we hopped back on the bus and got off at Camps Bay – somewhere my wife and I had stayed more than a decade earlier, but had never taken our children.  It brought back a lot of fond memories and we had a late lunch at Blues, a restaurant that we remembered from last time.
Camps Bay has a really relaxed feel to it and a lovely beach where our two boys had a lot of fun running in and out of the sea.
Another must-see: Robben Island
Last, but by no means least… Robben Island – where Mandela spent 18 of the 27 years he was imprisoned. Sadly we didn't actually make it to the island on this trip, but did enjoy the view from Table Mountain and it's a must-visit if you get the chance. Just make sure you book your tickets well in advance as interest seems to have reached new heights since Mandela's passing. It's really worth taking the boat trip across if you can, though – not only will you be able to see Nelson Mandela's cell, but you can hear all about what life was like as a prisoner on the island from a former inmate.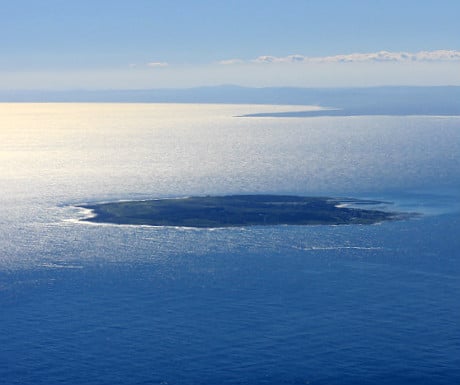 Of course, there are many other things to do in the city… the aquarium, helicopter tours, paragliding off Lion's Head, shark cage diving and, of course, let's not forget the Winelands. I have just shared with you what we managed to pack in with the three nights we had in the city and I hope it provides some inspiration for your own trip to the Mother City.
Disclosure: The above formed part of a luxury trip to South Africa sponsored by Hayes & Jarvis, specialists in personalised, luxury holiday itineraries for discerning travellers to over 55 destinations worldwide.