Recipe of the week: Parsnip and maple syrup cake, and clotted cream ice cream
Inspired by the humble vegetable, this luxurious dessert is full in flavour yet surprisingly light. Served with clotted cream ice cream, the cake is laced with citrus flavours from the grated apples, orange juice and zest without losing the spicy sweetness of the parsnip. The maple syrup helps blend the eclectic mix of flavours to create a cake that is a must-try for all.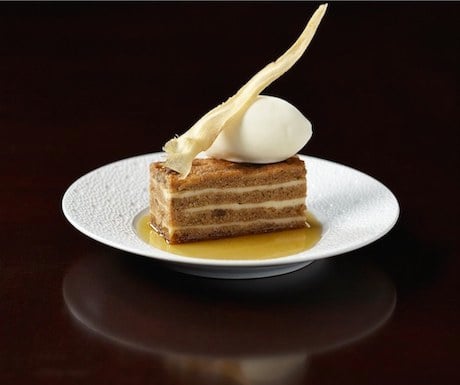 Ingredients
Cake
140g unsalted butter 200g sugar Demerara 80g maple syrup 200g self rising flour 6.5g baking powder 6.5g four spices 3 medium eggs 200g grated parsnips 200g grated apples (Golden Delicious) 40g pecan nuts 200g orange juice and zest
Cream
200g mascarpone 64g maple syrup
Directions
Melt in a pan butter, sugar and maple syrup. Add the orange juice and zest, the grated apples and parsnips, then the eggs. In a bowl, mix the flour, the baking powder and the four spices. Chop the pecan nuts and add them to the dry mixture. Combine both mixture and let rest for 15 minutes. Divide the mix in 4 portions and pour each in separate trays, lined with parchment paper. Bake at 160 degrees Centigrade for 15 minutes. In a bowl, mix the mascarpone and the maple syrup and let rest in the fridge. When the cakes are cooked and cold, top one layer of cake with some cream, repeat the operation until you have 4 layers of cake and 3 layers of cream. Store in the fridge for 3 hours, and then cut in individual portions. Serve with clotted ice cream or frozen yogurt.
Thank you to Vincent Ménager, Executive Chef at The Balcon London, for the recipe.
If you have a recipe you would like to share with  A Luxury Travel Blog's readers, please contact us.
Did you enjoy this article?
Receive similar content direct to your inbox.