9 reasons to book a private tour of Morocco
Visiting
Morocco
on a private 4×4 tour has increasingly become the popular way to see Morocco in the last few years. Of course, many people still prefer other options: join a group tour or rent a car and/or DIY. However, booking a boutique or luxury tour of Morocco grants you the exclusive use of a knowledgeable driver and a spotless modern air conditioned 4×4 that can take on steep gorges and towering desert dunes. Here are nine good reasons why you should consider booking a private Morocco tour:
1. Tailor-made itinerary all the way
A good agency will customize a private tour of Morocco according to the guest's taste and needs. After due exchange of emails, a day- to- day itinerary is provided with daily sites and activities included. But here is where the difference between good and excellent lies. People like to plan things but also to have some spontaneity thrown in for a good mix. And so, the agency should be able to customize some of the things on the go. Suppose that one morning you're too lazy for the Atlas Mountains trekking you had planned and just want to reach the Sahara early so you can laze away in the dunes the whole afternoon.
Or perhaps the eco lodge where you just spent the night has impressed you with the dinner so much that you may want to partake in some of their culinary ideas. An impromptu Moroccan cooking class can be arranged where the chef will show you some of her/his secrets, assisted by a translator.
2. Off-the-beaten track experience
Anyone can rely on a Lonely Planet guide or similar when it comes to selecting the sites and activities to be seen or done when on a Morocco trip. After all, nowadays, one can reach Sahara's dunes in Merzouga by rent a car or even bus. But what about drifting in the dunes in a customized 4×4 or have tea with the nomads in the middle of the dunes where the Paris- Dakar rally used to pass? The same way one can wander by himself through the honey- comb adobe homes of UNESCO World Heritage Site Ait Benhaddou.
But what about visit the nearby troglodyte grottos? Or learn how the Berber granary was the village's safe house, centuries before banks came around ? In a country where tarmac covers more and more routes, the true immersion often commences where tarmac ends. Similarly, the Erg Chigaga represents the real Sahara as opposed to the somewhat beguiling dunes of Erg Lihoudi, where most of tour operator tours camp.
3. Local authentic boutique accommodation
What makes Morocco great with intrepid, boutique hotel travelers is the number of chic- yet- authentic family run, cozy guest houses, Riads, kasbahs and eco lodges. Most of them offer great cuisine with ingredients coming from their own organic back yard. Wouldn't it be a shame for you to have a buffet dinner you could have anywhere else in the world ? The owners will often join you for a coffee over breakfast, share insider tips on what there is to do and see in the area or where to have lunch on your way to the next stop. Woke up too late to have breakfast? Arrived too late to have dinner? There's no such thing here. Let's be honest, what tour operator or all inclusive travel agency will offer this kind of accommodation? None. They work with large volumes and large volumes can't be accommodated in guest houses where the average room number is at best a dozen.
4. That you have time to enjoy
Another aspect is the time available. There is no point in carefully selecting the best accommodations available in Morocco if you don't have the time to enjoy them. A good Morocco tour agency will carefully balance the time spent inside the vehicle with the time spent visiting sites and enjoying the lodge's facilities. What is the point of staying at say, the arresting Azalai Desert Lodge set on the edge of Zagora's palm grove, if you arrive late at night just in time for dinner or leave next morning right after breakfast?
It would be a pity not to spend some time around their exquisite library packed with
livres des voyages
. Or go on a bicycle ride in the surrounding palm grove. Plunge in the inviting pool whether it is February or June. Or learn from the owner himself why rooms have names such as Karen Blixen or Saint- Exupery…
5. A driver and much more
The driver on your tour is more than just driving you around the ( sometimes mad) traffic in Morocco. In most cases, he is an expert in the culture and traditions of the areas you will cover. He is the one making possible your immersion into the local culture, carefully selecting the local guides, the best spots for stunning photos or the pace of the day. In some of the most remote areas , the locals will only speak Arabic or at best, one of the Berber dialects. The driver will be there to help translate in your own language topics as diverse as the defense of a ksar or the meanings of the different kaftans worn by a Moroccan bride during her wedding. Throughout your tour of Morocco you may even get invited to have lunch with a local family, perhaps a unique chance of an initiation to the local day to day life. He is also a fine psychologist, using his intuition to carefully asses if the people he is with on the tour are more the extravert or introvert type, what are their interests and carefully match these with what is available locally. He will also judge the right time to talk and the right time to keep quiet, creating a comfortable ambiance during the tour. Most times, by the time the private tour is over, he will have established a friendship with his guests and more often than not, these will, in return, recommend their friends or family to come and discover Morocco with the same person and no one else.
6. Interacting with the locals
Moroccans are Morocco's greatest asset. Humble, joyful and hospitable, often deprived, they will always share the little they have with their guests. This is also where a private tour makes a difference – it makes possible such encounters while keeping away overworked touristy receptions and convenience smiles. Arabs, Berbers, Europeans, Jews and Blacks have shaped a uniquely diverse cultural identity over centuries. How would you feel passing by it? Sometimes these encounters happen spontaneously – the Kasbah's guard might invite you over for tea in his home. Other times, moving life stories are to be heard – such as the palm grove's guide whose passion for his homeland made him teach himself English and open a small yet rich museum to document the life in the palm grove across generations. He will tell you stories of tribes and colors, shrines and caravans, and how the Berbers make rain happen… dedicated staff are constantly travelling across Morocco, uncovering such out- of- ordinary characters that document and maintain local cultures alive.
7. Peace of mind
A reliable private Morocco tour agency will offer 24 hour assistance during your travel. Whether this means booking last minute the trendiest French restaurant in
Marrakech
or a good dentist, it all comes down to the same thing: your peace of mind. A luxury Morocco tour means not only staying in the best available hotels at each location and paying top dollar for it, but also have a backup 4×4 available to be delivered timely in the unlikely event that your designated 4×4 breaks down. Or a driver being there at the airport with your name on the board even if your flight is x hours late. Recently we were forced to reverse the order of a tour and rebook all accommodations due to unforecasted bad weather. The same way, an unexpected sand storm may threaten the desert camp where you were supposed to spend the night. A comfortable double room in the Kasbah by the dunes will be accommodated swiftly. Early next morning, once the dust has settled, a camel ride will take you inside the dunes.
8. It saves you time
Imagine renting a car and going out down the Draa Valley looking for the most spectacular Kasbah or the lushest patch of palm grove. Let alone have a guided tour of either of them by someone knowledgeable. Getting lost and asking locals for direction in a language they don't understand. Or joining a group tour and having to wait until everyone has finished visiting the local fossil shop in order to get to the next attraction. A shop you were not interested in visiting in the first place. You get the picture. None of these ordeals happen when you book a customized private Morocco tour.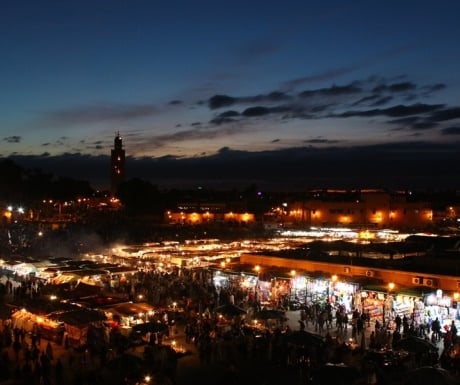 9. The surprise
Many Morocco visitors book a private tour as a celebration of a special event. A birthday, a marriage anniversary or honeymoon. Some agencies would offer something extra. As birthday cakes, flower bouquets or bottles of Champagne are failing to impress the way they used to, new ideas surge. The essential is to pleasantly surprise your guests by offering them something unique.
It may be a signature home perfume to remind them of the almond trees blossoming in February in the valleys of the Atlas Mountains. An exquisite album with photos of the dreamiest places in Morocco perhaps inspiring one day the next generation to come and visit the same latitudes. A leather-cover travel diary where they could put down the memories of a journey that would have transformed them.
Cristian Martinus is Managing Director at Sun Trails.
If you would like to be a guest blogger on A Luxury Travel Blog in order to raise your profile, please contact us.
Did you enjoy this article?
Receive similar content direct to your inbox.