Bonaire has long been known for world-class diving and snorkeling. Between the pristine coral reefs of the Bonaire Marine Park and year-round crystal clear waters, it's no wonder readers of Scuba Diving magazine have consistently ranked Bonaire among the best locations in the world for scuba diving. However, there's so much more to do on this tiny Dutch Caribbean island. From caving to kite surfing to rock climbing, here are five can't-miss things to do when you visit Bonaire (and you've done all the snorkeling and scuba diving you can do).
1. Enjoy caving
The island of Bonaire has more than 400 caves just waiting to be explored. And, guess what, if you're up for more snorkeling, you can do so in some of the caves, though many guided tours require you to simply wear light clothing and sturdy shoes. While the stalactites and stalagmites are impressive, keep your eyes open for cave art, particularly inside caves on the east coast of Bonaire. Caves near Boca Omina, in particular, are known for cave inscriptions drawn by early inhabitants.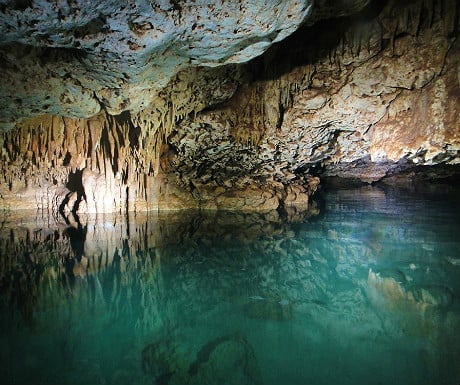 2. Go kite surfing
Steady trade winds make Bonaire an ideal place to take up kitesurfing. In fact, locals joke that Bonaire has two wind seasons: windy (September to mid-December) and very windy (mid-December through August). Fortunately, there are no major wind gusts, so even beginners will be able to hop up on their boards and surf where the wind takes them with ease. Look for dolphins and sea turtles in the waters and take time to learn a few tricks, like back rolls and simple spins.
3. Watch for the 'green flash'
Sunset lovers will find that sunset happy hours are a must on Bonaire. Enjoy a glass of wine and watch for the sun to dip below the horizon. Just as it does, look for the elusive "green flash". It will last just a second or two, but it's well worth the wait, though conditions must be just right. You'll need a clear sky, a calm sea and air temperature that's a bit warmer than the surface of the ocean. You may also have better luck catching the "green flash" in the summer and fall on Bonaire.
4. Visit with sick and orphaned donkeys
Take time to spend a few hours at the Donkey Sanctuary on Bonaire. Buy several bags of carrots as you enter the sanctuary that was set up to help sick, abused and orphaned donkeys on the island. Take a drive around the park to visit with donkeys that will nose into your car hoping for a tasty treat. You can also go on foot to a special area for those donkeys requiring extra care and young foals in need of bottle feeding. You'll also find iguanas, tortoises and flamingos on the property.
5. Go rock climbing
For those who would prefer to climb up a cliff rather than dive down into the sea, you'll find various limestone cliffs that are ideal for rock climbing and rappelling. As a bonus, you'll see some pretty amazing views when you reach the top. The Washington Slagbaai National Park on Bonaire offers a variety of hikes and climbs, including the Kasikunda Climbing Trail, which involves a trek up a hill. Those who make it to the top will be rewarded with one of the best views of North Bonaire.