By
Paul Johnson
on Oct 09, 2014 in
Accommodation
,
Adventure Travel
,
Africa
,
Family Travel
,
Food and Drink
,
Going Out
,
Hotels
,
Leisure Travel
,
Regions
,
Resorts
,
Restaurants
,
South Africa
,
Speciality Travel
,
Travel Miscellany
Having taken a short flight from Cape Town to Port Elizabeth, we were taken by our driver to the Shamwari Game Reserve where we were to spend the next few nights, leaving the industry of PE with its 'mechanical giraffes' (cranes that looked very much like giraffes) behind and passing the Maitland sand dunes as we departed this host city for the 2010 World Cup. It was only about half an hour or so before we turned off the main road, entered the reserve and made our way to Long Lee Manor – an Edwardian manor house with colonial style accommodation in the form of 15 suites of varying sizes and configurations.
The welcome
We were greeted on arrival with refreshing, homemade lemonade whilst we sorted out some paperwork and our bags were taken to our room.  With the formalities completed, we were then led to our rooms, surpised to see warthogs grazing in very, very close proximity (just a few metres away). They had burrowed their way under the perimeter fence that surrounds Long Lee Manor, thus avoiding predators (they had seemingly become quite tame as a result although we didn't go any closer!) and giving them access to much lusher grass, too.
The room
We had two interconnecting rooms that were pretty much a mirror image of each other, giving us a perfect set-up for a family stay.  We each had the privacy and independence of our own rooms whilst at the same time knowing that our children were close by.
The rooms are spacious as you can see, with comfortable seating, a desk area and flat screen TV. Of course, you don't really need a television when you can be watching the wildlife outside, but one of the channels did show the classic 1960s drama 'Born Free' on a continuous loop. Winner of two Oscars, this is a real life story about the raising of an ophaned lioness cub that is later released back into the wild, and there's now a Born Free Foundation with a big cat sanctuary at Shamwari (more on that in a later post).
The rooms led out on to a large patio area with table and chairs and an elevated view over the reserve from where you could see animals grazing in the distance.
It wasn't a bad spot to watch the sunrise also.
The bathroom
The bathroom had twin basins, a bath and separate shower, all done to a beautiful finish.
Toiletries included Shamwari Group-branded rooibos liquid soap and Rooibos hand and body lotion. Perhaps best known for its use in 'red teas' (it's caffeine free and full of anti-oxidants), rooibos is a plant that grows in South Africa's fynbos (shrub-like vegetation that grows in a belt of the Western Cape).
Robes and ample towels were provided but there were polite reminders too to support conservation, encouraging guests to conserve water, not leave lights on and put towels back on their hanger if you plan to re-use them.
The facilities
The lodge has two pools (more suited to the Summer months), a small spa and a fitness suite that's handy for burning off all those extra calories (see below!). There is even a private air strip adjacent to the lodge although the transfer from Port Elizabeth does not take long.
For lunch I chose the suculent grilled ostrich and apricot kebab with parmesan crisp potato wedges and an onion marmalade.
Breakfast the next morning consisted of scrambled egg and springbok on a toasted muffin… the perfect start to an early morning game drive.
The food more than met expectations in terms of both presentation and quality.
Other nice touches
Staff were very attentive and acommodating throughout our stay. At turndown we were left complementary nougat and a short African tale about animals we'd encountered on our drives. These made for great bedtime stories for the children!
We were given a courtesy call in the morning so as not to miss the early start to the day and of course therefore one of the best opportunities to observe wildlife on a game drvie on the reserve.
Cost
Rooms start from around 6,300 ZAR per night (about £350 / $570 at current exchange rates). This includes meals, high tea, water, tea, coffee, game drives, taxes and a minimum donation to Forever Wild – Rhino Protection.
The best bit
Although the accommodation was beautiful and offered us every comfort we could possibly want or need, the highlight of our stay here has to be the game drives in the reserve (more about those in a later post also). Pictured are three elephants that we saw passing Long Lee Manor (you can see the building in the top right of the image) on the last game drive of our stay at Shamwari.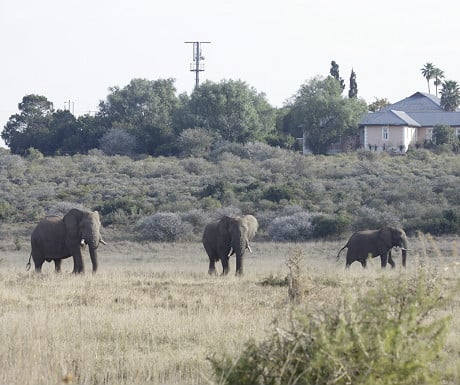 A little unfortunately, just as these three were passing co-incided with when a strimmer or mower was being used at the lodge, and one of the elephants seemed to be a little 'spooked out' on hearing this unfamiliar noise, sending the other two into a similar frenzy and resulting in all three of them briefly charging across the plain, with their tails held up (a sign that they were unhappy about something) until they felt they were a suitable distance away.
The final verdict
A wonderful place to stay on a first class game reserve.. and a truly magical experience.
Disclosure: The above formed part of a luxury trip to South Africa sponsored by Hayes & Jarvis, specialists in personalised, luxury holiday itineraries for discerning travellers to over 55 destinations worldwide.