It's pretty counter intuitive to be packing your thong along with a pair of budgie smugglers for his lordship when you're off to the Alps, after all you're going skiing, it's not a beach holiday but a growing number of luxury ski chalets are including a pool, indoor or outdoor, sometimes both, as this particular luxury becomes a 'must have' feature in any new build. A pool adds another, welcome, dimension to a winter break, especially if you're going as a family, the kids will love splashing about in the pool. Swimming indoors in a luxury setting or the surreal experience of taking a dip outdoors, surrounded by breathtaking scenery, snow and ice is a bit of a novelty and a pretty cool pastime. Here are five fabulous pools for you to drool over.
Chalet Mont Blanc, Megeve
This absolutely 'knock out' luxury ski chalet is blessed with two pools, one indoor and one outdoor. The indoor pool is part of the spa and gym area and has fabulous views through the floor to ceiling windows that flood light into the area. My pick is the heated outdoor infinity pool. Overlooking Megeve and surrounded by magnificent scenery, this pool is a winner, in the evenings with the stars above and the twinkling lights of Megeve below you feel like you're floating in space. Things could get a little rough though, if you're in the pool when a helicopter lands on the helipad you could be forgiven for thinking you were in the middle of a storm tossed sea.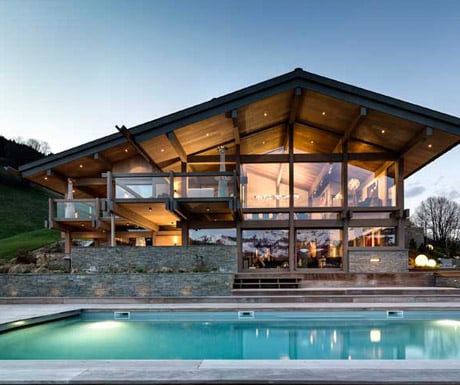 Chalet Norte, Verbier
This truly stunning luxury accommodation only has the one pool, I say only, Mont Blanc may have two but neither of those double as a dance floor, unlike this stunner in Chalet Norte. The pool, when undisturbed has a reflection like highly polished marble and mirrors the opulence and luxury of it's surroundings. It seems a shame to dive in and break the surface but I bet you will anyway and stay in until the skin on your hands has taken on the appearance of a prune, and then as you're drying off, the pool can magically morph into a dance floor. No life belts needed for "Staying Alive" as you dance the night away.
Chalet Jaguar, Megeve
The pool in this beautiful chalet is cocooned in a very cosy and intimate space and while you're in the pool it feels womb like and very zen, a million miles from the municipal swimming baths back home. It has a luxurious and opulent ambience making the water seemingly feel like velvet. This pool also doubles as a dance floor and a cinema to boot. There could be arguments, in the evening, one half of the family will want to swim the other half will want to watch a film. I suppose the swimmers amongst you could knock on the door of Mont Blanc and ask if you can use theirs, after all they have two.
Chalet L'Raphael, Verbier
The pool in this elegant and luxurious chalet is almost regal, fashioned from onyx, amidst French and Italianate decor, with candelabras set down the sides, it almost feels like you should be dressed in evening attire, or at the very least a tiara for the ladies and a dickie bow for the gents as you take to the waters, perhaps with a glass of champers. This pool is a very civilised affair, you have to mind your manners here, no dive bombing in the deep end or splashing the other bathers, you may well be politely asked to desist from such vulgar behavior by the attendant life guard, fully dressed in dinner suit and white gloves.
Chalet Dent Blanche, Verbier
The pool is this beautifully furnished, luxurious chalet is part of an impressive spa area set out on one of the five floors that make up this wonderful chalet. The floor that houses the pool is given over entirely to the spa, a home cinema and a very well equipped gym. The pool is very inviting and clad in gorgeous honey toned timber that creates a very warm and welcoming ambience. You may well forget you came here to ski as time spent in this wonderful environment is very addictive.
Rebecca Taylor is Director at SkiBoutique.
If you would like to be a guest blogger on A Luxury Travel Blog in order to raise your profile, please contact us.