By
Javier Luque
on Oct 27, 2014 in
Africa
,
Botswana
,
Leisure Travel
,
Lesotho
,
Mozambique
,
Namibia
,
Rail Travel
,
Regions
,
South Africa
,
Speciality Travel
,
Swaziland
,
Tanzania
,
Zambia
,
Zimbabwe
Luxuries of a bygone era, there is little that can relax the mind and soul more than a luxury steam rail holiday. Countryside passes by at an elegant pace, time stands still, and more tea is served. If you have always wanted to experience this luxury of yesteryear, here are Africa's most delightful rail holidays:
Rovos South to East
Fourteen days of luxury – a Rovos journey that takes you from the iconic Cape Town to East Africa's Dar es Salaam. Or, if you've just stepped from your safari vehicle in Tanzania and are looking for a relaxed trip down to South Africa, choose Dar es Salaam as your starting point and end in Cape Town. Either way, this epic journey will take you to all of Africa's highlights, including Zimbabwe, Zambia, Tanzania and South Africa. As for wildlife watching, in South Africa the Rovos will to you to experience Kruger National Park and its wildlife. On the other end of the journey, more wildlife viewing awaits at Tanzania's Selous game reserve. But there is more than just wildlife on this luxury journey: a picnic at the Kundalilia Falls and experiences of vibrant Dar es Salaam being two other highlights. The Rovos Rail is Africa's top luxury rail and on this journey covering vast grounds of the African continent, you can expect nothing less than 5-star treatment, while gazing out at Africa's landscapes and sunshine.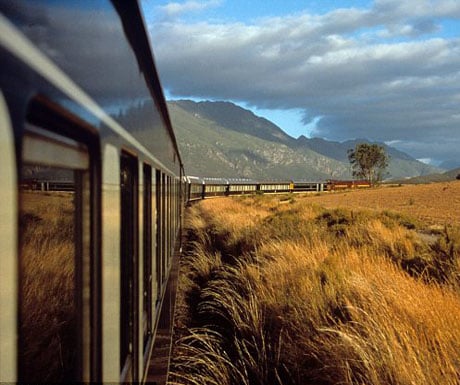 Blue is the colour of luxury
The Blue Train is synonymous with luxury rails in South Africa – and you too can experience this luxury trip! Choose between southbound or northbound route options, each guaranteeing magnificent views, excellent dining and high teas and cultural outings. A stylish journey from the moment you set foot on board the Blue Train, up to your destination. Boarding takes place in Cape Town and Johannesburg. A journey between Cape Town and Johannesburg, literally a South-African cross-country journey, will last two days. If you are starting or ending an itinerary of African travel, this journey is a good option to consider – it is only two days and will offer you a pleasant overview of South Africa, whilst enjoying a relaxed and luxurious environment.
On board to Namibia
Namibia with its dunes and desert-charm, this country should be a highlight of every discerning traveler to Africa. The Rovos Rail has another top class journey to offer. On board this nine day journey between South Africa's Pretoria and Namibia's Atlantic Coast, this journey will add a remarkable perspective to your knowledge and appreciation of Africa. Start in South Africa's hub of economic activity and make your way to the isolation of the Kalahari Desert, beautiful in its own right. Once in Namibia, this journey also offers a trip to the Etosha National Park and the world famous Sossuvlei pan in the Namib Desert. And because it's a Rovos trip, you know it will be luxury all the way.
Experience the Shongololo
'Shongololo' is an African word for a millipede, and a journey on board the Shongololo Rail will see you meandering through southern Africa in traditional rail style. Cuisine on-board the Shongololo is authentic African cuisine, with its exciting mix of cultural influences. This rail holiday cover southern Africa's must-see locations, with a good mix of adventure. On this journey, you can expect South Africa's culture, which is known for its remarkable diversity, the country's heritage and natural environment. But besides South Africa, the Shongololo Express also takes you to eight other countries, including Namibia, Lesotho, Swaziland, Mozambique, Zimbabwe, Botswana, Zambia and Tanzania. Now to talk about luxury: accompanying the rail is a fleet of Mercedes Benz vehicles – for touring with a guide once you've arrived at your destination. Guides are fluent in English, German, Dutch or French, with an in-depth knowledge of off-rail activities and experiences.
Shosholoza Meyl Premier Classe
Private cabins, air-con, comfortable compartments, and high class service – the Shosholoza Premier Classe deluxe trains are the new way of reaching your South African destination in style. Take this opportunity to add to your African luxury holiday, with Premier Calsse journeys taking you between Johannesburg and Cape Town, Johannesburg and Durban, or between Cape Town and Port Elizabeth. Enjoy four-course lunches and five-course dinners – the Premier Classe is the new name in South Africa luxury rail. A new kid on the block, keep an eye out as they are promising exciting new routes for the near future.
For many people, traveling by rail reminds of childhood holidays to faraway places. Now embark on your own adventurous African holiday on board one of these luxury trains. With safari options in-between and dining to write home about, let the rails of Africa take you to luxury, and beyond.
Javier Luque is a Co-Founder and Director of Your African Safari.
If you would like to be a guest blogger on A Luxury Travel Blog in order to raise your profile, please contact us.