It's no secret that I love to cycle all over the world. My love for travel began in France, moved to Italy, and expanded at a rapid rate from there. And my love for cycling… well that's been there my entire life, but has only grown exponentially as I explore new destinations from the saddle. After my recent journey through Europe with a good deal of time spent in Spain, I thought it would be fitting to share my favorite destinations to ride in while there.
Jeez! This is a place of remarkable beauty. Imagine: There you are, riding alongside dramatic cliffs that drop off and offer sweeping views of the bluest sea. Next you're climbing high into the Tramuntana mountain range where you'll be rewarded with a breathtaking vista of the western edge of the island. And when you're not riding along the coast, you pedaling on quiet, traffic-free country roads. It doesn't hurt, of course, to wake up at La Residencia after a pampered evening of local wines and authentic specialties prepared by the region's top chefs.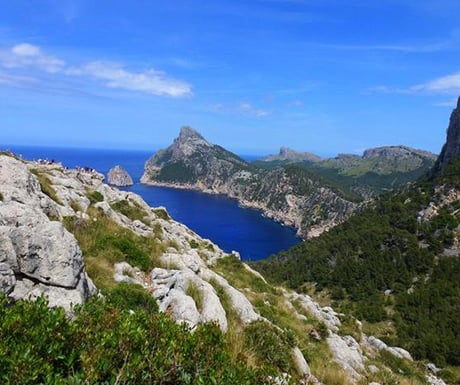 Rioja and Ribera del Duero
This is the wine region of Spain. If you're an oenophile, this is the place to be. Rioja has recently been touted as a serious wine region to watch, and after a day on the bike you'll be thrilled to enjoy a glass of the finest local variety. Ride along the banks of the Ebro River, stop at one of the best wine museums in the world, the Museo Dinastia Vivanco, and indulge yourself at the Caudalie spa located at the Marques de Riscal hotel. Come ready to ride, excited to eat, and disposed to drink.
Andalucia
Andalucia is by far, one of my favorite rides. There is a charm to this destination with its hilltop villages, traffic-free roads, and medieval streets. What do you look for on a cycling vacation? Is it excellent weather? Rolling hills? Stunning scenery? Maybe exceptional cuisine? More likely, it's all of the above. No sacrifices to be made here! There are some more challenging climbs here as well, so it's exhilarating for an active rider like myself. Oh! And if you've never has paella, not only will you taste the best you'll ever have, but travel with me and we'll head to a traditional Montilla winery where we'll learn to make it.
Costa Brava
Another coastal beauty! I have to say, even though my focus generally remains on cycling every trip I take, I can't help but taking a dip at one of the many stunning beaches in Costa Brava. Whenever I visit, I make sure to head inland and visit the towns of Peratallada, Ullaset, and Palau Sator. But my favorite ride here has to be the infamous Els Angels, the favorite training ground and mountain pass of countless pro cyclists. Don't forget to work in a trip to the Salvador Dalí museum, a must-visit.
Camino de Santiago
Also called St. James Way, Camino de Santiago speaks to me in a way some other Spain destinations do not. Traversing the rolling green Galician countryside is an experience to remember, and the challenge to complete the infamous climb up to the Cruz de Ferro in the hillsides of Castilla y León is exactly what I look for. I have to say though, the trip isn't complete without a spin along scenic back roads that wind through Galician woods to reveal the Castelo do Pambre, a hidden fourteenth-century castle.
Spain offers it all. Good food, good wine, good riding, and good people. Generally, the riding is a bit more challenging than in some of the bordering European countries. That's what I love though! If you want a real experience filled with authentic beauty, head over to one of these Spanish destinations. Have any that you are especially fond of that you don't see on this list? Let me know! It might be time to explore somewhere new.
Andy Levine is the President/Founder of DuVine Cycling + Adventure Co.
If you would like to be a guest blogger on A Luxury Travel Blog in order to raise your profile, please contact us.