5 of the best luxury stays, worth each and every one of their 5 stars
True hotel luxury envelops you from first moment of contact – continuing in the myriad of subtle touches during your stay – all adding to a sum total worth every dollar. Many attempt to emulate. Certainly, bed linen thread count, furnishings and beautiful lobbies can be attained and in many instances equalled. However, getting the invisible 'just right' is the nirvana – perfect service equates to luxury – something a price cannot be ascribed to. It is about the right staff; training and philosophy of management. The following properties set the bar high – renowned service; stunning locations; and the very best of finishes. Not simply hotels – they are a lifestyle – a destination in themselves.
The Imperial Hotel, New Delhi, India
A lovingly preserved hotel in the heart of New Delhi. 'The' place to stay for generations of visiting celebrities and royals. From the moment you sweep up the palm lined drive your sojourn is guaranteed to be otherworldly. Stepping inside the scent filled lobby you are transported to another era; one where a more languid pace was enjoyed. Priceless art fills the walls; staff seamlessly cater to every request and a hush pervades – thanks in part to the beautiful gardens surrounding the property. Consistently ranked as the Top Hotel in Delhi (Travel + Leisure awards 2014) and home to award winning restaurant The Spice Route. The Imperial New Delhi is not just a hotel, to stay is to glimpse true luxury – you will not want to leave.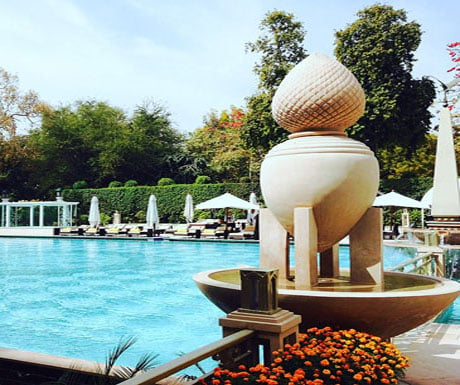 qualia, Hamilton Island, The Whitsundays, Australia
It certainly helps that qualia is nestled on the gentle slopes of a tropical resort; in one of the world's most desirable locations. Although that is only the half of it. From the moment your plane touches down and the warm breeze welcomes you to Hamilton Island; a stay at qualia is the quintessence of luxury. Sitting on the balcony of your suite gazing into the azure waters of Whitsunday Passage; you might be forgiven for thinking time has dissolved – you are suspended in an environment of pristine beauty and peace. No matter the length of your stay the result will remain the same; you will leave a better, calmer version of yourself – and you cannot put a price on that.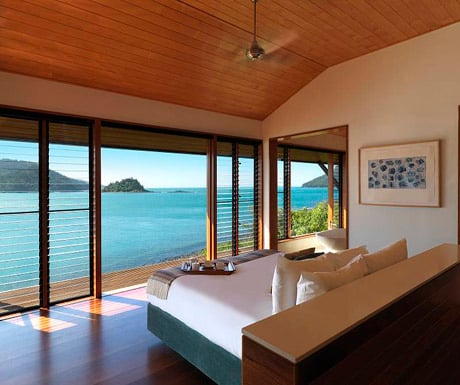 The Peninsula Hotel Hong Kong
With one of the world's most recognised facades (complete with fleet of Rolls Royce's) – The Peninsula Hong Kong awaits your arrival like a gracious host. A central location on Victoria Harbour ensures you are never far from all the happenings in this vibrant metropolis; however you may never want to move. Each guest's whim is attended to with polish. A collection of Hong Kong's more celebrated restaurants; a bar with views of the nightly laser show; spa treatments that transport you to paradise; a boutique shopping collection of all the luxury brands; and a lobby of great acclaim. This is not just a hotel – it is the centre of the universe; as a guest you are made to feel so very special. So why bother departing at all.
The Beverly Hills Hotel, LA
Iconic and still relevant – no trip to LA would be complete without a stay at one of old Hollywood's true stars, The Beverley Hills Hotel (the 'Pink Palace'). On approach through leafy, winding hills – home to stars and wealthy residents – you know you are about to arrive somewhere unique.  Legendary guests have graced the suites; deals made; romances started; secrets kept – if these walls could talk – but they don't as privacy is paramount. Rest a while by the palm lined pool; your order known before you have uttered it (such is the service). Mingle for brunch at the Polo Lounge; catch a glimpse of a Hollywood heavyweight. But remember don't approach – discretion is key – that is why in a city that is known for oversharing – this oasis in the hills is still the place to stay when in L.A.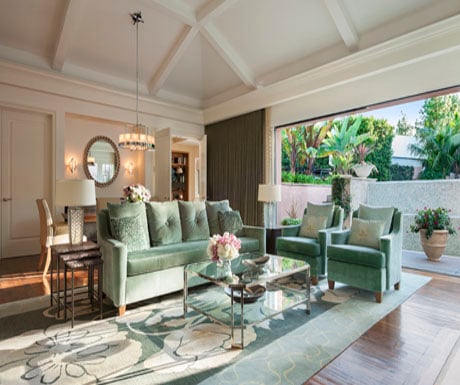 The Dorchester, London
There might be newer, hipper places to sleep when visiting London – but for understated elegance; and quintessential British style; you would be hard pressed to improve upon The Dorchester. Plenty of the worlds rich and famous think so too – the location on Hyde Park just a stone's throw from all that is fabulous in London. Although again why would you need to leave; with an Alain Duccase 3
Michelin star restaurant
; another of David Tang's stable with
China
Tang; and tradition at The Grill. Unobtrusive elegance in the suite's furnishings and personalised care from the staff – perfect British hospitality.
Did you enjoy this article?
Receive similar content direct to your inbox.