A new generation of luxury river cruises in Asia
Much of southern Asia covers largely tranquil, jungle-clad regions brimming with ruined temples, exotic wildlife, peaceful village communities and winding waterways that have served traders and fishermen for centuries. Despite tourism being firmly established, large parts remain hidden and sheltered; and the life-giving waterways invariably provide the most enjoyable – and sometimes the only – route into untrodden areas. With authenticity now being as high, if not higher, on the agenda of luxury travellers as fine dining and first-class facilities, demand for off the beaten track experiences – that elusive sense that one has seen or done something few others have – is at a premium; and this has given rise to a new trend for river cruises on some of Asia's most atmospheric waterways. Journeys along the Irrawaddy, Mekong, Red and Brahmaputra Rivers respectively provide the opportunity to revel in both the buzz of uncharted waters and the slower pace that river cruising necessarily involves; while being indulged with attention, excellent cuisine and superior comfort along the way.
Chindwin River, Myanmar – RV Kalay Pandaw
Launched September 2014 Though infrastructure has improved a great deal since Myanmar 'opened up', there are still vast swathes of the country that remain difficult to reach. The RV Kalay Pandaw is a charming colonial-style river cruiser with just five cabins – ideal for taking you to the heart of the peaceful Chin State. Travelling between Mandalay and Yangon, the voyage takes in traditional villages, pagodas, teak monasteries, forests and crumbling colonial towns; as well as providing the opportunity to visit Mawlaik – where colonial employees of the Bombay Myanmar Trading Corporation would convalesce after months extracting teak from the forests – and Sittahaung, the starting point for a troubled trek over the mountains to
India
for the British personnel fleeing the conflict with the Japanese in 1942.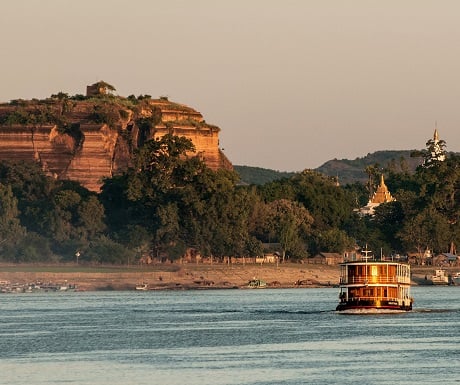 Tonle Sap River, Cambodia – Aqua Mekong
Launched October 2014
The Tonle Sap is the lifeblood of Cambodia; without it, the magnificent Kingdom of Angkor would never have existed. Beginning in southern Vietnam, Aqua Expeditions' five to seven day journeys are a wonderful way to cross the border into Cambodia and take in the leafy capital Phnom Penh and the sights of Angkor, with the chance to paddle through floating markets, visit silver and copper workshops, climb mountains, and explore forests bursting with birds and tropical flora. The Aqua Mekong has 20 suites split over two decks – some with daybeds from which to admire the view – as well as a river-view gym, plunge pool, spa rooms and cabanas on deck.
Brahmaputra River, India – MV Mahabaahu
Launching March 2015
Of all of India's national parks, Kaziranga is probably the most difficult to reach – which of course makes it particularly magical; and the wonderful wildlife of Kaziranga, which includes tigers and rhinoceroses, is just one of the reasons to explore India's little-visited Assam region. As you sail the great Brahmaputra, there's the chance to spot eagles, kingfishers, dolphins, otters and buffalo along the riverbank, exploring by boat, jeep and elephant back. Cultural encounters include meeting the Mishing people who inhabit the world's largest river island, as well as visiting the famous Assam tea plantations and exploring the
satras
(cultural centres) unique to the region.  MV Mahabaahu is a 46-berth vessel with a pool and an especially luxurious 'spa' deck with Jacuzzi, sauna and treatment room.
Halong Bay and Red River, Vietnam – MV Angkor Pandaw
Launching June 2015
Vietnam is a country of two halves, with both buzzing modern cities and wilderness. Pandaw's northern Vietnamese  expedition begins by sailing around the instantly recognisable karst landscape of Halong Bay, before making its way north through emerald green rice paddies and rolling mountains to Mai Chau in the far north-west. Along the route, you can try your hand at traditional Vietnamese folk painting, hike along the riverbank into beautiful mountains, or visit villages of traditional stilt houses. The RV Angkor Pandaw has 16 spacious cabins, each finished in teak and brass, and the delicious cuisine comes courtesy of a local master chef.
Mekong River, Laos – RV Laos Pandaw
Launching November 2015
One of Pandaw's smallest vessels, the RV Laos Pandaw has just 10 staterooms, meaning an intimate and extremely peaceful atmosphere. An 11 day voyage starting in the capital, the journey through Laos ticks off the charming UNESCO World Heritage town of Luang Prabang before winding its way into the stunning, rural north of the country, where you can head off into the jungle to meet small Khmu and Hmong communities and explore forgotten temples and trading towns. Eventually, the boat will arrive in Chiang Kong, the jumping off point for the mesmerising and infamous Golden Triangle, where Laos meets its neighbours, Myanmar and Thailand.
The most difficult task seems to be choosing a country – but that's all set to change: Pandaw plans to introduce a new voyage sailing the entire length of the Mekong, from
China
through four countries to Cambodia, making it possible to experience the nuances between various countries from the comfort of one vessel, without the need for endless flights or unpacking and repacking bags.
Melissa Matthews is Director of Operations at Red Savannah.
If you would like to be a guest blogger on A Luxury Travel Blog in order to raise your profile, please contact us.
Did you enjoy this article?
Receive similar content direct to your inbox.