When you travel in luxury, you don't just want something that is practical… you want it to ooze style also. Here is a range of bags and cases for her that do just that. Whether it's a piece of hand luggage or an item for the main hold, we've unearthed ten luxury luggage items that we feel sure you'll love.
Birkin bag in bubblegum pink from Bags of Luxury
Bags of Luxury have in their midst one of the rarest Birkin bags available in the world right now. A stunning bubblegum pink in rare matt porous croc teamed with shiny palladium hardware, this bag is among the most revered bags of all time. Being no longer produced by Hermes, it is a true collectors piece. Saying that, it is also one of the most chic and wearable investments you'll ever make!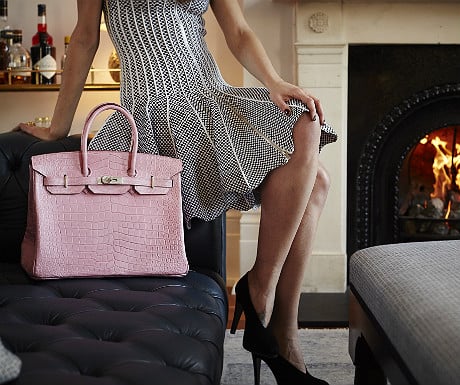 With soft pastels proving a real hit this season this bag is contemporary and on trend, and being a Hermes Birkin it is also utterly timeless. Get in touch to make an appointment at the Bags of Luxury showroom in central London.
If you're looking for the ultimate in bespoke luxury, take a closer look at the all-new Wilkens W1 suitcase. The design is contemporary, classic and chic. The materials are magnificent. The workmanship is extraordinary – and handcrafted especially for you by master artisans.
Custom made for you according to your design choices, this luggage is like no other. You select the colours that suit you best amongst sumptuous Italian leathers. Then you choose between beautiful hardwood and metal protective trims. Of course, your initials are the only logo displayed. Enabled by a unique new crowdfunding model, the Wilkens W1Suitcase is exquisite, customisable design produced in small series for a very discerning clientele.
Bric's Bellagio 55cm Carry-On Spinner from Case Luggage
The Bellagio collection by Bric's exemplifies their philosophy: "create elegant, exceptional travel bags that have all the function and modern amenities demanded by today's traveller". Old world craftsmanship, attention to detail, classic profiles and updated features, combined with beautiful simplicity are what Bric's hand crafts into every bag they make. This is a collection in which discreet luxury has been enhanced with Tuscan leather trim and thoughtful details.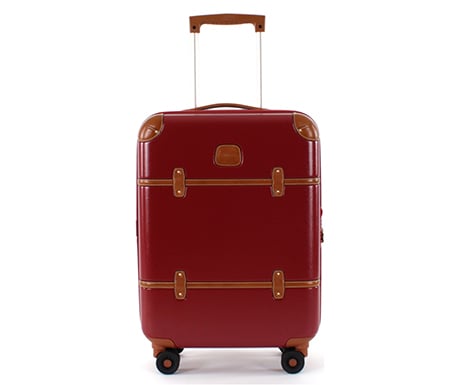 The Bellagio 55cm Carry-On Spinner features the iconic silhouette redesigned using new lightweight and durable materials to make it the perfect combination of form and function. These classic luggage pieces come in Red, Black, Olive and Cream and are available from Case Luggage. It is a perfect example of the Bric's philosophy. "Create elegant, functional travel bags that are good looking, and include all the practical function and modern amenities demanded by today's traveller."
Moa Tote by Angela & Roi from Modovanti
This deep wine Moa Tote by Angela & Roi, available from Modovanti, is the perfect travel companion for your next trip to the big city. Whether you are strolling through the Tate Gallery, taking in a Broadway show or catching up with friends over a bottle of rouge at your favorite Parisian cafe, your Moa Tote will be the talk of the town. Trendy, versatile and big enough for all your travel needs, this is a must have tote that beautifully compliments any outfit. Best of all, by buying this Moa Tote, you are "changing the world through handbags." It's a simple message with a profound impact. Founded on strong ethical purposes and a desire to make an impact through fashion with every handbag you purchase, Angela & Roi gives a portion of their sale to fighting cancer and other diseases.
And for you animal lovers, every Angela & Roi bag is 100% high-quality vegan leather. Live life consciously styled and look good, feel good and do good with this stunning tote.
Burlington is carry-on sized trolley, but don't be fooled by the elegant exterior for inside there is organisation galore with specific spaces for all your belongings, as well as a shock-resistant compartment for a 15" laptop. The bag is made from a sleek yet durable nylon with a full leather trim. There are 2 large zipped compartments to break up your luggage and a full length slip pocket at the front for keeping any tickets or travel cards quick and easy to hand.
An added feature comes in the form of a unique 'MyKnomo ID' code stitched inside every Knomo bag. Simply register the code online at www.knomo.com and if the worst is to happen they will work to reunite you with your belongings. The Burlington Trolley is available in Black for £299.00.
Porter Tanker Tote from Roztayger
Savvy travellers who covet versatility, uncompromising quality and elegant design: you'll want to bookmark Roztayger, an online boutique with a focus on stylish luxury travel essentials. Founded by fashion industry veteran Elizabeth Jeffer, Roztayger eschews the 'obvious' names in favour of more interesting niche labels discovered in the U.S., Europe, Japan and beyond.
One of Elizabeth's go-to bags for travel is the military-inspired Porter Tanker Tote shown here. Made in Japan by the highly respected Yoshida Kaban (celebrating its 80th anniversary in 2015), it's crafted in a heavyweight waterproof nylon, finished with a slight sheen, and comes in olive green or black. Boasting a multitude of interior pockets for pens, digital devices, toiletries and paperwork, it manages to keep you both stylish and organised (and therefore calm) in the midst of travel mayhem (US$288).
Raffaella from Appassionata Boutique
Appassionata Boutique has rapidly become a favourite of those who love, unique, high-end bags. Each bag is handmade in Italy, using luxurious leather from Florence, reflecting the true elegance and design of Italy.
Featured here is the 'Raffaella' , a large 2 tone woven leather bag, for those who like to make a statement while travelling, at work, or going to the gym. 'Raffaella' is spacious, yet elegant, practical, yet beautiful and extremely comfortable to carry in the hand or on the shoulder. Available in a wide variety of colours.
Shocking Pink Spinner from Lulu Guinness
Kiss goodbye and jet off with this fabulous Shocking Pink Hard Sided Lips Medium Spinner Case from Lulu Guinness. This chic piece of luggage is ideal for any style-conscious female traveller and includes a set of three drawstring bags for accessories. RRP $360.
Tweed Belting Carriage Bag from Hartmann
Made from an American vegetable tanned leather, which is tanned using a tree bark and plant extract, with time and care, this Tweed Belting carriage bag from Hartmann will develop a beautiful patina. It comes with a front pocket with organization and technology compartments, a decorative brass padlock and dual leather top carry handles.
The bag has a beautiful signature logo jacquard lining and the exclusive tweed fabric is treated with a DuPont Teflon finish to repel water, dirt and stains, which makes cleaning easy. RRP $695.
The Bayswater is considered a Mulberry bag icon. A timeless and classic shoulder bag, it unites the very best of Mulberry's craft heritage and effortless style. This iconic leather bag can be carried by the handle, in the crook of the arm or over the shoulder.
The understated shape and finish showcases the exceptional level of leather quality, proudly finished with a signature postman's lock. The interior belted sides can be adjusted to give more space inside, making a Bayswater ideal for any lifestyle.