7 places to eat in Cyprus for an authentic experience
Anyone with a discerning palate who travels to Cyprus will probably appreciate restaurants and cafés serving the authentic and delicious cuisine of the island.  The Cypriot cuisine is closely related to both Greek and Turkish food and along with various other influences, makes for an interesting mix indeed. You can normally tell the most authentic restaurants by their popularity with the local residents, and the following are seven recommended spots to enjoy the true local flavours of Cyprus:
Clarabel Restaurant
Makarios Avenue, Ayia Napa 53402, Cyprus
A popular restaurant, located just a couple of minutes walk from the main square of Ayia Napa,
Clarabel Restaurant
serves a range of authentic Cypriot dishes, as well as some international offerings and excellent steaks and flambé dishes. While some say the service can occasionally be slow when the restaurant is busy, everyone says the food is well worth waiting for, with many returning to the restaurant several times over the years. Clarabel Restaurant has been awarded the Tripadvisor Certificate of Excellence 2014.
The Agrotikon Restaurant & Bar
136 Nissi Avenue, Ayia Napa, Cyprus
With attentive service in both the restaurant and bar, the Agrotikon is popular with both the locals in, and visitors, to Ayia Napa.  Always busy, but with an excellent service, the restaurant offers a range of authentic Cypriot dishes with the lamb
kleftiko
standing out as one of the most popular.  Excellent and very tender steaks are also available in both the restaurant itself and at the bar. The restaurant has been awarded the Tripadvisor Certificate of Excellence 2014.
Militzis
Piale Pasha 42, Larnaka 6029, Cyprus
Located on the beachfront in Larnaka, this restaurant appeals to locals and visitors alike.  Portions are generous, especially the
meze
(a selection of small dishes served as an appetizer or meal in itself).  The lamb dishes are delicious and served in the typical Cypriot manner and there is a selection of excellent Cypriot wines on offer. Prices in general are very affordable. The restaurant has been awarded the Tripadvisor Certificate of Excellence 2014.
Maria's Restaurant
Vavatsinia, 7712, Larnaka, Cyprus
Enjoying spectacular views from the terrace, Maria's restaurant is popular with both locals and tourists.  A family-run restaurant, service is quick and efficient, despite the number of clients constantly pouring through the door. According to reviews, the
kleftiko
(a lamb and potato dish, slow-cooked in a traditional oven) is the best on the island.  Excellent service, huge portions and reasonable prices make this a great location for a good meal.
Lofou Taverna
Lofou Agrovino, Lofou 4716, Limassol, Cyprus
A traditional tavern, serving during the day and late into the night,
Lofou Taverna
is a cozy spot offering the best in authentic local cuisine.  The
meze
on offer is popular with both locals and tourists alike and while the restaurant tends to get busy on Sundays, with locals enjoying their weekend family meal, the extensive menu and service offered are excellent. Lofou is also a pleasant escape from the city itself.
Araouzos Tavern
Kathikas, Paphos, Cyprus
A little off the beaten path, but reasonably close to Coral Bay and the beach, this excellent traditionally-styled tavern offers the best in local cuisine, with tasty chicken and lamb dishes.  The tavern also has an excellent range of local wines and offers a friendly welcome and service.  One special experience in the tavern, but only on Fridays and Saturdays, is a delicious and tender suckling pig, served with Cypriot potatoes.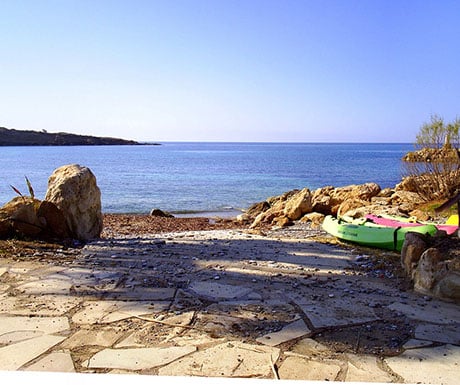 7 St Georges Tavern
Anth. Georgiou M. Savva 37, Yeroskipou, Paphos, Cyprus
Vegetarians and vegans looking for an authentic Cypriot experience should not miss 7 St Georges Tavern.  There is no official menu card on offer at this restaurant.  On arrival, the owner cheerfully explains what is on offer for the day.  Dishes consist of fresh organic produce, including the bread, capers, cheese, olives and salad, but meat eaters are not left out, with a range of organic meat on offer too. Dishes are seasonal and include black-eyed beans with rice, traditional
kleftico,
lamb
tavas
and wild mushrooms.
Christos Hajipapas is Head of Business Development & Strategy at Cyplon Holidays.
If you would like to be a guest blogger on A Luxury Travel Blog in order to raise your profile, please contact us.
Did you enjoy this article?
Receive similar content direct to your inbox.