The eleven stars of Andalusian cuisine
The constellation of Andalusia's Michelin stars just got a little brighter. In a seemingly symbolic nod to the rising eminence of Andalusian gastronomy, the gala event to announce the 2015 Michelin Guide for 
Spain
was held in the Andalusian port city of Marbella this year. While no new restaurants were added to the elite list of Michelin starred restaurants in Andalusia, one restaurant did gain a second star, bringing the total number of stars to eleven across nine restaurants. Many would consider Marbella to be the epicentre of fine dining in Andalusia, and indeed three of the nine awarded restaurants are located there, including veteran two-starred Chef Dani Garcia. However, the remaining six designated restaurants are dotted across the region, offering representative tastes of the various provinces and a well rounded, eclectic mix of styles between them. Why not plan a trip to Andalusia for a tour of all nine?
Restaurant Dani Garcia **, Chef Dani Garcia, Marbella
Likely the best known chef in Andalusia, Dani Garcia has maintained his two-star status for years already and continues to dazzle in his self named restaurant in Marbella. His "cuisine of contradictions" blends traditional Andalusian dishes and fundamentals with his flair for modern methods and international influences. The "Once Upon a Time" tasting menu will carry your senses through a fantasy and back again.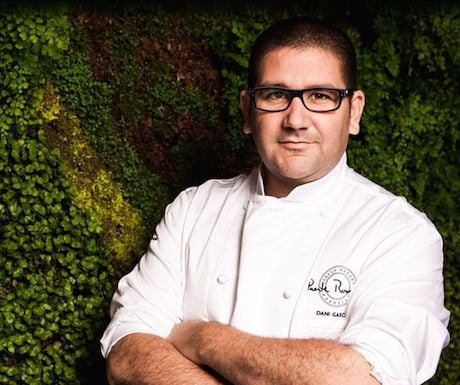 Puente Romano Beach Resort, Marbella (Malaga)
Bulevar Principe Alfonso von Hohenlohe, S/N, 29602
Restaurant Aponiente **, Chef Angel Leon, Cadiz
After earning his first Michelin star in 2010, Angel Leon is this year's only Spanish chef to have been awarded a second star. There has been much anticipation in culinary circles and for many, the second star for "the chef of the sea" is long overdue. As his nickname would suggest, Leon's cuisine is decidedly fish and seafood centric, but don't expect Bluefin tuna or other overfished, endangered species. Leon leads the drive to sustainable eating, making delicacies out of lesser known and less fashionable fare.
C/ Puerto Escondido, 6
11500 El Puerto de Santa Maria, Cadiz
Restaurant Jose Carlos Garcia *, Chef Jose Carlos Garcia, Malaga
Local born chef Jose Carlos Garcia entered the ranks of Michelin starred restaurants with
JCG
just last year, after previously earning a star with his restaurant Café de Paris, also in Malaga. Here delicate flavours and modern techniques mix with the freshest ingredients and every plate is pretty as a picture. Set in the recently developed Muelle Uno area of the Port of Malaga, the restaurant overlooks the harbour and lends the sophistication that this cosmopolitan city deserves.
Pza de la Capilla, Puerto de Malaga, 29001
Restaurant El Lago *, Chef Diego del Rio, Marbella (Malaga)
"
El Lago
", Spanish for "the lake" takes its name from the beautiful lakeside setting in the Elviria Hills area of Marbella. Add to the placid atmosphere an ever evolving creative cuisine, personalized service and an exclusive list of some 350 Spanish wines and El Lago well deserves its Michelin star, first awarded in 2005. Such is the commitment to development that once a year the restaurant exhibits a weeklong presentation of the latest trends in gastronomy with rotating daily menus.
Urb. Elviria Hills Avda. Las Cumbres S/N,
29604 Marbella, Malaga
Restaurant Skina *, Chefs Marcos Granda, Hideaki Yoshioka and Jaume Puigdengolas, Marbella (Malaga)
With not one but three head chefs, this careful collaboration was always destined for a Michelin star and has maintained this status with consistency since 2008. The dishes are distinctively Andalusian, including many local, traditional dishes presented with a creative touch and beautiful flair. Skina, located in the historic heart of Marbella, seats only fourteen diners and is one of the smallest restaurants in the world to have been awarded a Michelin star.
C/ Aduar 12, 29601 Marbella (Malaga)
Restaurant Abantal *, Chef Julio Fernandez, Seville
Another long-standing member of the Michelin club,
Abantal
has held its star for seven years running. The attention to detail is as evident in the sleek presentation of the dining room as it is on every beautifully presented plate, combining "flavor, creativity, texture, craft and esthetics". Steeped in its Andalusian roots, the cuisine draws on Moorish-Arab influences fused with imaginative, adventurous modernity.
C/ Alcalde Jose de la Bandera, 7-9, 41003 Seville
Restaurant Choco *, Chef Kisko Garcia, Cordoba
Born in 1978, Kisko Garcia is one of the youngest chefs of the "new Andalusian cuisine" movement. Based in Cordoba, Garcia draws on local classics such as cold Mazamorra soup and adds touches reminiscent of the city's Moorish past. Tradition blends with modernity and the simplicity of pure products contrasts with the complexity of refined techniques.
C/ Compositor Serrano Lucena, 14, 14010 Cordoba
Restaurant Alejandro *, Chef Alejandro, Almeria
Going only by his first name, Chef Alejandro professes to believes in simple cooking, based upon respect for traditional Almerian ingredients. To see the sophistication of his creations, you might not call it simple yourself… There is no question as to the purity of the ingredients, often taking on the elegance of Japanese cuisine, particularly evident in his passion for local Mediterranean fish and seafood.
Avda. Antonio Machado, 32
04740 Puerto de Roquetas de Mar, Almeria
Restaurant La Costa *, Chef Jose Alvarez, Almeria
Another Michelin star for the eastern coastal city of Almeria.
La Costa
restaurant has been in operation since the 1960's, lending a history and tradition to this establishment of haute cuisine. It wasn't until 2006 that La Costa finally earned its Michelin star under Chef Jose Alvarez, whose innovation and modern touch built on the longstanding focus on quality and the freshest seafood and vegetables of the El Ejido locale of Almeria. With three separate dining rooms, the restaurant offers tapas in the tavern, an informal dining room for gourmet gastronomy, and a tasting room where guests can sample the specialties of the chef.
Avda. Bulevar de El Ejido 48
04700 El Ejido, Almeria
One to watch
Finally, if this list isn't enough to get you inspired about Andalusian cuisine, there has been much chatter about another restaurant that is widely expected to be the next star on the horizon. At
Restaurant Sollo
, in Benalmadena Pueblo just outside of Malaga, Chef Diego Gallegos brings the passion of his native South America to Andalusia with triumphant results. He only uses seasonal ingredients in his menus and has paired up with the world's only organic caviar farm (near Granada) to offer an exquisite caviar tasting menu.
C/ Santo Domingo, 9
Benalmadena Pueblo, 29639
Alan Hazel is Owner and Director of Cortijo El Carligto.
If you would like to be a guest blogger on A Luxury Travel Blog in order to raise your profile, please contact us.
Did you enjoy this article?
Receive similar content direct to your inbox.