Is it a dive holiday? Is it a photography trip? The answer is – both. But at the same time it's also unadulterated luxury. Your home for the week on this 'Above and Below' photography holiday, run by Light & Land, is 'Mosaique' – a unique 41m mega yacht cruiser, specifically designed to take best advantage of the uninterrupted 360 degree views of the Maldives.
From here you will have access to some of the most exciting diving and snorkelling experiences available, as well as receiving underwater and 'overwater' photography tuition from Antony Spencer and Justin Reznick – widely regarded as two of the foremost landscape and nature photographers in the industry today.
Your home for the week
This luxury yacht is fully crewed, meaning that your tutors can devote 100% of their time to you. But while you're not in the water, or otherwise glued to your camera, there's plenty to keep you (or your non-diving, non-picture taking companion!) occupied. Mosaique has its own eight person hot tub, a spa, a jet ski and various other water toys – as well as a dingy and of course a dive boat.
On top of this you'll also find internet access, direct dial phones and a DVD library (if you can possibly drag yourself away from the scenery) – plus a meeting room with full presentation equipment, essential for viewing the day's images. And if good food is another passion, you won't be disappointed. Mosaique has its own team of professional chefs, offering a menu that showcases the delicious cuisine of the Maldives – focusing on top quality ingredients, to suit refined tastes.
The magnificent Maldives
The trip begins in Male, where you first step on board this floating playground. From here you will sail to numerous locations in the tropical waters of the Indian Ocean – including uninhabited islands, sand bars and more mainstream resorts. It goes without saying that the yacht has full diving and snorkelling facilities – giving you the opportunity to practise, or learn, the art of underwater photography, as well as taking pictures on land of course. From clear, turquoise blue seas to white sandy beaches, and the unique architecture which is so typical of this region.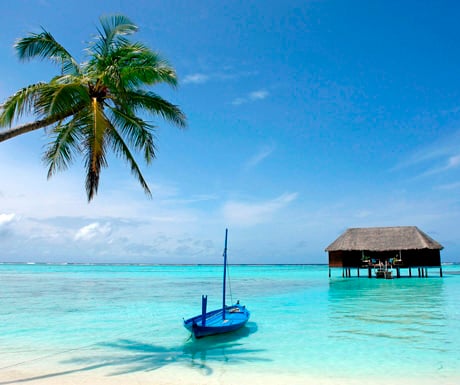 Everything under the sea
The underwater photography opportunities which this trip offers are second to none. From shallow reefs to drop offs and then open water, you will be able to experiment with multiple different techniques – while Tony and Justin remain on hand to guide, teach and advise as required. The reefs offer an incredible variety of colourful coral and numerous species of tropical marine life, while in more open water, you're almost guaranteed to see turtles, rays and reef sharks.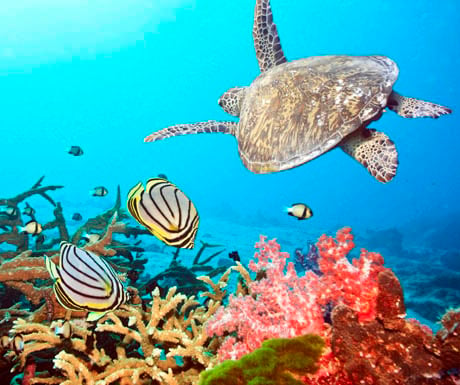 Whale sharks are also prevalent year-round, so you should also have the opportunity to dive or snorkel with these majestic creatures – while taking pictures as well of course! There will also be a focus on learning how to make split images like the one below.
A very rare opportunity
This once in a lifetime trip is limited by the number of cabins on the yacht. Both double and single occupancy is available, and partners who just want to sunbathe, gaze and the view and drink cocktails are equally welcome! Don't worry if you don't have the right equipment – underwater cameras are available to rent on board, along with various other items of equipment that you might find useful. But of course, if you are using your own camera, you will need to bring an underwater housing for it.
The tour is completely flexible and Tony and Justin will be in total control of Mosaique. They will work with all participants to agree how much time is spent underwater and how much is spent on 'overwater' photography in the Maldives' stunning northern atolls. September is an ideal time to visit this region and can be especially photogenic, with storm clouds giving very dramatic and foreboding skies as they pass through, before magically clearing to leave the sun, white cloud and blue sky which is so typical of the Indian Ocean. The flexibility which this trip offers ensures that photographers can work within the whim of the weather, to create the best possible images.
New divers welcome
Previous diving experience is recommended, but if you have never dived before and don't currently have any open water qualifications, don't be put off. It's not essential to have these in order to take full advantage of the holiday. There is a dive master on board, meaning that anyone can dive if they would like to – and if you have a PADI open water qualification you'll be able to dive with a buddy, without the dive master's supervision. Diving equipment can be hired on board for a reasonable cost, either per dive or for the entire week. And snorkelling equipment is of course also available.