Each year, Canada welcomes millions of travellers to explore its cosmopolitan cities, its alpine lakes, its vast mountains and rolling plains. They are travellers that have been drawn to Canada's shores by stories and images of the country's incredible landscapes, breath-taking natural beauty and thriving wildlife. Stories and images that, more often than not, have come from one province in particular; Alberta. Lake Louise, Jasper National Park, Banff, the Rocky Mountains… all of these are iconic Canadian must-sees and all of them are here, in Alberta. Whether it's your first time to this astounding part of North America or you've found yourself returning time and time again, this is a list of activities you must tick off in a province that you just have to visit.
Canoe on Lake Louise
Vibrant blue waters shimmering against a backdrop of snow dusted mountains, dotted with canoes and overlooked by a grand château – this is an image most of us recognise as being quintessentially Canadian. It is an image of Lake Louise.
To canoe on Lake Louise is to enjoy one of Canada's most iconic activities, but to do it at sunrise is a unique and magical way to enhance this experience. Wake up before six and head out into the stillness of early morning. The water will be glassy and still, not yet illuminated by the rays of the sun. It's an eerily beautiful time of day to be outside, and watching the sun slowly bathe the surrounding area in its golden glow from a canoe in the middle of the lake is the sort of moment that will stay with you forever. When you're finished paddling, a continental breakfast on the boat deck as the rest of the world slowly wakes up is sure to be the icing on the cake.
Private helicopter tour over the Rockies
Exclusive tours come in many different forms, but we're advocates of the bird's eye view kind. Especially when you're in a province whose landscapes are as spectacular as Alberta's. It's one thing to see it from the ground, but from the air is a completely different story.
Hop into your private helicopter and soar between peaks, above dense forestry and sweeping alpine meadows. You'll be able to get out of the helicopter for a while to stretch your legs at the top of a mountain, and you can just imagine the incredible views from an area that would be otherwise inaccessible. It's an experience that's a great choice should you be celebrating a special occasion or even planning a romantic mountain-top proposal.
Ride the Rocky Mountaineer
Since we're focussing on iconic Canadian experiences, we couldn't go without mentioning one of the world's most famous locomotives and historic railways; The Rocky Mountaineer. A train journey that many people aspire to take, the Rocky Mountaineer transports its passengers through the Rocky Mountains and beyond. Starting in cosmopolitan Vancouver, you'll wend your way through some of the country's most remarkable landscapes as you cross over into Alberta. The train has different levels of service, but to really make the most of Alberta's unique sights, you've got to opt for the Gold Leaf Service. Why? Well, the Gold Leaf carriages just so happen to have glass roofs, so the windows and thus the views are essentially never-ending. The only thing that might distract you from the beauty outside is the incredible cuisine you'll be served on-board.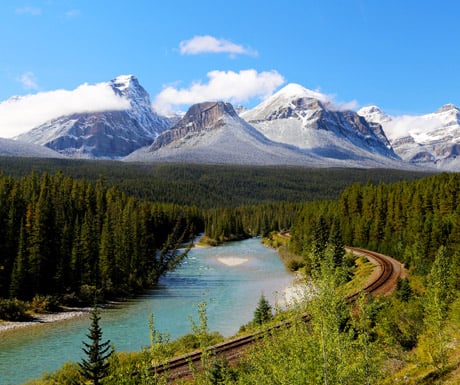 Wildlife watching
Canada is, first and foremost, renowned for its incredible landscapes. But the vast array of wildlife that thrives in these lush landscapes has to be the country's second biggest draw. Think of Canada and you're bound to think of grizzly bears, moose, elk, wolves and eagles amongst many other things, and Alberta happens to be home to an abundance of these creatures. Visit in the summer and there are few better places to watch grizzly bears foraging for food or moose and elk grazing calmly in national parks. With a private guide at hand to lead the way, your chances of ticking Canada's major species off your list of things to see are extremely high. Alberta is a naturalists dream.
Tom Marchant is Co-founder of Black Tomato.
If you would like to be a guest blogger on A Luxury Travel Blog in order to raise your profile, please contact us.