By
Celine Renaud
on Mar 13, 2015 in
Accommodation
,
Clubs
,
Europe
,
Food and Drink
,
Going Out
,
Hotels
,
Regions
,
Spas & Pampering
,
Speciality Travel
,
Switzerland
,
Travel Miscellany
,
Western Europe
150 years seems to be a significant number for 2015; Zermatt sees the 150th anniversary of the first ascent of the Matterhorn and St Moritz celebrates 150 years of travel and tourism. 2015 has never been more of a prominent year to visit Switzerland. In 1864 a Swiss bet a Brit that he would discover magic when the snow fell in St Moritz. Now, a destination known for its winter sport pioneers, Alpine adventures, innovations and style, it is 'Top of the World". St Moritz has created a legacy of gold over the years and has truly become a legendary destination. To make the most of St Moritz, follow our guide and uncover those enchanting moments and memories waiting to be made.
Stay in Chesa Lumpaz
This is arguably the most magnificent property in St. Moritz. This wonderful chalet is located in the heart of town, next to the Badrutt's Palace Hotel. The ski slopes, restaurants and clubs are all within walking distance. Should you wish to arrive in your private plane, the airport is only 10 minutes away.
Chesa Lumpaz sleeps up to 11 guests, is built over 5 floors and includes a large private wellness area, gym and fitness centre, Jacuzzi hot tub, steam room, sauna and temperature controlled massage room.
Eat fondue in Alp-Schaukäserei
Eat fondue in Alp-Schaukäserei in Morteratsch, but be sure not to lose your bread in the fondue pot as it will be your turn to buy the next round of drinks! Alp-Schaukäserei is actually a cheese factory where guests can enjoy watching how the famous Swiss cheese is made.
Each region in Switzerland claims to have the best fondue formula based on local varieties of the two essential ingredients, cheese and wine. As with any dish that has such cultural meaning, there are plenty of rules that come with eating fondue. For example, the Swiss only tolerate drinking white wine or hot tea with their melted cheese… I would recommend the wine!
Watch the Snow Polo
The world's only 'high goal' tournament on snow. Winning is second to none in this prestigious sport held in one of the most prestigious ski resorts in the world. If you won't be visiting St Moritz this year, make sure to watch Xaver Walser's (Swiss-South African filmmaker) short film on snow polo. This behind the scenes movie features gripping scenes from professionals at the Snow Polo World Cup held in St Moritz this year…  'Choose the Polo style of life'!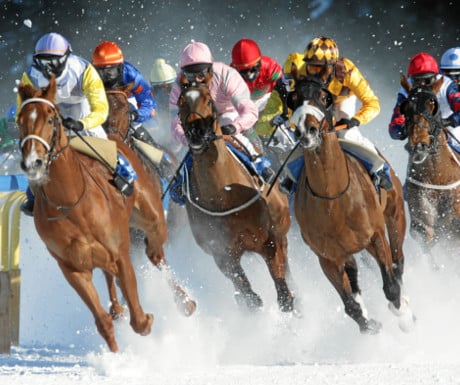 Party at 'The Kings Club'
Perfectly positioned for staying in Chesa Lumpaz. The Kings Club in Badrutt's Palace Hotel is THE place to party in St Moritz. Prepare for the red carpet and make sure your diamonds are polished as this is the place to 'be seen'. The Kings Club is the oldest and most legendary club in Switzerland. There are no rules here and no closing hours. Make sure to tick this venue off your bucket list and have a glass of champagne whilst you are there!
Bathe in the therapeutic spas
St Moritz was visited for its iron rich spring waters almost 3, 500 years ago, and today the springs found in the resort are the highest altitude therapeutic springs in Switzerland! Many princes and kings have even travelled to the Engadin just to bathe in the waters. Whilst in St Moritz you may as well tick all the boxes, bath like a king, eat like a king and sleep like a king (that is, unless, you are a queen or princess!)
Celine Renaud is Head of Sales for Leo Trippi.
If you would like to be a guest blogger on A Luxury Travel Blog in order to raise your profile, please contact us.