Cycling can without a doubt be a great pleasure and has generated an entire travel culture of its own. In Greece there are some 80 or so clubs around the country involved in road biking and track racing, as well as BMX dirt bikes and mountain biking. We picked three ideal destinations for different levels of guests looking to combine their love for Cycling with their summer escape.
The easy ride – the Tweed Run on Spetses Island
Classic bikes, tweed jackets and trousers, scarves and oxford shoes are not he usual cycling gear. However, if you are looking for a vintage cycling experience, the island of Spetses is a great destination. The island dresses up for the occasion to inspire you and ride you back in time. Don't miss the pic nic sides for tea and assortments, not the open-air Jazz concerts. This is a fairy tale set up and is ideal for families looking to spice up their vacation in the island of Spetses or Porto Heli area. During the event there is a prize for best attire and a photographer capturing moments of the event to share with participants. A highlight to totally blend in with the event are the barber shops grooming your moustache- if you have one of course- the old fashionable way with an upward twist at the edges.  While you are in Spetses you can also visit the Archontiko (mansion)  of Bouboulina, a heroine of the 1821 War of Independence, which was built at the end of the 17th Century.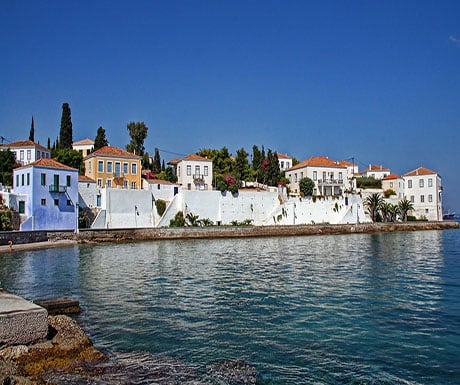 The medium ride – on Ios Island
The island's ground morphology is ideal for mountain bike. There are routes worth exploring through hills and mountains, following dirt roads or pathways. Most routes allow cyclists to discover hidden and a non-touristic paths with truly breathtaking landscapes. Start from Hora to the monastery of Agios Ioannis, pass through windmills and theaters, the beaches of Mylopotas and Agios Prokopios all the way to Pyrgos which is Ios' highest mountain. End your route to Plakotos area. During your stay at Ios you can combine your love for cycling with a variety of water sports which are available and also with island hopping in the nearby islands of Santorini and Folegandros.
The advanced ride – on Cephalonia Island
The island offers various routes to satisfy all levels of cyclists. Ride though steep cliffs, lush vegetation or beaches. Or follow the coastal road between villages through some dramatic sea views. The route towards Poros is a great starting point without considerable height differences. Popular and demanding route is the round trip of Argostoli which is the capital of Cephalonia all the way to Myrtos Beach. Cephalonia is a relatively large island and offers also a great selection of restaurants, pastries and cafes. In Fiscardo, which is the well known harbor of the island try the seafront taverns and cafes, especially in sunset. If your cycling route takes you near Melisani Cave at the northwest of Sami is definetaly worth taking the time to explore the area. The cave features turquoise waters with a stone covered bottom, while forests and trees surround the area.
Maria Nikolakaki is Managing Partner at Beyond Spaces Villas.
If you would like to be a guest blogger on A Luxury Travel Blog in order to raise your profile, please contact us.