With so many airlines promoting their first class cabins in terms of celebrity chef menus, exclusive first class lounges, complimentary chauffeur services and superb flight attendant service, a key criterion seems to be missing: how comfortable and conducive to sleeping is the bed? In part that's due to the fact that almost all good international business class products have flat bed seats now, creating less of a differentiator, but just because it's flat doesn't mean it's comfortable. Here are my top airline picks for sleeping well in first class.
Singapore Airlines Suites
Singapore Airlines Suites offers the most comfortable first class bed I've slept on. In part this is due to the fact that the bed is separate from the seat; the seat folds down and the bed is unfolded on top of it. The downside to this is that you'll want to ask a flight attendant for turn-down service and not attempt to make it into a bed yourself, but the upside is a bed that is truly optimized for sleeping, rather than a less comfortable seat-bed combination.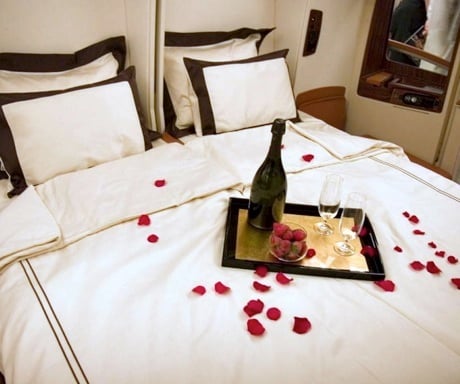 The other key aspect is that the bed includes a memory foam mattress that is far superior to the thin mattress pads that are used on most other carriers in first class. Finally, as the name implies, Singapore Suites do offer closing doors, so they afford greater privacy than other non-suite products. And if you're traveling with a spouse or partner and would like a double bed, Singapore Suites offers two sets of seats in the middle that can be converted into a double bed.
Sure, there are also soft Givenchy linens and pajamas, but what really aids the sleep experience is the greater comfort of the bed.
JAL First Class Sky Suites
JAL First Class Sky Suites don't have closing doors as Singapore Suites do, but offer quite a bit of privacy as far as open suite products go, with curved walls around most of the suite and a retractable privacy partition if you're in one of the middle suites and are traveling solo. JAL's First Class bed is 33 inches wide, which is one of the wider first class beds, ahead of Lufthansa, Emirates, Etihad, Qantas, British Airways, Asiana and Korean Air, to name a few.
While the seat does turn into a bed, unlike Singapore Suites' separate bed product, there is a thick dual-mode airweave mattress that is firmer on one side, softer on the other, which helps to accommodate passengers with different mattress firmness preferences. An airweave mattress is also used in JAL's Business Class, and was used by many of the athletes competing in the 2014 Winter Olympics.
Cathay Pacific First Class
Cathay Pacific First Class has neither a closed suite nor a special mattress. What it does have, that helps with getting a good night's sleep, is a very wide seat: 36 inches across, making it the widest in the sky. It's wide enough that, if traveling with your child, you can both sit together to read him or her a bedtime story. For anyone that frequent shifts positions or tends to feel cramped when trying to sleep in other first class seats, the Cathay Pacific first class seat is the answer.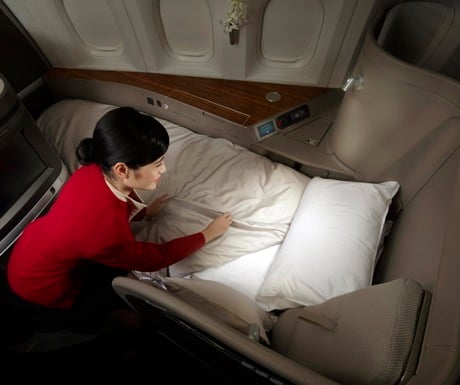 Another aspect that helps with getting a good night's sleep is that Cathay's First Class cabin has just 3 open suites, so even when the cabin is full, it tends to be a quieter and more relaxing space than other airlines' first class.
What are your favorite airline first class cabins for getting a great night's sleep?
Hilary Stockton is the CEO at TravelSort.
If you would like to be a guest blogger on A Luxury Travel Blog in order to raise your profile, please contact us.