By
Olivier Templar-James
on Apr 10, 2015 in
Accommodation
,
Attractions
,
Europe
,
Going Out
,
Hotels
,
Leisure Travel
,
Regions
,
Restaurants
,
Spas & Pampering
,
Speciality Travel
,
United Kingdom
,
Western Europe
London is a large, exciting, multi-cultural and cosmopolitan city where everything is possible. Seizing the spirit and experiencing all that it has to offer in a single weekend might seem like quite a challenge, but we came up with a selection of the best things to do while in London. From great restaurants to museums, shopping and outdoor activities, the British capital truly has it all, and nothing feels out of reach.
If you are a luxury traveler who values fine dining, fashion, art and culture, these suggestions should certainly resonate and will help you to schedule a rich and memorable weekend in London.
1. Arrange your stay at the prestigious Kensington Hotel
As a part of the prestigious Doyle Collection of 8 luxury hotels in 5 major cities, The Kensington Hotel is one of London's most elegant and desirable places to stay. This charming boutique hotel feels homey and genuine. Its aesthetics are pleasantly old-fashioned, while its rooms and facilities are equipped to modern standards and provide guests with everything they might possibly need to enjoy a stress-free, unforgettable stay. Moreover, it is located in a privileged area close to some of the city's most iconic landmarks and attractions, including the Victoria and Albert Museum in Cromwell Road.
2. Visit the Victoria & Albert Museum
If you enjoy visiting museums, London is the place for you. The British capital has many unique and interesting museums, many of which are free to the public or operate on a donation only basis. If you are particularly interested in the arts, you should definitely consider visiting the Victoria and Albert Museum — one of the world's most important museums, focusing on the history of art and design. The V&A is home to diverse temporary exhibitions that explore different media, ranging from fashion clothing to photography. Currently, it is hosting a popular showcase dedicated to the works of influential British fashion designer, Alexander McQueen.
3. Visit the Rosebery at the Mandarin Oriental for a cup of tea
Afternoon tea is one of the most famous cultural habits in Britain. Whether you are a casual tea drinker or a connoisseur of the country's favourite hot beverage, you'll certainly be impressed by the huge selection of tea blends and fine pastries available at The Rosebery, which is part of the famous Mandarin Oriental on Hyde Park.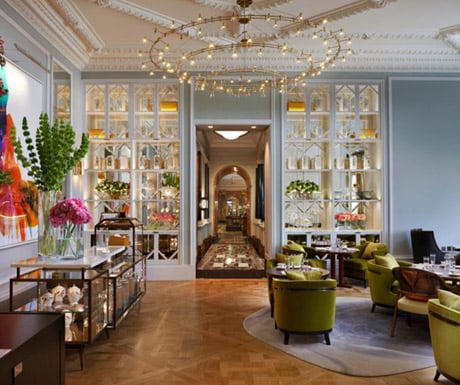 From traditional flavors to exciting, internationally inspired twists such as the notorious Oriental Afternoon Blend, an afternoon tea at The Rosebery makes for a unique experience of British culture in a high quality setting with an absolutely impeccable atmosphere.
4. Experience one of the city's most exclusive fashion shopping experiences at the Liberty department store
London is an exciting gateway to the world's most discerning and elegant fashion scene. The city is home to trendsetters and style-makers whose work and aesthetics have influenced the world of fashion through the years. If you enjoyed learning about it at the V&A museum, it's time to experience it first-hand!
Liberty is a well-known institution in town. It offers unique products from some of the world's most celebrated brands and fashion designers, as well as producing their own luxury brand. Liberty also exists in the form of a well designed, user-friendly, online shop, but nothing beats the experience of browsing the items in person, and truly being able to feel, touch and appreciate the craftsmanship that goes into each and every carefully-selected item for sale.
5. Visit Fortnum and Mason
Fortnum and Mason is the true mecca for wine aficionados in London. The world famous cellars of this establishment feature a mind-boggling selection of some of the best wines from throughout the world. You will find everything from European mainstays to some tantalising alternatives originating across the Atlantic. People who love wine are often fond of the traditions and technique behind the wine-making process. At Fortnum and Mason, these elements are endorsed and shared, allowing people to savour their favourite products while discovering some excellent new ones from the shop's premium selection.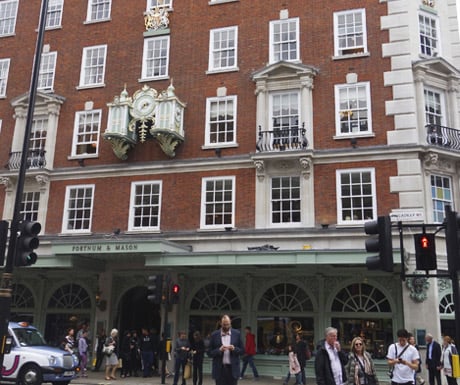 This wonderful establishment also offers something that reaches out to all lovers of fine food in casual settings, namely their unique picnic hampers and accessories. Customers can either choose to buy items and accessories, or have entire menus created by the skilled in-house chefs and gastronomic experts.
6. Dine at The Cavendish
Located right in the heart of Marylebone, The Cavendish is one of London's finest brasseries. Here you'll be able to sample exciting cuisine that blurs the lines between tradition and innovation, with a particular emphasis on creativity and quality ingredients.
The excellent foods and premium drinks selection draw many regular customers who appreciate the elegant, understated and private atmosphere of the establishment which also extends special privileges to its own private members.
7. Relax at the K-Spa
Some people like to squeeze as many activities as they possibly can into a single weekend, but why not take a well-deserved break? Whether you are on your own or traveling with a partner, book a few hours at the celebrated K-Spa to reinvigorate your mind and spirit. This establishment is the ultimate in terms of wellness treatments, and offers some of the most luxurious and unforgettable experiences in London.
The K-Spa is well-known throughout the city for its excellent holistic treatments and groundbreaking facilities. These include the one-of-a-kind, Snow Paradise, a unique 'cold room' inspired by Finnish sauna habits.
8. Spend a Sunday afternoon at the Ham Polo Club
If you are looking for some time away from the city's chaos, the Ham Polo Club could be the perfect getaway. This establishment is only a short distance from central London, but its country-like setting gives a sense of openness and space. From the polo academy to helicopter rides and other exciting activities, this is a luxury location where you could spend an unforgettable day out, all crafted around your passions and interests.
Olivier Templar-James is Chief Editor at Luxury Travelers Guide.
If you would like to be a guest blogger on A Luxury Travel Blog in order to raise your profile, please contact us.