By
Paul Johnson
on Apr 21, 2015 in
Accommodation
,
Attractions
,
Cruises & Boat Travel
,
Europe
,
Family Travel
,
Featured
,
Going Out
,
Leisure Travel
,
Regions
,
Restaurants
,
Special Features
,
Speciality Travel
,
Travel Miscellany
,
United Kingdom
,
Vacation Rentals
,
Western Europe
Occupying the most idyllic North Cornwall location, overlooking Trebarwith Strand beach, Yellow Cottage is one of a very select group of holiday homes available through Perfect Stays. It sleeps 9 with two king size rooms, a twin-bedded room and a bedroom with three single beds, making it perfect for a large gathering or extended family, or for two families holidaying together.
This wonderful property – built in 2012 – is situated right next to the South West Coast Path and just a couple of miles from Tintagel. It is a 30 minute drive west of Launceston and about 35-40 minutes from Padstow once you circumvent the Camel Estuary via Wadebridge. Places such as Port Isaac, Polzeath and Rock are all within easy reach also.
The sea is visible from the accommodation and in easy walking distance. A beautiful sandy west-facing beach can be enjoyed at low tide, but this is completely covered at high tide, with the sea lapping up to the channel in the rock at the end of the road (be careful – these rocks can be slippery!).  Although a very appealing beach and popular with experienced surfers, visitors should be aware that the surf here can be very powerful and there is the potential for tidal cut-off if you are not careful.
From the property, you can see enough of the beach to tell whether the tide is in or out. Having such proximity to the shore is a luxury in itself, but the superb location is matched by an equally fitting interior.
On the ground floor is a generously-sized, open-plan kitchen and dining area. The kitchen has a central island making it a very sociable space.
Also in the kitchen were some generous local extras – scones, jam and Cornish clotted cream, tea and coffee, bread, butter, bacon and eggs. A bottle of bubbly from the multi-award-winning Camel Valley vineyard was also a very much appreciated treat.
The kitchen and dining area leads through to a light and airy living area with comfortable seating, a woodburner and a gallery above.
From here, you can see out to the beach and sea.
Also on the ground floor is a TV room although it isn't immediately obvious as the television in concealed behind one of the pictures.  In fact, neither TV in the property is obvious which is strangely rather pleasant as we found ourselves not watching a bit of television the whole week we were there.
Elsewhere on the ground floor is a utility room, bathroom, and four poster room with en suite facilities.
Upstairs is a landing and writing desk (there is reliable WiFi throughout the property), and three bedrooms off from this, as well as a viewing gallery and some large beanbags that overlook the lounge area already mentioned.
One of the rooms has a king sized bed with en suite bathroom.
Another is a twin-bedded room with a door that leads up some stairs outside to a lovely, elevated viewing area with a bench – a wonderful spot for a glass of wine as the sun sets.
Finally, there is a triple room with en suite bathroom. These last two rooms are ideal for children.
As you have seen from the pictures, the property is very tastefully furnished with neutral tones and a New England style. It's a very versatile look – a breezy beach house feel for those sunny Summer days, yet still warm and cosy come the Winter months.
There is lots of attention to detail and some nice little touches that remind you that you're in a coastal property (not that you necessarily need them – you can just look out of the window!).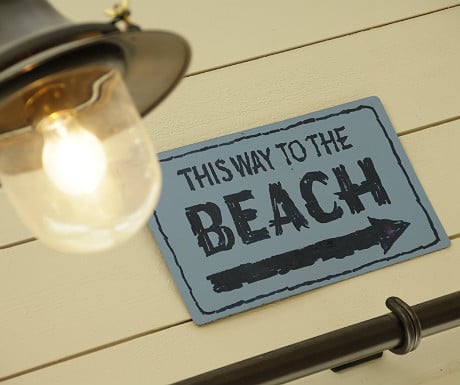 One of the really wonderful aspects about Perfect Stays is their tie-up with professionally-trained chef Georgie of Kaloura's Kitchen. As well as having trained with Rick Stein, Georgie has worked on superyachts in the Mediterranean and she will come and personally cook for you in your cottage, whether it be a romantic meal for two or a big family celebration dinner. In addition, she does cookery demonstrations and showed our two boys how to make pizza from scratch.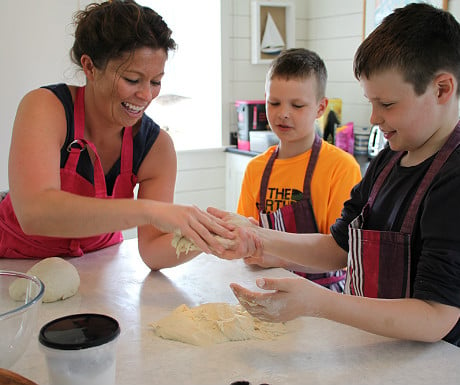 They both loved the experience and the resultant pizzas were delicious.
She also successfully showed them how to make Easter eggs under what proved to be challenging conditions (the room was quite warm from the incoming sunshine!) and a Summer fruits variation of tiramisu, topped with mascarpone, raspberries and grated white chocolate, which was every bit as good as it looks.
Although you have all you need to cook for yourself at Yellow Cottage, there is the Port William Inn with sea views from the cliffs just a short walk away, offering a friendly welcome and serving traditional pub food. It's a great vantage point from which to enjoy the sunset against the silhouette of Gull Rock, a landmark that some might recognise from one or two films (eg. Saving Grace (2000) and the 1996 adaptation of Shakespeare's Twelfth Night).
Sadly, I can't personally recommend The Mill House Inn, a slightly longer walk away back up the road through Trebarwith Valley, since our experience there was unfortunately far from satisfactory. If you're looking to do something special for dinner, I would suggest enlisting the services of Georgie. The fact that she is already pretty much fully booked for the main season is testament to her success. Failing that, you have a number of places you could choose from if you don't mind driving – Rick Stein's various eateries and Paul Ainsworth at No. 6 in Padstow, or Outlaw's and The Dining Room both in Rock are all worth a look.
Speak to the Perfect Stays concierge team who will be happy to help with any reservations or local information on attractions and activities. There is also no end of things to see and do in this part of Cornwall. For us, the week flew by with a full programme of activities that we had planned.
First up was a visit to Tintagel Castle. The road down from Tintagel to this English Heritage attraction takes you to Tintagel Haven, a small cove where the sea is relatively sheltered. It is here that you will find Merlin's Cave (top centre of the picture below), accessible only at low tide, believed to be the wizard's hiding place for the newly-born Arthur. It is also likely that around this area – over 1,500 years ago – that merchant ships brought pottery containing wine and olive oil, and tableware and glass drinking vessels from the shores of the Mediterranean and Aegean Seas, that were perhaps traded for Cornish tin. Extensive archaeological finds on Tintagel Island suggest quite an extensive import trade.
Access beyond this point to the rest of the site of the castle is for a fee but well worth it. The history of the site is fascinating, and possibly dates back to Roman times but with no identifiable evidence of settlement until the Medieval period. At one time it is thought to have been the site of a monastery but there remain many unanswered questions that, combined with the legends of King Arthur, add to the site's sense of mystery.
There is so much to explore that you could easily spend the day there, unearthing various points of interest such as this tunnel which is thought to be a medieval larder or cold store.
Work is currently taking place at the Tintagel Castle with the refurbishment of the beach cafe and exhibition space (due for completion in the Summer) but the rest is open as normal. Once fully re-opened, you can expect a completely new exhibition exploring the history and legends which surround Tintagel and King Arthur.
Also in the vicinity, you can enjoy lots of coastal walks. On one occasion, I ran from the cottage at Trebarwith to Tintagel and back (4.5 miles in total). The views are dramatic and there is lots of evidence of quarrying, as well as some interesting flora and fauna if you keep your eyes peeled.
In this short stretch alone, there were something like 10 working slate quarries – one notable one is Lanterdan quarry where there you will find a dramatic, tall pinnacle of rock which was not worked because the slate was not believed to be of good enough quality. That particular site is now owned by the National Trust and is of special geological significance because it contains fossilised brachiopods and the rare-earth mineral monazite.
Next up, we had a day at Rock. Our boys are becoming quite keen sailors and were able to further their RYA skills through Camel Sailing and Powerboat Centre. They enjoyed their time on the water so much that we signed up for another session later in the week.
Apart from a brief experience sailing from Raasay to Skye last Summer, this was their only time sailing in the sea as they usually sail on a lake close to home. The Camel Estuary is relatively sheltered, though – or at least it was at the time of our visits – so offered the perfect transition from lake to sea.
We also took to the sea from the other side of the estuary on another day, courtesy of Ian at Padstow Sealife Safaris, in a rib boat that comfortably seats a dozen passengers.
Unfortunately it was a little foggy that day but we didn't let that dampen our enthusiasm and we did see a few seals, including this juvenile that had made its way quite high up the rocks, and a few bobbing up and down in the sea. We also saw lots of seabirds – oystercatchers, shags, razorbills, guillemots and more.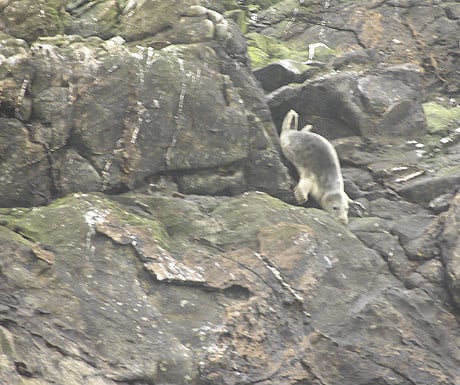 Ian was informative and a pleasure to listen to on the trip and we learnt that an impressive 40% of the world's grey seal population can be found on the shores of the UK, and about the differences between razorbills and guillemots.
We were out of luck when it came to dophin sightings, but one of the beauties of an excursion such as this is that you never know what you might see – just don't go with any pre-conceived expectations (remember that the wildlife is… well… wild!) and I'm sure you'll enjoy it as much as we did.
Back at Trebarwith, our boys donned their wetsuits and had a lot of fun bodysurfing in some of the shallower waves as the sun set at low tide – a fitting end to a very memorable week's stay.
We had been lucky with the weather and spoilt with the quality of the accommodation. Having been involved in the luxury end of the self-catering industry myself on and off for more than 25 years, I never cease to be amazed at how the quality just keeps on improving. Standards have continued to rise during that time, and Yellow Cottage is a perfect example of this.
Disclosure: Our stay in Yellow Cottage was courtesy of Perfect Stays.